'I'm learning a lot from him (Dravid). Each and every youngster who comes out from any India 'A' tour, is a better player'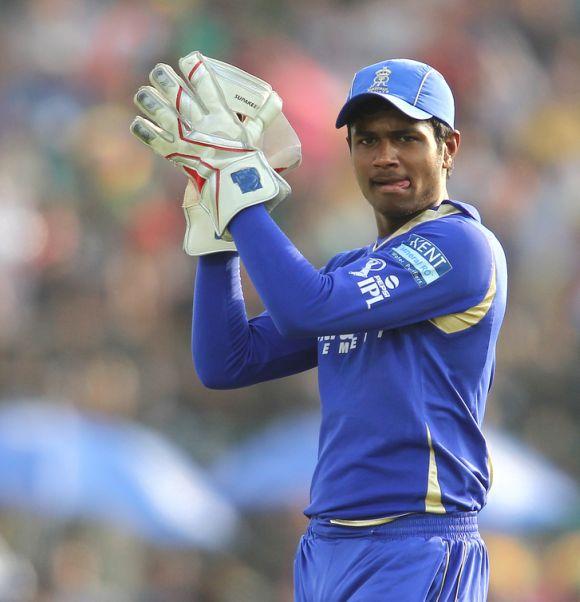 IMAGE: Sanju Samson credits mentor Rahul Dravid for his growth. Photographs: BCCI.
Regarded as an utility player, young Kerala wicket-keeper batsman Sanju Samson credits Rahul Dravid for his growth, and said the former captain played a big role in turning him into a 'better cricketer'.
By his own admission, Dravid, who is now the India A coach, has the biggest influence on Samson, who came into the limelight under the mentorship of the legendary batsman in Rajasthan Royals outfit in Indian Premier League 2013.
In the last Indian Premier League season, Samson impressed for the Delhi Daredevils under Dravid.
"I'm learning a lot from him (Dravid). Each and every youngster who comes out from any India 'A' tour, is a better player. We keep on learning each and every day in every practice session. He is someone who can mentor us like anything. It's a blessing for every youngster in India A side to be mentored by Dravid Sir. We really enjoy his company," Samson said.
Samson further said Dravid has taught him to respect the opposition bowlers.
"You've to learn the situation, read the bowlers' mind. You just can't go out there and smash every ball. You've to stay out there and sometimes you may look ugly because the bowler is also prepared and he's also there to take wickets. We should respect the bowlers," he said.
"I've learnt a lot of things. I can just go on the whole day. Dravid Sir has taught me how to be a better cricketer. I've to be a better batsman to play in all three formats."
Dravid's influence was loud and clear with the way Samson batted en route to his undefeated innings which was halted by rain, on Friday, as he remained unbeaten on 142 with Kerala ending the day on 282 for seven against Jammu and Kashmir in a Group C Ranji Trophy match.
Coming onto bat at nine for two on day one on Thursday, Samson brilliantly crafted his innings in singles and doubles to get to a patent fifty in 144 balls.
With the ball getting old, he slowly came into his groove as he hit 22 fours and also stepped out against left-arm spinner Aamir Aziz en route to his seventh first-class century.
Besides Dravid, two other present day cricketers -- Mahendra Singh Dhoni and Wriddhiman Saha -- have big influence on Samson.
"Wriddhi bhai (Wriddhiman) is a legend for me, a great wicket-keeper, and a humble guy. I really love the way he keeps wickets. He is also contributing well in the middle-order," Samson said.
"I also really learnt a lot from Dhoni bhai in the ODIs and T20s, and Saha bhai in Tests. You always get inspired watching them," the wicketkeeper-batsman said.
"A wicketkeeper-batsman does the job of an all-rounder. If I didn't score well, I would have contributed as a wicket-keeper. I really enjoy wicket-keeping and I am looking forward to be better behind the stumps.
"If you want to be a better cricketer, you have to be ready for any situation. If your team wants you to play as a T20 batsman, you've to be ready for that. I actually prepare myself to face any situation. I love to play in all the three formats. It challenges a batsman."
The 21-year-old Samson has given up captaincy in the ongoing Ranji Trophy to concentrate on his batting and wicket-keeping.
"I was in a good space for last one month. I am feeling really good about my game. I'm enjoying my batting," Sanju, who scored an 87 in a 50-over match in Australia said.
Stressing on the importance of partnership building, he said, "It's very important if you want to have a good target in mind, you need to have two to three partnerships. It's important to have a rapport with your batting partner."