'My footwork against spin improved just in the six weeks here working with Rahul Dravid, one of the best players ever to play the game.'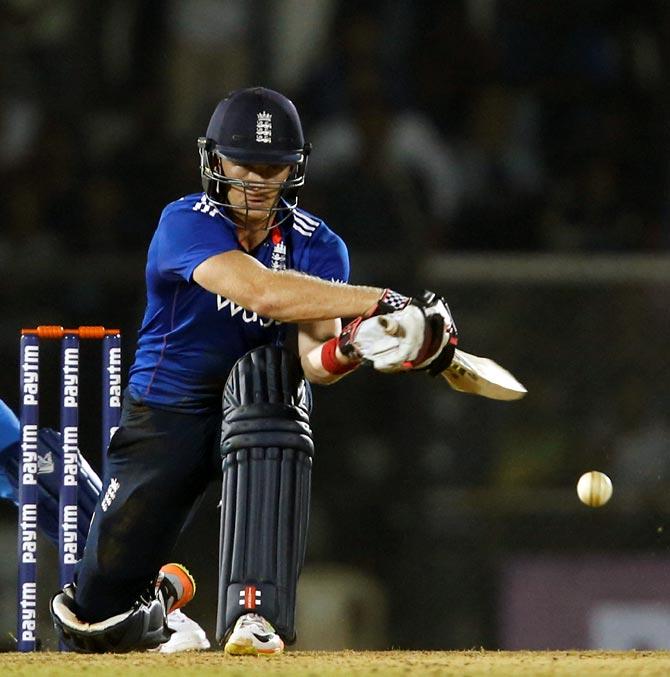 IMAGE: Sam Billings plays the reverse sweep against India 'A'. Photograph: Danish Siddiqui/Reuters
England batsman Sam Billings says working with India's batting great and Delhi Daredevils mentor Rahul Dravid in the ninth edition of the Indian Premier League last year helped him improve his batting against.

Batting at No. 3, Billings blasted a match-winning 93 from 85 balls to guide England to a three-wicket victory in the first warm-up match against India 'A' at the Brabourne stadium in Mumbai on Tuesday.

Billings claims doing well against spin would be key for England in the upcoming limited overs series, especially with the hosts boasting of two top spinners in Ravichandran Ashwin and Ravindra Jadeja.

"It's (IPL stint) definitely going to help (in the upcoming series). My footwork against spin improved just in the six weeks here working with Rahul Dravid, one of the best players ever to play the game. It's an amazing experience and one I would like to have again," Billings said.

"Spin is to play a massive part, (Ravichandran) Ashwin and (Ravindra) Jadeja are the best in the world as well; We have got quite a few guys with lots of experience over here now."

The one-day practice match was also the last time Mahendra Singh Dhoni captained an India side, after giving up the captaincy of the national team in the limited overs format last week. Billings describes Dhoni as a hero not only in India but across the world.

"He's a hero around India and around the world. What a great career he has had just as a captain! Showed today that plenty of cricket is left in him, didn't he," said the right-hander.

A big crowd turned up to watch Dhoni lead a team for the last time and Billings, who played some audacious reverse sweeps during his knock, was appreciative of it as he said it mirrored the type of situation his team will encounter during the six-match limited over series featuring three ODIs and as many T20Is, commencing at Pune on Sunday.

"What a great crowd here for a warm-up game and so realistic to the first game of the series in a couple of days! It's great. All the best to him (Dhoni).

"It was great to have such a great crowd for a warm up game. It makes it far more realistic and competitive. If it was a completely empty stadium, playing against Mahendra Singh Dhoni, we should have been playing on a Maidan! At the end of the day you would have a crowd whether it's IPL or Big Bash (in Australia)," said Billlings.

Billings also praised chinaman bowler Kuldeep Yadav who bowled superbly against his side and kept India 'A' in the hunt for a win with a five-wicket haul.

"He's a good bowler, isn't he? He's there for a reason playing in a very good side. He howled brilliantly. The other (leg-spinner Yuzvendra Chahal) played in IPL, didn't he? They are two very good spinners, but it's going to be tough for them to get in the (India) side behind (Ravichandran) Ashwin and (Ravindra) Jadeja, but promising signs as well."

About his own innings, Billings said he had to cut down his attacking instincts just as he was accelerating due to loss of wickets during England's chase.

"We lost a couple of wickets every time I started to get going. I had to tone it down. With those fine sweeps I just trying to disturb the bowler and the fields they had. It was not the most fluent innings, but it was just about getting used to these pitches which are very different from Australia where I have just come from (after a stint in BBL)," he said.

Billings said he was prepared to wait for his chance in the strong England limited overs outfit despite his fine knock.

The Kent batsman came to the crease when England were 95 for one and put on 79 runs with Jos Buttler and 99 with Liam Dawson to guide England home.

"It was good to get over the line but it should have been a lot more comfortable. Everyone chipped in and it's looking good going into the games," said the 25-year-old.

However, Billings is not a guaranteed pick with Joe Root, who will arrive in Mumbai on Thursday from England after staying back for the birth of his first child, and Ben Stokes set to return to the playing eleven for the first ODI in Pune, on Sunday.

"Every time I go out to bat I try to do the best I can. I just try to show people what I can do and score as many runs as I can.

"It's a great thing for English cricket, Joe Root coming back into the side, Ben Stokes coming back into the side – two of the best in the world. Joe Root is one of the best batsmen in the world, among top three.

"We have a really strong side from one to 11. We have Liam Plunkett and Jonny Bairstow sitting out. You can't afford to be disappointed or feel sorry for yourself -- it's professional sport.

"I'm going to work as hard as I can on all aspects of my game. I'm just trying to offer as many options as I can, whether it's with the gloves, with the bat, opening the batting or at six or seven and finishing off an innings," he concluded.