'I believe the decision to open in ODIs changed my career and it was a decision taken by MS Dhoni. I became a better batsman after that.'

India opener Rohit Sharma is the only player in world cricket to score two double hundreds in the 50-over format, having scored a world record 264 against Sri Lanka in Kolkata in November 2014 and 209 against Australia at Bangalore a year back.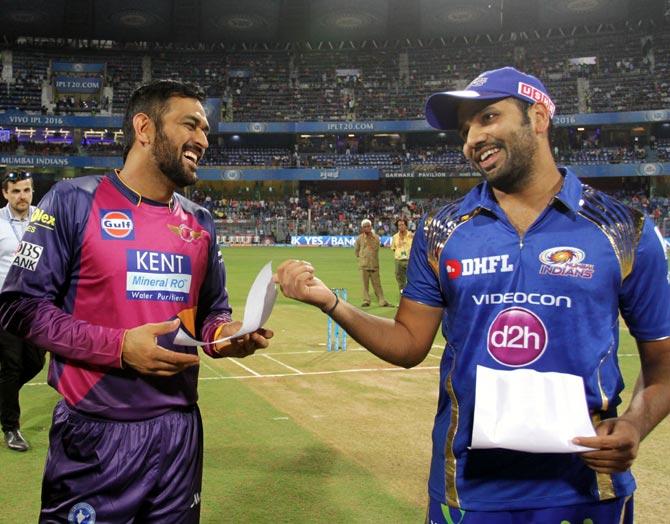 IMAGE: Rising Pune Supergiants captain Mahendra Singh Dhoni, left, with Mumbai Indians captain Rohit Sharma during the ninth edition of the IPL in 2016. Photograph: BCCI
He has been one of India's most dependable batsman in limited overs cricket and Rohit Sharma feels that outgoing captain Mahendra Singh Dhoni's decision to make him open the batting in the 50-overs format was a 'career-changing move'.

"I believe the decision to open in ODIs changed my career and it was a decision taken by MS Dhoni. I became a better batsman after that. In fact it helped me understand my game better, react better according to situations," Rohit said.

He first opened the batting for India in 2013 against England during the home series, scoring 80 odd runs and followed that up with a steady show in the ICC Champions Trophy.

Rohit recalled when Dhoni first told him about opening the innings, three years back.

"He just came up to me and said 'I want you to open the innings as I am confident that you will do well. Since you can play both cut and pull shot well, you have the qualities to succeed as an opener'," Rohit said.

"He told me that I shouldn't be scared of failures or get upset by criticism. He was looking at the bigger picture as the Champions Trophy was scheduled in England that year," said Rohit, the only player to have scored two double hundreds in ODIs in the history of cricket.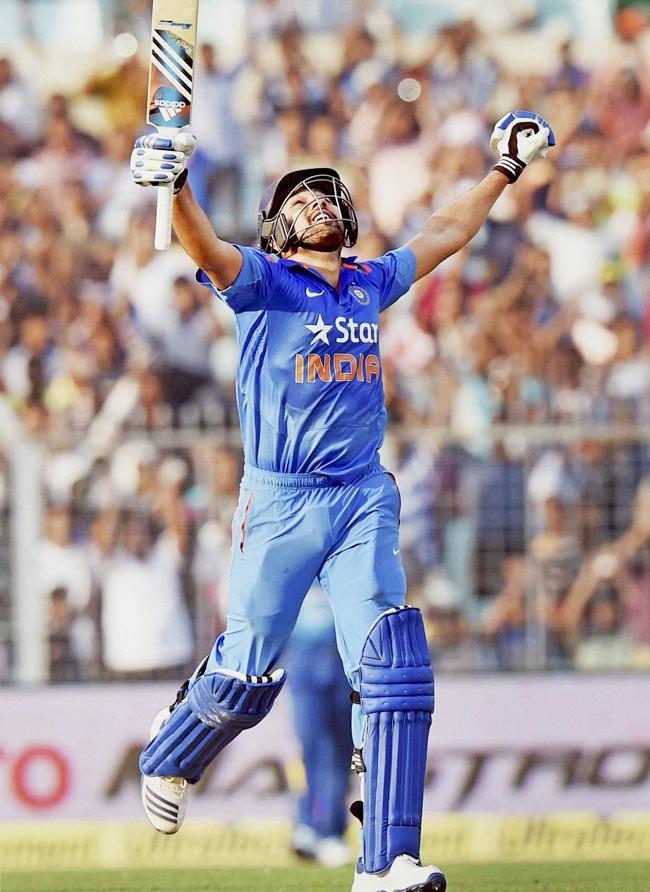 IMAGE: Rohit Sharma celebrates after completing his century enroute to a world record 264 against Sri Lanka in Kolkata in November 2014. Photograph: BCCI
According to Rohit, Dhoni's reading of a player's ability is peerless.

"The Champions Trophy in England made me confident that I can open and ready to face challenges of playing white ball in English conditions in the morning.

"I got 65 against South Africa, who had Morne Morkel, Ryan McLaren, Lonwabo Tsotsobe and Rory Kleinveldt. Morne and McLaren were hitting three quarter length and Tsotsobe was swinging it. The skipper was confident that I could handle the situation and I did," said the world record holder for highest individual score (264) in ODIs.

"With no disrespect to other great Indian captains, I was blessed to play under MS (Dhoni) all these years. His calmness in pressure situations helped us. He always led from the front. There won't be one like him."

Rohit is recuperating from a thigh surgery after having sustained a muscle injury during the home series against New Zealand last year. He is disappointed at missing out on scoring some runs during the five-match Test series against England, which India won 4-0.

"You can't do anything about it and I have been in situations like this before. What disappointed me was the fact that the injury happened just when I was in rhythm scoring three successive 50s against New Zealand in Test matches. The pitches against England were good batting strips and it would have been enjoyable," he lamented.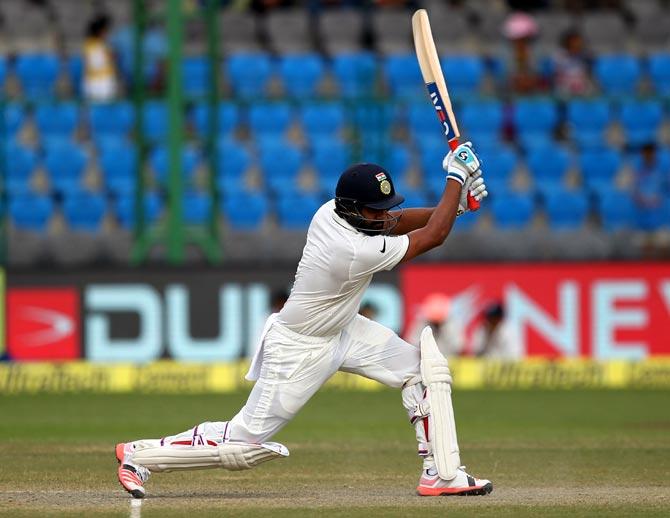 IMAGE: Rohit Sharma hits a boundary during the first Test against New Zealand in Kanpur in September 2016. Photograph: BCCI
With Karun Nair staking his claim for a place in the middle order with a triple century against England in the Chennai Test, Rohit is not at all perturbed.

"I have never ever been an insecured person and the reason being I know how to move on in life. What would have happened if I wouldn't have got injured is irrelevant. The fact is Karun got his chance and played brilliantly and should be applauded. In fact, I saw a bit of it when Karun and KL (Rahul) were batting. It was top quality stuff," the senior pro lavished praise on the youngsters.

On personal front, Rohit has completed eight weeks of his rehab since suffering a thigh muscle injury, which required surgery, and is around six weeks away from making a full recovery.

"Well, I can't set an exact date on when I will return to competitive cricket. I am told it would take 12-14 weeks for complete recovery. It means anything between four to six weeks from now," Rohit informed.

"I have started running and from next week I will start with my batting drills. First the basic drills, followed by batting against bowling machine followed by proper net session."

He needs to play some domestic cricket and Vijay Hazare Trophy is scheduled at the end of next month.

"I don't know about Australia series but I need to play some practice games. I would like to speak to Mumbai Cricket Association if I could play some club games. The problem is that I have not played club cricket for more than 10 years so I am not aware about current procedures and stuff like that," said Rohit, who will be eyeing to make a comeback during India's Champions Trophy defence in England in June.

Despite stellar performances in the shorter formats, Rohit has faced a lot of criticism but after 150 plus ODIs and 20 plus Tests, the stylish right-hander knows dignified silence is the best policy.

"During my earlier days, it did bother me as to what people thought about my game. Now I am not bothered as I have learnt that I can't stop anyone from criticising. I am not a kid that I should get affected by sharp criticism. Rather than that I would spend quality time in getting better as a cricketer."