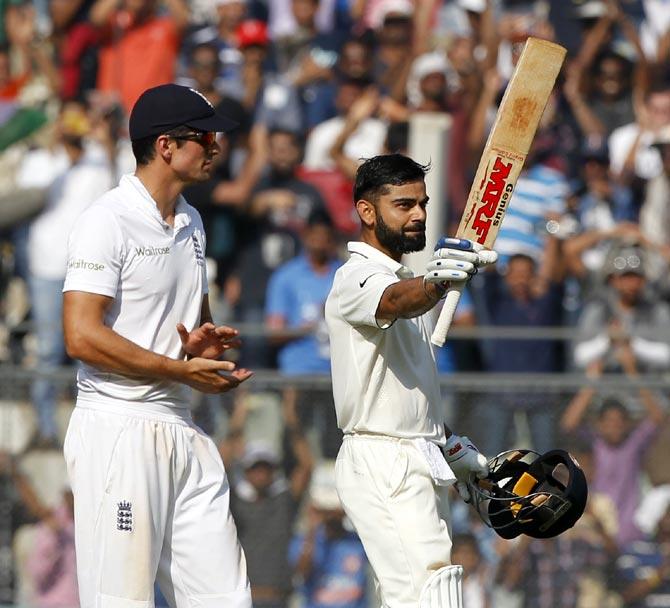 IMAGE: Alastair Cook applauds as Virat Kohli celebrates after completing his century. Photograph: BCCI
The ongoing India vs England series is turning out to be a battle within a battle with both Virat Kohli and Joe Root vying for the title of the best batsman in world cricket.
- Mumbai Test: Skipper Kohli puts India in 'Virat' position
- PHOTOS: Sublime Kohli, Vijay put India ahead on Day 3
While Root started the series with a century in Rajkot, India captain Kohli got back with two centuries of his own -- in Visakhapatnam and in the ongoing fourth Test in Mumbai.
Captain Kohli's splendid innings at the Wankhede Stadium on Saturday not only won the hearts of the Indian fans but also drew praise from Root, who hinted that Kohli's 'emotional' approach to the game acts as a kind of inspiration to him.
"He is obviously very driven, he is very ambitious, you can see that in the way he approaches the game. He is very emotional and he wears his heart on his sleeve."
"I wouldn't say intimidating or anything like that but it is quite good to play against guys who express how they feel and try to make you feel uncomfortable because for me, personally, it gets me in a good place, it gets me going. You want to get in that competitive mode where you are going to perform at your best," Root said on Saturday, after having witnessed another Kohli special.
Kohli led from the front with an unbeaten 147 to guide India to 451 for seven to help them take the lead after England had posted 400 in their first innings.
Interestingly, both Root and Kohli boast of a similar record.
Before this match, they had both played 51 Tests, with Root scoring 4402 runs at an average of 53, while Kohli was not far behind at 3959 runs at an average of 48.
But the Indian is ahead in the century race with 14 hundreds while Root has 11.
Root also lauded Murali Vijay's effort after the Indian opener had laid the foundation for India's reply with a sparkling innings of 136 and put on 116 runs for the third wicket with Kohli.
"They both played very well. They got a good balance between defence and being aggressive and on a wicket like that, it makes it very hard to bowl out guys when they are in that sort of form. They deserve the scores the scores they got," the England right-hander said.
Even one of India's batting great, Sunil Gavaskar, was lavish in his praise of Kohli's splendid knock at the Wankhede.
"Kohli has played one of the best innings I have seen. It looked like England might get a lead, but Virat Kohli has denied them that," Sunil Gavaskar said on BBC TMS.
Even former England captain Michael Vaughan acknowledged that England looked helpless against a batsman of the class of Kohli.
"Sometimes you have to accept that you come up against someone too good..That was the case today for England .@imVkohli is a Genius .. #Fact," he tweeted.