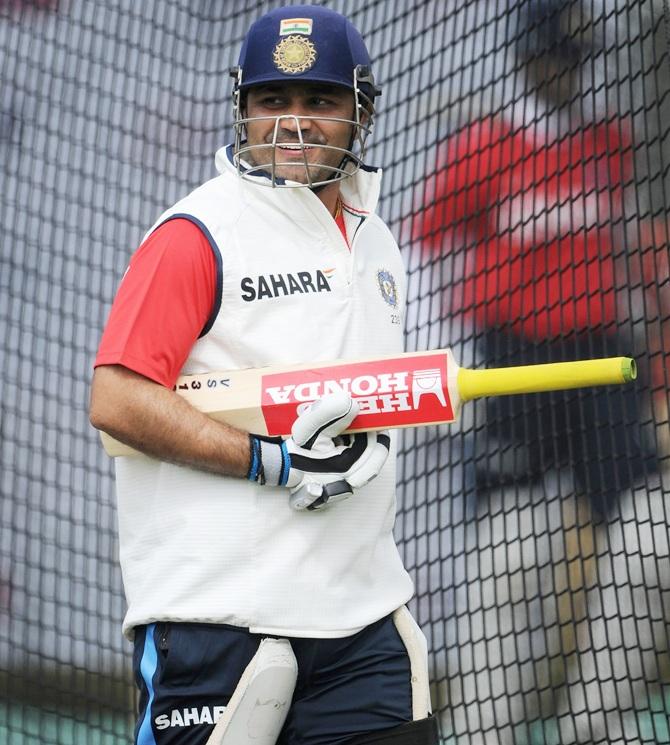 IMAGE: Former India opener Virender Sehwag. Photograph: Gareth Copley/Getty Images.
During his playing days, he was one of the most aggressive batsmen in world cricket and now Virender Sehwag is entertaining fans with his witty comments on Twitter and other social media platforms.
Sehwag, who has also donned the role of a TV commentator, wishes that a movie is also made based on his life.
Responding to biopic's made on teammates Mahendra Singh Dhoni and Sachin Tendulkar, Sehwag said, "Let's see. Shayad koi mujh par bhi paisa laga de (I hope someone, somewhere, someday will invest in my biopic also)."
Sehwag accepted that he hasn't seen Dhoni's biopic 'M.S. Dhoni: The Untold Story' and will be watching it soon.
"My sons were very excited to see the film so they went for first day, first show. Since I was doing commentary on that day, I couldn't make it. I'll watch it soon and put something on Twitter and get everyone talking again," he says.
As for the film on Tendulkar, Sehwag says: "Not just me, everyone is looking forward to it. People want to know more about Sachin's journey in cricket, his life and what he went through when not playing in the team."
Giving his reaction on whether films based on a sportsperson's life concentrate mainly on controversies and focus less on their professional achievements, Viru feels it's upto the player to decide as he sanctions the script.
"The script is read and approved by the cricketer, and one can choose to show only controversies or personal relationship with friends or wives or girlfriends. Tomorrow if a film is made on me, I will decide what I want to show to the public on big screen," says Sehwag, who celebrated his 38th birthday on October 20.