Indian media and public had developed negative feelings about Pakistan after the incident in the Champions Trophy hockey tournament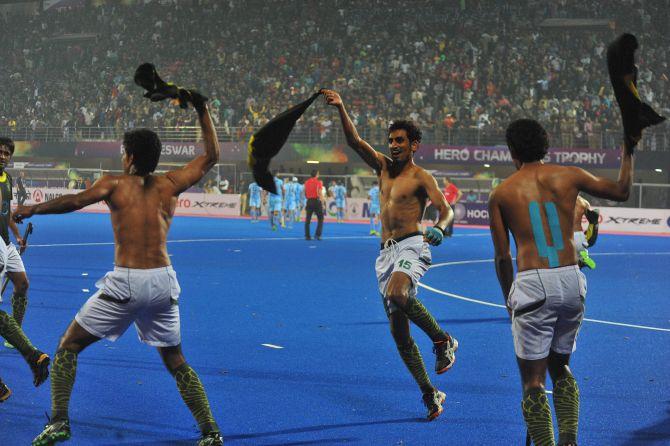 Pakistani players celebrate after winning the Champions Trophy semi-final game against India. Photograph: PTI
India and Pakistan were supposed to resume their cricket ties in 2015. But the chairman of the Pakistan Cricket Board Shaharyar Khan has said that the recent incident in India involving the national hockey team players can have adverse effects on the cricketing ties between the two countries.
Shaharyar, 80, who has been Pakistan's foreign secretary and also high commissioner to New Delhi, felt that while political and diplomatic relations between the two countries remained tense on a regular basis the Indian media and public had also developed negative feelings about Pakistan after the incident in the Champions Trophy hockey tournament.
"Yes it could have adverse effects and it could affect any chances of our players being invited for the Indian Premier League," Khan told Geo Super channel.
Pakistan beat India 4-3 in the Champions Trophy semi-final last weekend. The match, which took place in India, concluded with some Pakistani players pulling off their jerseys and gesturing to spectators.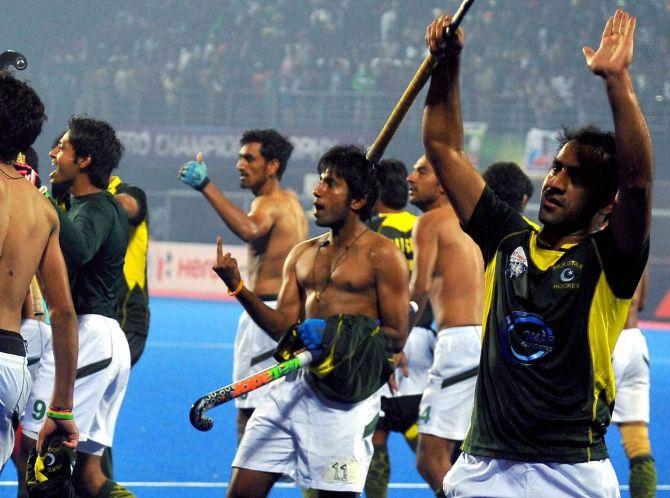 Pakistan players celebrate after winning the Champions Trophy semi-final against India. Photograph: PTI
The Indian hockey body lashed out at the Pakistani players after their celebrations went over the top.
Khan said even in most difficult situations the relations between Pakistan and Indian cricket boards had remained cordial.
"What had happened left its negative impact but so far we have good relations with the Indian board," he said.
"We are maintaining good relations with the Indian board even at the ICC level and we are looking forward to hosting India in the bilateral series next year in UAE," the PCB chief added.
He felt the bail granted on Thursday to Abdul Rehman Lakhvi in the Mumbai terror attacks case will also lead to negative reactions in India about Pakistan.
India suspended all series with Pakistan after the 2008 Mumbai terror attack, which New Delhi blamed on militants from across the border.