'The facilities are as good as you would get anywhere in the world'
'I always felt the USA was big market, a lot of sub-continent people stay here. I feel it is a good start'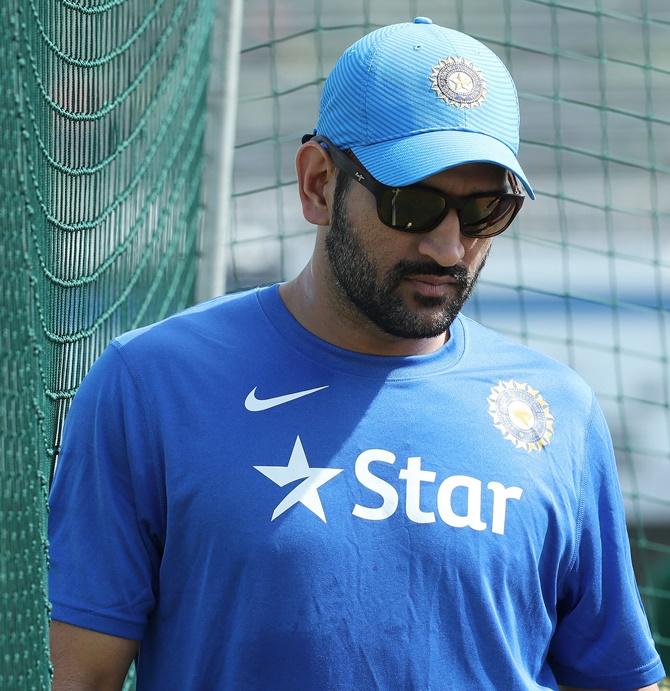 IMAGE: Mahendra Singh Dhoni at the Central Broward Regional Park, Fort Lauderdale, USA. Photograph: BCCI
USA is a 'special' market for cricket and there is no reason why the game can't be successful, asserted captain Mahendra Singh Dhoni on the eve of India's first international match on American soil.
Will cricket break fresh ground in untapped US market?
"As far as the facility is concerned, it is as good as you would get anywhere in the world. Yes, the stadium is not that big, though when it comes to the playing area it is a perfect ground," said Dhoni, on Friday, ahead of first of two T20 Internationals between India and the West Indies at the Central Broward Regional Park Stadium.
Dhoni, who returns to action after a long break, feels cricket in America is a win-win for the game and the huge Indian diaspora.
"Also, what we have to see is that it is a new venture for cricket. Looking at everything, it is a perfect staging ground. Few of other international teams have already played here, also not to forget that some of the T20 leagues have happened. The infrastructure looks good. Overall it is a big occasion, stepping into the USA for the first time as the Indian cricket team.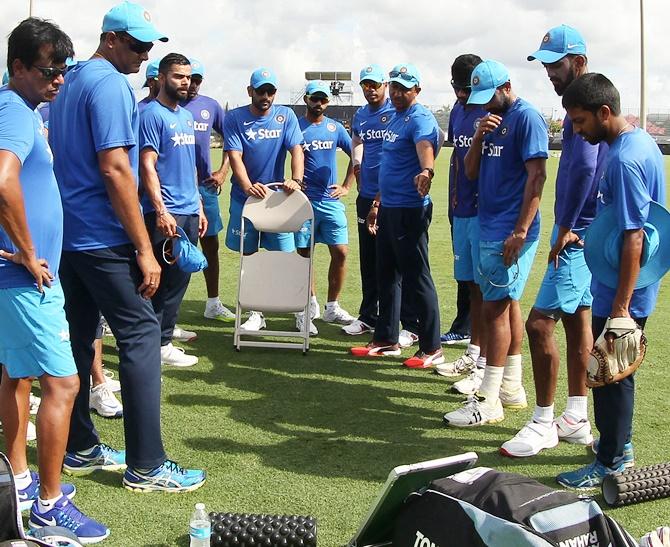 IMAGE: Mahendra Singh Dhoni, centre, with team-mates during the nets session. Photograph: BCCI
"As fas as effort is concerned, I always felt the USA was big market, a lot of sub-continent people stay here, not only Indians. I feel it is a good start. The timings (broadcast) are also good. Earlier people living in US used to travel to the West Indies to support us but now they have the opportunity to catch the action here itself," said Dhoni, who is expecting a bigger crowd support for his team than the West Indies.
India registered a comfortable win the preceding Test series in the West Indies but they are a much better unit in the limited overs format. Dhoni too said beating the reigning World T20 champions will be tough.
"I would say in limited overs format, the West Indies are extraordinary. They have the right balance, they are entertaining as well. It will be very interesting (the two match series). It is an early morning start here but it won't make much of a difference," said the skipper.
Dhoni further said that playing only two formats has helped him focus on his fitness.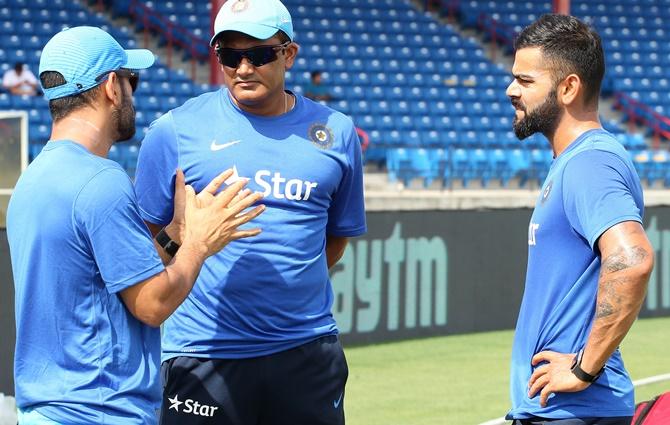 IMAGE: Mahendra Singh Dhoni, left, with coach Anil Kumble, centre, and Virat Kohli. Photograph: BCCI
"During this (break) time, fitness is quite easy to maintain. The reason is you have ample time to prepare. That becomes a slight issue is the cricketing aspect. There was a lot of rain back home in India so most of the schedule was indoor with a bit of bowling machine to go with it. There was not much outdoor activity. Also, this year we won't be playing a lot of limited overs cricket so this gives us an opportunity to make the most of two days we have," said the wicket-keeper batsman.
"There is a time for everything. When you start playing, you want to play as much as you can irrespective of the location. That way it is difficult to maintain fitness and workload. But when you get a break, you can follow a proper schedule. It gives you ample time. I have put emphasis on my fitness to prolong my career," Dhoni added.
He is also looking forward to working with Anil Kumble the coach, having playing alongside him in the past.
"I learnt a lot from Anil bhai, especially in Tests though I have also played with him in ODIS. The way he used to bowl to a batsman, how accurate he was, his consistency was amazing.
"Also, how clear he was in his thinking and gameplan. All of that will help him as a coach. Modern day cricket is all about adjusting and that is something that Anil bhai did very well. Apart from that, he is a straightforward guy. The last couple of days with him has been interesting. The more time I spend with him, I get to know him even more as a coach," Dhoni added.