'Happy with bowlers' show on batters' paradise'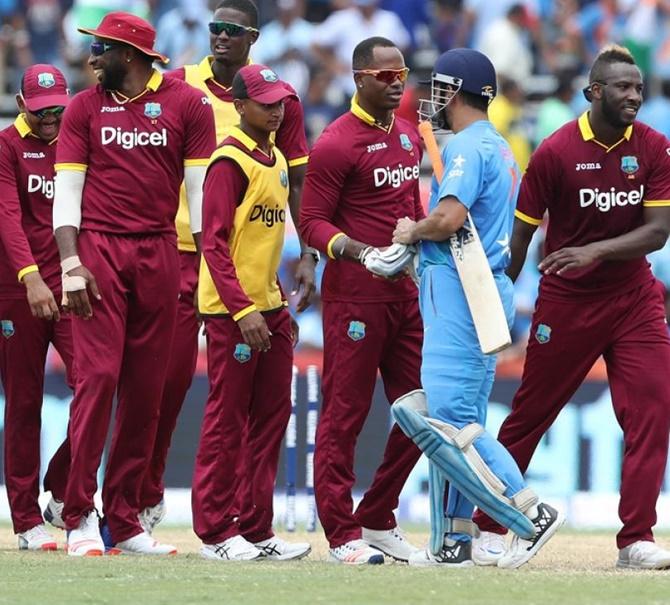 IMAGE: India's Mahendra Singh Dhoni congratulates West Indies' players. Photograph: BCCI.
They were hammered all over the park but Indian skipper Mahendra Singh Dhoni feels his bowlers were not all that bad on what was a 'batters paradise' in the first Twenty20 against West Indies which his team lost by a run in Florida.
Rahul hits ton but Dhoni fails to finish as India lose by 1 run
Put in to bat, West Indies raced to 199/1 after 15 overs but India recovered well in the final five overs by conceding just 46 runs and scalping five wickets in the process. Dhoni praised the effort of his bowlers at the death.
"If we can improve how we bowl in the first six overs. In fact it was in the first 12 overs where we gave away too many runs. I was very happy how we brought down the opposition when it came to the last eight overs and that really matters because that was something we have been struggling consistently," he said.
"It was a good exposure to our bowlers and they finished off well and because of which we could actually restrict them (Windies) to 245 and there was a point we thought they would be looking to get 270 and even more," he added.
Dhoni, however, said his bowlers would need to adjust quickly and reassess their game plan in a scenario where the opposition batsmen were going after them by raining fours and sixes, just like the West Indians did.
"As a bowler you have to assess the conditions and change your gameplan to some extent. Normally on a good wicket, let's say if I am bowling four overs and get hit for 40 runs and get one or two wickets, that is good enough. So, you have to assess what is good bowling analysis on this wicket and maybe since everybody got hit, it seemed a four-over 50 and if you get two or three wickets you have a plus," he said.
"It is a difficult one to judge. But overall, yes to some extent it was a batters' paradise. Lots of sixes were scored, in fact there was more sixes than boundaries and so it was tough on the bowlers, but still the bowlers that got hit with lesser number of sixes ended up at the winning side."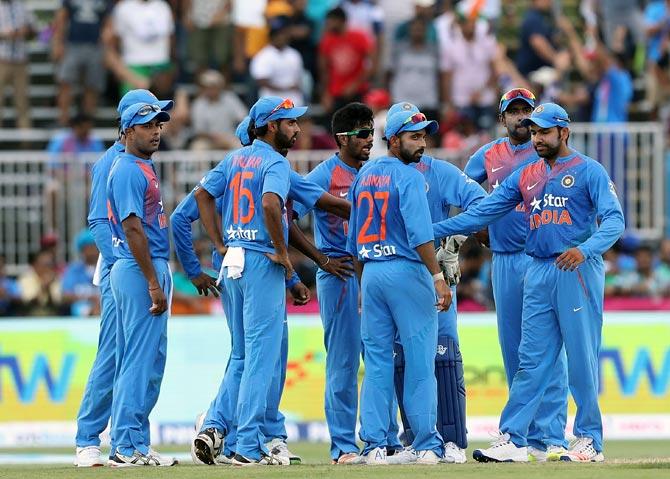 IMAGE: The Indian players celebrate the wicket of Johnson Charles. Photograph: BCCI.
Despite the loss in India's first international match in the USA, Dhoni said his side can take a lot of positives.
"I feel overall there is plenty of positives from this game because the way we chased down 245 runs, apart from the last ball, I felt we were doing it perfectly. Overall, I felt the way the boys performed was very good."
Dhoni was all praise for Lokesh Rahul who struck his maiden T20I century in just his fourth match. Rahul ended at 110 not out off 51 balls. His 46-ball hundred was the joint second fastest T20I ton, levelled with South African Faf du Plessis and one ball more than Richard Levi of South Africa.
"Rahul has been very consistent. Wherever he has batted for India, including in Zimbabwe, he has done really well. The good thing is that he is among those openers who can play well against spinners.
"He (Rahul) is a compact player and at the same time can play unorthodox shots and he plays all over the ground, can hit over covers, over mid on and mid off. A complete cricketer and of course a long way to go for him. The way he was playing in last six months it was very encouraging to see him bat."
Asked about the likely impact of the kind of dramatic finish in the T20I match, Dhoni said, "It is amazing for the spectators but tough for the bowlers and batsmen. But I think for spectators they just love the fact that so many boundaries got hit and so many sixes happened in the game. 30-40 sixes I don't know, it could be comparable to baseball. I don't know how many home runs you get that.
"There were a lot many sixes and it is not only straight sixes, bowlers got hit everywhere. It's good for spectators, especially Indian fans. They love sixes, boundaries and wickets. If you have a mixture of all and still if you can get a game as close as this one, they feel very satisfied and they feel OK, for every dollar spent they got the best out of it."