It has easily been the biggest launchpad for talented cricketers but never has a single edition of the Indian Premier League thrown up a minefield of local talent like the one that concluded on Sunday.
The stories of 'one season wonders' like Swapnil Asnodkar, Manpreet Gony and Paul Valthaty is well documented but a close analysis of the 10th edition would reveal that a handful of players have emerged, which would only make the bench strength of Indian team solid in coming years.
Three such cricketers would be fast bowler Basil Thampi from Kerala, Delhi left-hander Nitish Rana and unheralded Maharashtra boy Rahul Tripathi.
The trio made the big stage their own, showed admirable technique but above everything else displayed temperament -- the main ingredient to survive at the highest level in any sport.
Thampi is the one for the future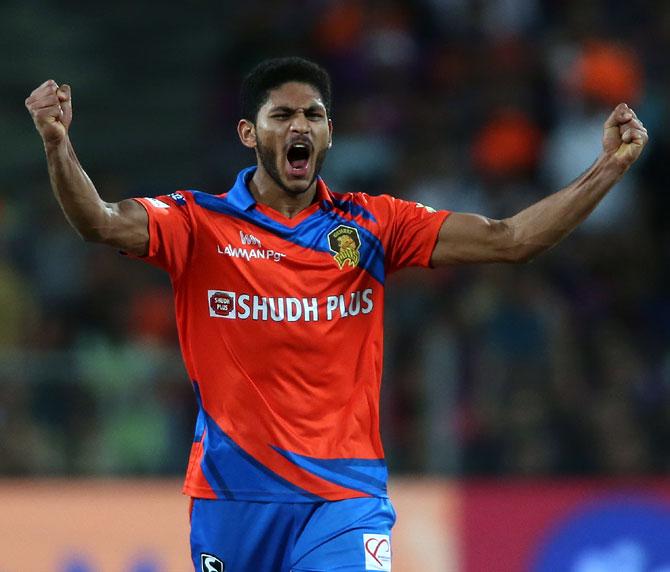 IMAGE: Basil Thampi grabbed everyone's attention with his ability to bowl consistently at a good pace. Photograph: BCCI
The man who has grabbed attention of one and all is young paceman Thampi. There are times when statistics will never tell you the whole story. Thampi's performance is a case in point where his special talent as a limited overs fast bowler came to the fore.
That's the reason why IPL jury awarded him the 'Emerging Player' award despite only 11 wickets from 12 games at an expensive economy rate of 9.49 runs per over.
Thampi showed the ability to bowl yorkers at will and clocked 140 plus clicks effortlessly.
He was able to hurry the batsmen for pace and even chairman of selectors MSK Prasad admitted that he is the one for the future.
His IPL captain Suresh Raina and star all-rounder Dwayne Bravo also termed him 'India prospect'.
National captain Virat Kohli's liking for genuine quicks is well-known and Thampi could be a welcome addition to the reserve pool of fast bowlers in ODIs and T20 Internationals.
Rana played his part in Mumbai Indians's triumph to perfection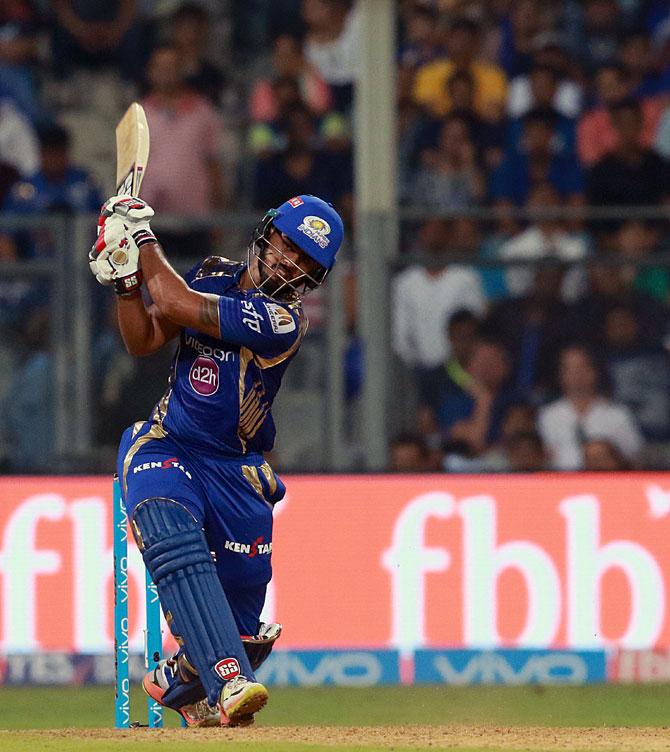 IMAGE: Nitish Rana hits out. Photograph: BCCI
A few months back, an irate Gautam Gambhir was taking potshots at Delhi state team coach KP Bhaskar for allegedly 'destroying the confidence' of young players like Nitish Rana.
Rana wasn't particularly having a good time in Vijay Hazare Trophy but was sent back home in the middle of the tournament for poor performance.
Incidents such as these differentiate boys from men. The 23-year-old left-hander got an opportunity to prove himself for Mumbai Indians and he came up with inspiring show.
The 333 runs in 13 matches at a strike-rate of 126.13 showed how wrong Bhaskar's assessment was about Rana's quality and potentially what he could have brought to the table.
He had to relinquish his place to seasoned Ambati Rayudu towards the business end of the tournament but Rana played his part in Mumbai Indians's triumph to perfection.
He hit 17 sixes in all and most of them were big ones landing into the stands.
And he is not just a T20 dasher. The 961 runs in 16 first-class matches at a steady 41 plus average shows that he has ability to play in longer formats.
With a bottom-handed grip and strokes on both sides of the wicket, Rana is certainly one to watch out for.
Tripathi not only did well but more than well enough to put Rahane in his shadows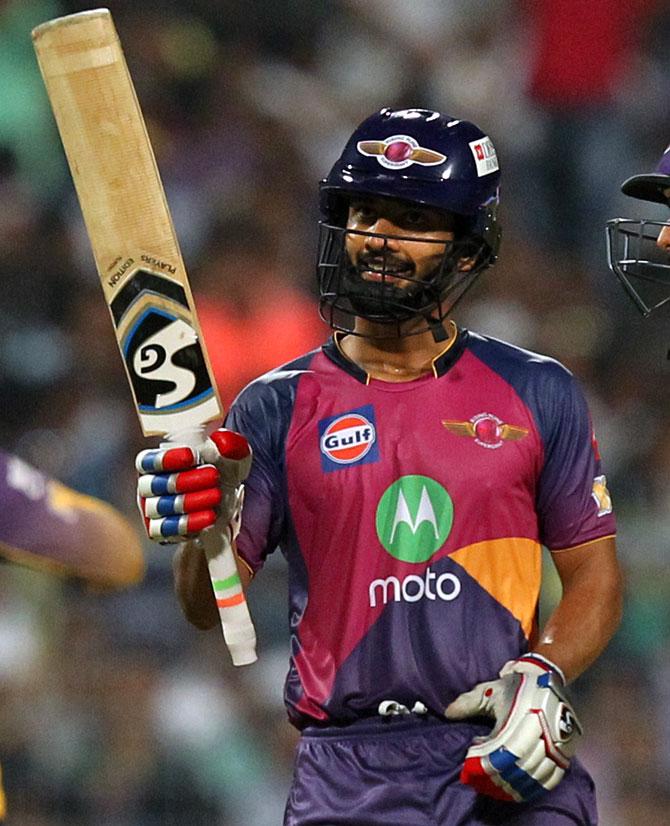 IMAGE: Rahul Tripathi celebrates. Photograph: BCCI.
There is no substitute for orthodox cricketing shots even when batsmen out there in the middle are trying all sorts of innovation.
Rahul Tripathi would not have got his share of chances had IPL specialist Mayank Agarwal not failed in the first couple of matches prompting skipper Steve Smith to realise that he is not an answer to Rising Pune Supergiant's opening woes.
Tripathi came in from the third game and by the end of the tournament scored 391 runs at a strike-rate in excess of 146. His performance somewhat tapered during the knock-out stages but he has done enough to earn praise from all quarters.
It's not easy opening with a star player like Ajinkya Rahane but Tripathi not only did well but more than well enough to put Rahane in his shadows.
His 93 against Kolkata Knight Riders was full of authentic cricketing shots. He has the ability to play pull- shot in-front of the wicket, the footwork against spinners has been admirable and looked equally adept on front and backfoot.
For Thampi, Rana and Tripathi -- the real test begins now. The next domestic season will be an acid test for them. While India's red-ball team (Tests) is more or less set but a good season in whites will certainly give their confidence a boost and prepare them for white ball season (limited overs cricket).
There will be an India 'A' tour to South Africa in next few months and one can expect some of these youngsters to make the cut. The trio along with Krunal Pandya, Rishabh Pant gives an assurance that Indian cricket is in safe hands.