Sachin Tendulkar has recollected how disappointed the team was after the shock first round exit from the 2007 World Cup, and how he was hurt when people questioned the commitment of the Indian players.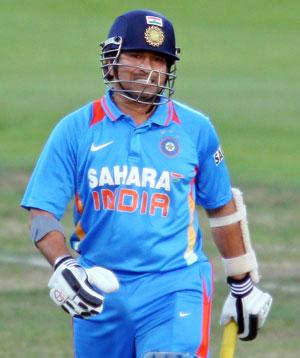 "After we returned to India, the media followed me back home and it hurt when I heard my own people doubting the commitment of the players.
"The media had every right to criticize us for failing, but to say we were not focused on the job was not fair.
"We had failed to fulfil the expectations of the fans, but that did not mean we should be labelled traitors. At times the reaction was surprisingly hostile and some of the players were worried about their safety," says the batting icon in his autobiography Playing it My Way, due for release on Thursday.
Tendulkar said the thought of retirement did cross his mind after the 2007 Cup debacle but family and friends insisted that he should carry on.
"Headlines like Endulkar hurt deeply. After eighteen years in international cricket, it was tough to see things come to this and retirement crossed my mind.
"My family and friends like Sanjay Nayak did all they could to cheer me up and after a week I decided to do something about it. I started to do some running, to try to sweat the World Cup out of my head."
The 41-year-old, who retired with 15,921 runs and 51 centuries in 200 Tests and 18,426 runs and 49 centuries in 463 One-dayers, was critical of the former Australian coach Greg Chappell's propensity to hog the limelight when the going was good but had the habit of leaving the players in the lurch when all went downhill.
"I also remember that every time India won, Greg could be seen leading the team to the hotel or into the team bus, but every time India lost he would thrust the players in front.
"In general, John and Gary always preferred to stay in the background, but Greg liked to be prominent in the media."
Image: Sachin Tendulkar
Photo: Getty Images