Left-arm spinner Harmeet Singh, who shone with the ball in India's Under-19 World Cup triumph in Australia last month, has been rewarded with a berth in the Rest of India squad that will play Ranji Trophy champions Rajasthan in the Irani Cup match, as well as the India 'B' squad for the Challenger Trophy.
The annual Irani Cup feature, which will be played from September 21 to 25, has been shifted to Bangalore after the Jaipur stadium pitch was found unsuitable to stage it.
Cheteshwar Pujara will captain the Rest of India team, which also has Ajinkya Rahane, Shikhar Dhawan and three Chennai batsmen in Murali Vijay, Subramaniam Badrinath and Dinesh Karthik.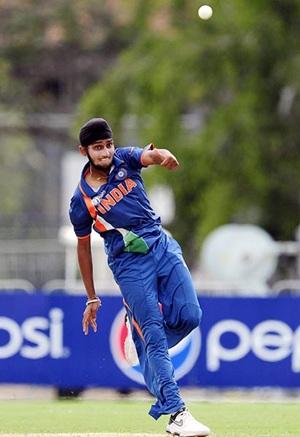 Baroda all-rounder Yusuf Pathan also gets a chance to stake his comeback into the Indian team, while Parvinder Awana has been rewarded for his good performances in the IPL and domestic cricket.
Mumbai Harmeet has been already tipped to make it big in international cricket, with Ian Chappell saying the youngster is ready to play for India.
Stuart Binny also gets a look after good performances at the first class level for Karnataka.
Pragyan Ojha, who recently excelled in the two-Test series against New Zealand, was included after he expressed his desire to play in the match to keep his form and rhythm going.
Ishant Sharma and Umesh Yadav form a strong pace attack, which also includes the out-of-favour Abhimanyu Mithun.
The India colts' World Cup triumph has certainly caught the selectors' attention as Harmeet's teammates Baba Aparajith and seamer Sandeep Sharma have also been included in the India B squad, which will be led by Pujara.
With India's senior team away for the World Twenty20 and the next batch in New Zealand for an 'A' tour, it was certainly a difficult job for the Krishnamachari Srikkanth-led selection panel to choose 28 players for the two teams as the third team will be Vijay Hazare Trophy champions Bengal.
The Challenger Trophy will also feature some out-of favour India bowlers, like Praveen Kumar and Munaf Patel, plying their trade along with discarded Tamil Nadu opener Murali Vijay and 'Challenger veteran' Badrinath, who will?lead India 'A'.
Outgoing chairman's son Srikkanth Aniruddha, who had two ducks and two half centuries in the zonal one-dayers against Kerala and Hyderabad was?inducted in one of the two Challenger squads.
The Challenger Trophy will be held in Rajkot from September 29 to October 2.
Rest of India squad:
Cheteshwar Pujara (Captain)
Shikhar Dhawan
Ajinkya Rahane
Murali Vijay
Subramaniam Badrinath
Dinesh Karthik
Wriddhiman Saha
Yusuf Pathan
Pragyan Ojha
Parvinder Awana
Ishant Sharma
Umesh Yadav
Stuart Binny
Abhimanyu Mithun
Harmeet Singh
Challenger squads:
India 'A':
Subramanium Badrinath (Captain)
Ajinkya Rahane
Shikhar Dhawan
Robin Uthappa
Dinesh Karthik
Manish Pandey
Yusuf Pathan
Ishant Sharma
Parvinder Awana
Abhimanyu Mithun
Pragyan Ojha
Iqbal Abdulla
Harshal Patel
Udit Birla.
India 'B':
Cheteshwar Pujara (Captain)
Murali Vijay
S Anirudh
Kedar Jadhav
Robin Bist
Stuart Binny
Ravindra Jadeja
Baba Aparajith
Praveen Kumar
Umesh Yadav
Munaf Patel
Harmeet Singh
Rohit Motwani
Sandeep Sharma.