Mithali Raj trained in classical dance for eight years until she decided one day it was time to follow her heart and exhibit footwork of another kind.
She swapped the ghungroos for cricketing pads and since then has made the opposition dance to her tune.
Earlier this month, Mithali became only the second woman cricketer, after England's Charlotte Edwards, to reach the 5,000-run mark in ODIs. Haresh Pandya doffs his hat to the high-scoring lady.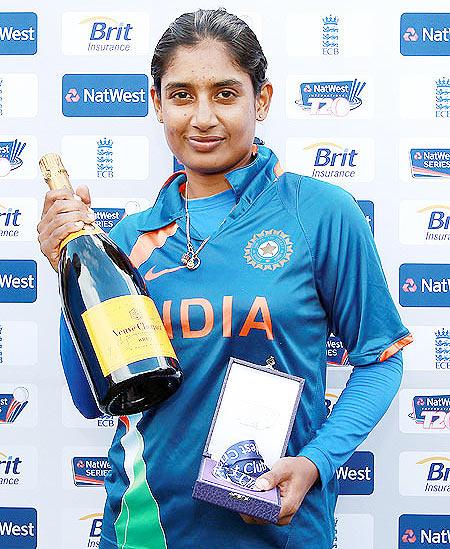 Image: Indian women's cricket captain Mithali Raj. Photograph: Jan Kruger/Getty Images
Long training in Bharata Natyam, which she pursued as a child, has given Mithali Raj her nimble footwork which enables her elegantly execute her shots.
There are few better sights in women's cricket today than Mithali on song, playing many of her exquisite shots in her inimitable style.
Earlier this month, July 6, India's women's cricket captain was on song against New Zealand, scoring a spectacular 81 not out.
Thanks to her captain's knock, India chased down 220 -- the highest by a women's team on Indian soil and the second highest overall -- in 44.2 overs.
En route, Mithali became only the second lady cricketer after England's Charlotte Edwards to reach the 5,000 run milestone in ODIs.
"She is a world-class player. She is a brilliant batter with a large repertoire of shots. I think the square drive is her finest shot. She is very confident of her ability. She is very consistent and loves to play bigger innings," former teammate and skipper Anjum Chopra told me.
"She has contributed immensely to women's cricket, not only in India, over the years," Anjum added.
Mithali was born in Jodhpur, Rajasthan, on December 3, 1982, in a middle-class family. Her grandparents were against her pursuing a men's sport and wanted her instead to learn Bharata Natyam, but her father Dorai Raj and mother Leela Raj were always very supportive.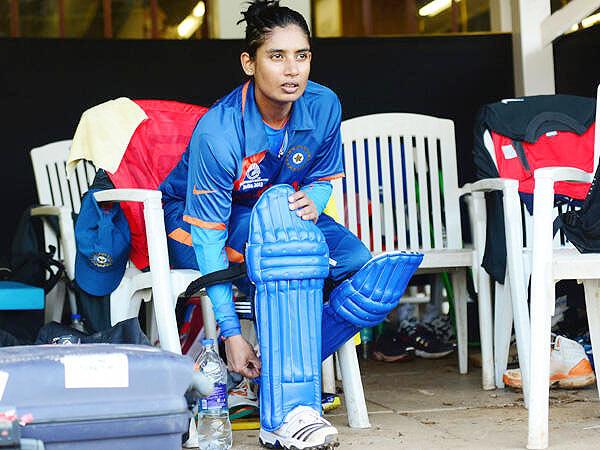 Image: Mithali's parents were supportive of her decision to pursue a career in cricket. Photograph: Mithali Raj/Twitter
As a child, Mithali learnt classical dance for about eight years and gave several stage performances. She was equally good at cricket and played the game with other children, both boys and girls, but when the mood seized her.
'In the early 1990s I had to choose between cricket and Bharata Natyam,' she said once. 'It wasn't easy. It was very difficult, very painful, to take the decision.'
'Now when I look back, I feel I made the right choice. I couldn't have pursued dance and cricket together. It had to be either dance or cricket.'
'Though I had no support or encouragement from others initially, my parents were very kind and understanding. They always helped me and sacrificed a lot for my cricket. Once I started excelling at cricket and getting recognition, people began changing their approach.'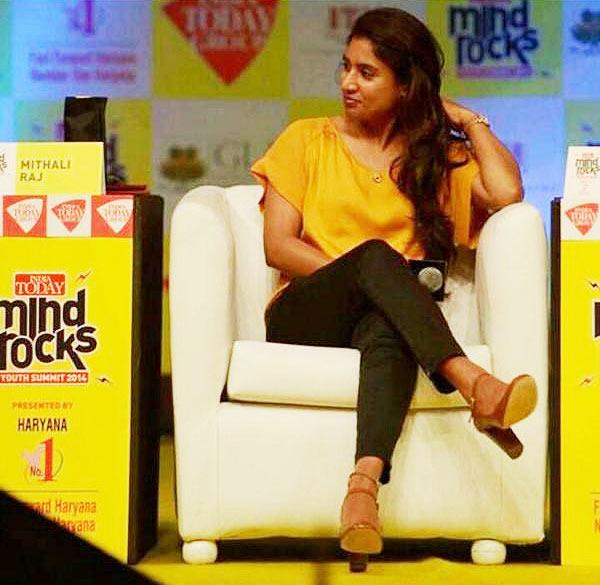 Image: Mithali faced male cricketers in the nets at the Keyes High School. Photograph: Mithali Raj/Twitter
When Mithali accompanied her brother Mithun Raj, a budding cricketer, to the St John's Coaching Foundation in Hyderabad, she was spotted by Sampath Kumar, who is credited with teaching her the rudiments of cricket.
Idolising Sachin Tendulkar, Ricky Ponting and Mark Waugh, she would practice vigorously and enthusiastically at the Keyes High School, often playing male cricketers in the nets.
By the time she was 12, she moved to the highly competitive league run by the Andhra Pradesh Women's Cricket Association and started plundering runs.
At 14, she was considered talented enough to play in the Senior Nationals, and in 1995 she took the field alongside India players Rajni Venugopal, Vanita Viola and Purnima Rau.
She was not yet 15 when she was chosen an India probable for the 1997 World Cup.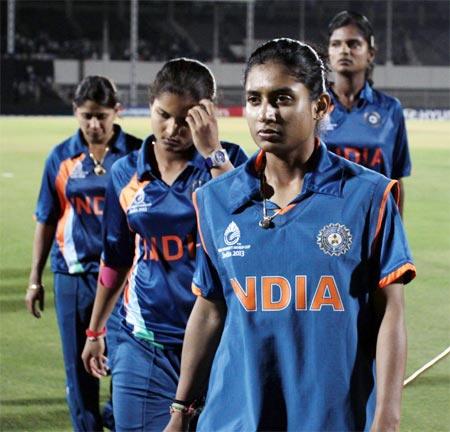 Image: In 10 Tests and 16 innings, Mithali has scored 663 runs, at an average of 51, including one double century and four fifties. Photograph: ICC/Solaris Images
The precociously gifted Mithali is not only one of the most delightful batswomen to watch, she is also one of the most prolific when it comes to scoring runs in cricket's three different formats.
She made her India debut in a One-Day International against Ireland at Campbell Park in Milton Keynes in June 1999, scoring an impressive 114 not out and sharing an unfinished 258-run partnership for the first wicket with Reshma Gandhi (104 not out).
She has been the mainstay of the Indian team since.
Though she did not play a single international game on India's 1999 tour of England, the right-handed batswoman averaged nearly 75 runs per innings in the 2000 World Cup in New Zealand, though she could play just three matches as she was down with jaundice.
The Arjuna Awardee may have failed to score a run in her very first Test, against England at Lucknow in January 2002, but made a splendid 214 in the second and final Test at Taunton on India's tour of England later that year.
Just 19 and the team's vice-captain, she added 144 runs for the fourth wicket with Hemalata Kala and 148 for the seventh with Jhulan Goswami and, in the process, broke the record for the highest individual score (209) held by Australia's Karen Rolton.
For a while, both Mithali (214) and V V S Laxman (281), who also hails from Hyderabad, shared a unique record -- the highest individual Test scores by an Indian cricketer in women's and men's cricket respectively.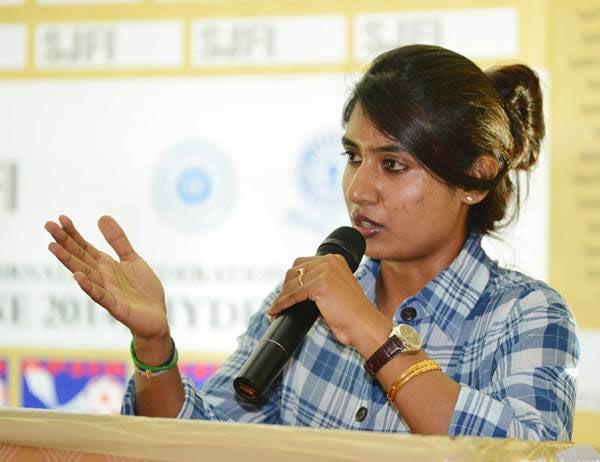 Image: Mithali Raj was awarded the Padma Shri this year and the Arjuna Award in 2003 in recognition of her contribution to Indian cricket.
Both records have since been eclipsed. Laxman was surpassed by Virender Sehwag and Mithali by Kiran Baluch, who scored 242 for Pakistan against the West Indies in March 2004.
In 10 Tests and 16 innings, Mithali has scored 663 runs at an average of 51, including one double century and four fifties.
In 144 innings of 157 One-Day Internationals, she has scored a record 5,029 runs at an average of 48.82 with the help of five centuries and 37 half-centuries.
In 47 Twenty20 international matches she has scored 1,267 runs at an average of 37.26 and hit seven fifties.
As captain, she led India to its maiden World Cup final, in South Africa in 2005, which the Indians lost to Australia.
In August 2006, she led India to its first-ever Test and series win in England, and wrapped up the year winning the Asia Cup without losing a single game.
In 2008, India won its fourth consecutive Asia Cup title under her leadership. But a dismal tour of England later that year cost her the captaincy as India could not win even a single game.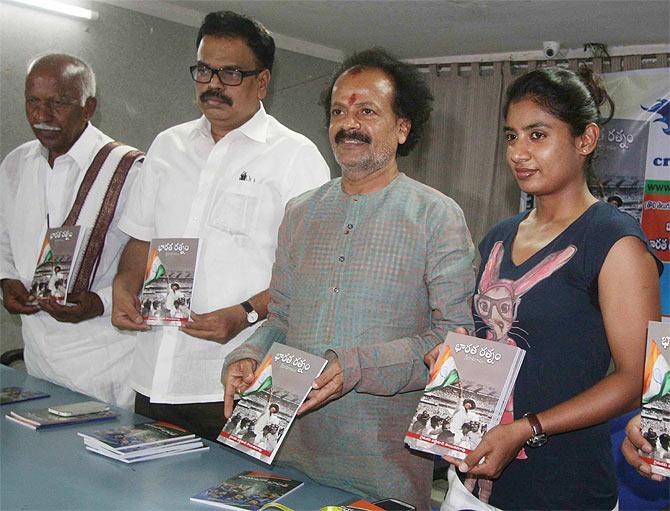 Image: Mithali Raj, right, at a book launch in Hyderabad. Photograph: Snapsindia
Four years later, when India set off for another tour of England, she was back at the helm. Unfortunately, she could not prevent India from going down in the ODI series despite her personal contribution of 251 runs.
She was very hopeful of winning the last World Cup, which was played in India in 2013, but her team's collective failure in the must-win match against Sri Lanka and elimination in the first round itself dashed all hopes.
Her match-winning 103 not out against Pakistan in Cuttack for the seventh place play-off was some consolation.
Though Mithali was brilliant with the bat throughout the tournament, India failed to make it to the semi-finals of the Women's WorldTwenty20 in 2014.
In 2003, the Government of India conferred on her the Arjuna Award, the country's highest honour for a sportsperson.
The same year, Tendulkar presented her a car on behalf of Hyderabad fans. Describing Mithali as a 'great cricketer,' Tendulkar said she had done 'a lot for the country' and emphasised that she deserved many more such awards.