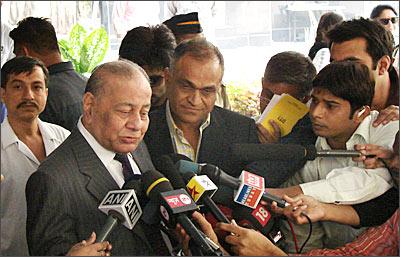 The fact that Harbhajan Singh had not been booked under the International Cricket Council's Code of Conduct after 1998 saved him from getting a bigger punishment after the charges of racism levelled against him were dropped, it was revealed by the Board of Control for Cricket in India on Tuesday.
"The BCCI was firm on its stance that racism charges levelled against Harbhajan should be totally dropped. Had the charges stuck, they would have reflected badly on the BCCI and the nation at large," said, V R Manohar, BCCI-appointed lawyer for the off-spinner, in Mumbai after the conclusion of the appeals hearing in Adelaide.
"He [Harbhajan] admitted to have hurled abuses [of non-racial nature] against the first aggressor Andrew Symonds. Once the level of the Code of Conduct charges was reduced from 3.3 to 2.8, it was left to Justice (John) Hansen to hand out appropriate punishment for the offence under which he now stood charged.
"It varied between the higher end - a ban of two ODIs and one Test - and 50 per cent of the match fees. Since he had not been charged since 1998 [under the ICC code of conduct] the lowest level of punishment was meted out which worked out to 50 per cent of match fees," Manohar explained.
Manohar defended Harbhajan via a teleconference while seated in the BCCI headquarters in Mumbai when the hearing was held in Adelaide.
"Statements were taken from Sachin Tendulkar and Harbhajan from the Indian side while the Australian side was represented by Symonds, captain Ricky Ponting, Matthew Hayden and Michael Clarke," he added.
Manohar also said that the past undercurrent of tension between the two teams and especially between Harbhajan and Symonds in the aftermath of the World Cup [Twenty20 World Cup in South Africa where India beat Australia on way to clinching the crown] was also taken into consideration while handing out the punishment.
"It was Symonds who was the first aggressor and Harbhajan retorted. That was also taken into consideration at the hearing," said the father of BCCI's president-elect Shashank Manohar.
"It was also explained that Harbhajan knew Symonds only as an Australian player and nothing more about his race or religion," Manohar added.
Image: Senior counsel VR Manohar and BCCI secretary Niranjan Shah address the media outside the BCCI headquarters in Mumbai on Tuesday.
Photograph: Reuben N V