Pakistan's outcast stumper Zulqarnain Haider, on Tuesday, demanded that authorities check the assets of all the players, who were named by alleged bookie Mazhar Majeed during his conversation with an undercover reporter.
Haider, who had fled the Pakistan team hotel from Dubai last November after claiming he was given death threats by a bookmaker, said he felt vindicated after hearing about the jury verdict against Salman Butt and Mohammed Asif.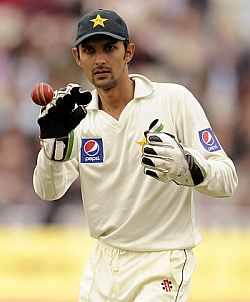 "A lot of people made fun of me and called me what not. But today I feel my point is proved that there is corruption in cricket. I am not surprised by the verdict reached by the jury. Because there is definitely involvement of these players in spot-fixing and all those who try to corrupt the game should be punished," Haider said.
The wicketkeeper had said that bookmakers wanted him to fix a match and he turned down the offer. He was fined by PCB for fleeing team hotel without informing anyone and even sought political asylum in the UK before returning to his country. He is now playing for ZTBL in the ongoing Quaid-e-Azam Trophy tournament.
Haider said the PCB and the government must investigate the assets of all those players who were named by Mazhar Majeed during his conversations with the News of the World reporter Mazhar Mahmood.
"I have friends in the national assembly and I will go to them and tell them to pass a bill in the assembly making it mandatory for assets of all players to be checked and anyone found guilty of corruption should be jailed for seven years," he said. 
The jury at the Southwark crown court on Tuesday found Pakistan cricketers Salman Butt and Mohammad Asif guilty of fixing part of a Test match against England and the judge is expected to read out the sentences on Wednesday or Thursday.
Mazhar Majeed told the News of the World undercover reporter, Mazhar Mahmood how he could arrange for Pakistan players to rig games for money and how he claimed he had been carrying out match-fixing for 2-1/2 years, had seven players from Pakistan's national side working for him, and had made "masses and masses of money".
During the trial the jury heard Mazhar Majeed claiming that Umar Akmal, Kamran Akmal, Wahab Riaz, Imran Farhat were also part of his racket that rigged games. Farhat and Wahab are presently playing the Test series against Sri Lanka while Umar and Kamran are active in domestic cricket.