Runaway wicket-keeper Zulqarnain Haider has urged the Pakistan Cricket Board to clear his dues amounting to Rs 1.5 million.
Zulqarnain, who attended an important hearing of the British home department in London on Thursday pertaining to his asylum application in UK, said that before leaving the eam in Dubai in November last year, he had featured in two T20 and four ODIs against South Africa in UAE.
"Therefore the PCB owes me around Rs 1.5 million, which I dearly need as I have been finding it difficult to meet my expenses in the UK," Zulqarnain Haider told the News One channel.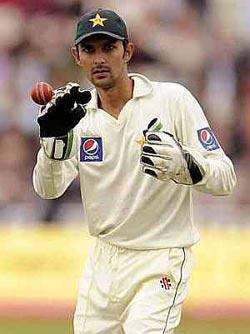 The board released part payments of outstanding dues to suspended players, Salman Butt and Muhammad Aamir despite them being under investigation for alleged spot-fixing.
Haider left the team in Dubai after allegedly receiving a threat after the fourth ODI match against South Africa. Later he applied for asylum citing fears for his life in Pakistan.
"My interview at the home office went very well, they asked about my security concerns and this is all I can share at this moment. I am hoping a verdict in my favour next week," added Haider who played only one Test match for Pakistan.
Sources close to him said that Zulqarnain had taken the plea at the hearing that when the former Prime Minister of the country, late Benazir Bhutto and more recently the Governor of Pakistan's largest province, Punjab, Salman Taseer were not safe in Pakistan who could guarantee his security after receiving threats from bookmakers.
"Zulqarnain has taken the plea that he does not feel secure enough to go back to Pakistan and that he is under so much stress that he is not even keeping regular contact with his family in Lahore for fear of exposing them to those making threats to him," one source said.
Asked about his threats to expose corrupt elements in Pakistan cricket, Zulqarnain maintained he could not do it until he got asylum in the UK.
"I am worried about my family's security in Pakistan at the moment. Once they reach here (London) I will definitely unearth the corruption in Pakistan cricket," maintained Haider.
He also claimed to have turned down lucrative offers from the News of the World (NOW) and others for giving them sensational stories.
"Not just NOW, but a few Indian channels have also offered me a lot of money for their story, however I refused. Let me tell you that the offers were huge, but I turned them down," he said.