The Pakistan Cricket Board has refused to provide any compensation to national Twenty20 captain Muhammad Hafeez, who had to miss the Big Bash tournament in Australia because of the national team's Test commitments.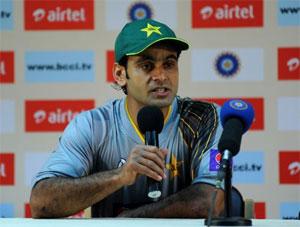 A reliable source in the Pakistan Cricket Board said that unlike previous instances when some senior players were compensated for skipping or cancelling contracts in foreign leagues, this time the board has adopted a different stance.
"The acting chairman, Najam Sethi, recently conveyed it very clearly to Hafeez that the board was not in a position to compensate him for missing the Big Bash for which he was offered a contract," the source said.
He said Hafeez pulled out of the Big Bash because it clashed with the Test series with Sri Lanka in the United Arab Emirates this month.
"But Hafeez had tried to convey to the chairman through a third party that he should be given some compensation for his cancelled contract with the Australian side.
"Sethi also made it clear that the board was facing a financial crunch because of international teams not touring Pakistan since 2009 and was also cutting down on other expenses," he added.
In the past, the Board has compensated senior players like including Muhammad Yousuf and Umar Gul for missing or cancelling contracts with foreign leagues.
Yousuf, in fact, was paid a whopping amount of around Rs 10 million for pulling out of a contract with the Indian Cricket League in 2008.
The source said Sethi, however, conveyed to the players that their request for a pay raise in the new central contracts would be given consideration and they could get a small hike, between 10 to 15 per cent, in their central contracts.