Shaharyar raises hopes of Indo-Pak series, draws rebuke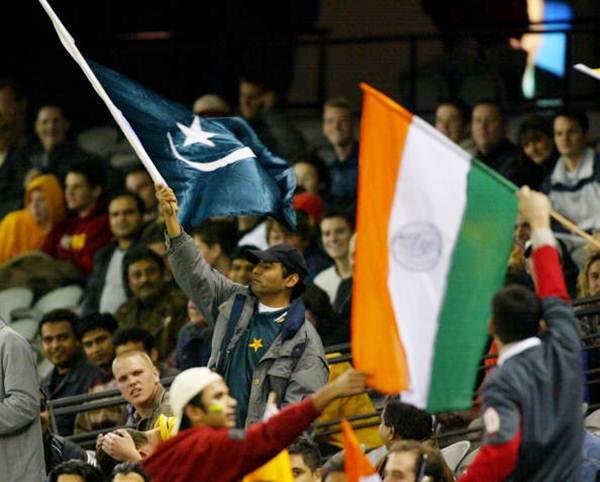 IMAGE: India and Pakistan supporters. Photograph: Getty Images
Pakistan Cricket Board (PCB) bhairman Shaharyar Khan has again raised hopes of an Indo-Pak bilateral series saying in the aftermath of Prime Minister Narendra Modi's visit there could be 'good news soon', evoking sharp criticism in Karachi for continuing to pursue the issue.
Shaharyar, who has been pushing for a bilateral series with India in the last few months despite not getting positive response from his Indian counterpart, told the media he was hopeful that the Indian Prime Minister's visit would create an environment to have the series and there could some good news soon.
But soon after Shaharyar's comments, criticism flowed in for trying to revive a dead issue.
"I don't understand why he keeps on harping on the same old tune. It is clear the Indians don't want to play us now and yet it seems we are desperate to play them," former PCB chairman Ijaz Butt said.
"I appreciate the efforts made by Shaharyar to revive bilateral cricket ties with India but he has to understand you clap with two hands and the Indians are avoiding playing us now on one pretext or the other," Butt added.
He said Modi's visit to Lahore and recent talks at the national security adviser level between the two countries did evoke the question why couldn't cricket be played between the two nations.
Former captain Aamir Sohail said that Shaharyar should now realise that it was best left to the Indians to play a series with Pakistan.
"We have survived without playing them for eight years and if they don't play now it wouldn't make much of a difference. I think Shaharyar Khan jumps the gun while giving statements he needs to be more cautious in future," Sohail said.
The International Cricket Council president and former captain Zaheer Abbas, however felt there was nothing wrong in the PCB chief expressing hopes that India would confirm a series with Pakistan soon after Modi's visit.
"The cricket world wants to see Pakistan and India play. If the PCB is keen to have the series even in 2016 what is wrong in expressing one self," he opined.
Batting great Javed Miandad said that Shaharyar needed to adopt a wait and see policy on cricket with India.
"Instead of giving statements, keep quiet. It is now obvious there will be no immediate series so the PCB should now ensure whenever India says it wants to play it is a full home series for Pakistan at their terms and conditions," Miandad said.