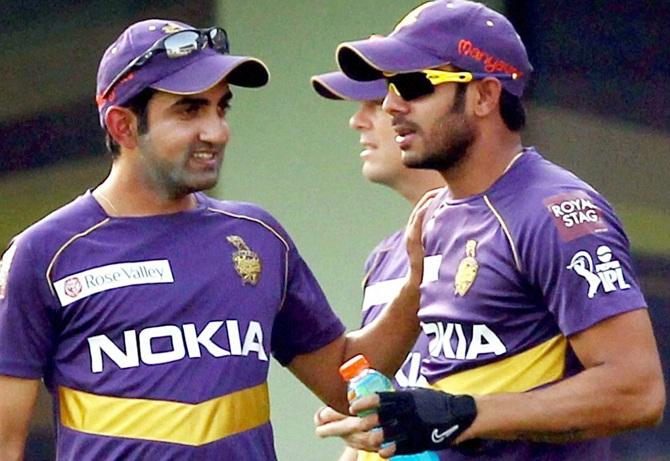 IMAGE: File photo of Delhi captain Gautam Gambhir, left, with Manoj Tiwary. Photograph: PTI Photos
There were ugly scenes at Feroz Shah Kotla ground as rival captains Gautam Gambhir and Manoj Tiwary nearly came to exchanging blows during the Ranji Trophy match between Delhi and Bengal, in New Delhi on Saturday.
Situation came to such a pass that umpire K Srinath had to come between the two players as Gambhir and Tiwary came charging at each other.
In an unprecedented ugly gesture, Gambhir even pushed umpire Srinath, who tried to intervene, an act that could invite a ban.
The incident happened in the 8th over (7.1) when Partha Sarathi Bhattacharjee was dismissed off Manan Sharma's bowling and Tiwary came in to bat at No. 4 wearing a cap.
Tiwary first took guard and was about to take strike. But he stopped the bowler and signalled at the dressing room to bring his helmet as a pacer was operating from the other end.
Delhi players felt that it was a deliberate time wasting tactic.
Manan ticked off Manoj and he told him to lay off. All of a sudden, Gambhir, at first slip, got into the action and started abusing the Bengal skipper, who then retaliated.
Suddenly all hell broke loose as Gambhir said: "Shaam ko mil, tujhe maroonga (Meet me in the evening, I will hit you). And Tiwary retorted, saying: "Shaam kya abhi bahar chal (Why wait till evening, let's go out and settle it now").
Umpire Srinath then sprinted from bowler's end and tried to douse the situation.
Gambhir with his fists raised charged towards Tiwary, who was also not ready to back down. Umpire Srinath came in the middle, but Gambhir to everyone's horror pushed the umpire trying to get him out of the way.
Tiwary then shouted at Gambhir, saying: "Did I tell you anything? Why did you have to come in between."
Bengal manager Sameer Dasgupta was also summoned by match referee to hear his team's version, while Delhi was represented by Manoj Kapoor.
Gambhir however, claimed that he had not pushed the umpire nor had he used abusive language against Tiwary.
"I was most surprised that certain sections of the media have reported that I pushed an on-field umpire during 3rd day's play of Delhi-Bengal Ranji trophy game. It's factually incorrect. Here is what happened. Manoj Tiwary walked into bat with Bengal score reading 2 for 2 wickets down"
"After conceding first innings lead we were keen to press home the advantage by playing positive cricket. We got fielders around Manoj trying to pressurise him. At which point he started taking longer than usual to face the next ball.
"My team-mates urged Manoj to refrain from wasting time. Instead of getting on with his batting he started abusing some of Delhi players. At which point I came in and told him what I thought about his demeanour. The umpires did a wonderful job of calming the situation by intervening right there. And the matter ended", Gambhir said in a statement.
He said that at no point he pushed the umpire or threatened Tiwary.
"At no point did I threaten or pushed any on-field umpires. Nor did I threaten to beat Manoj up. In fact, I attended match referee's hearing post the day's play where he accepted that he doesn't have any video evidence of me pushing the umpire. On the contrary the match referee conceded he had video evidence where Manoj is seen pushing Pradeep Sangwan. I am not complaining here but stating what the honourable match referee told me", he said.
The left handed Gambhir, who was a regular in the Indian team till a few years back, played 56 Test, scoring 4046 runs with nine centuries and 21 fifties at a decent average of 42.58.
In ODIs, he scored 5238 runs in 147 matches at 39.68. He hit 11 hundred and 34 half-centuries. He played 37 T20s and managed 932 runs at 27.41.
Gambhir fined 70 per cent, Tiwary docked 40 per cent of fees
Delhi captain Gautam Gambhir was fined 70 per cent of his match fees while his Bengal counterpart Manoj Tiwary copped a penalty of 40 per cent for their on-field altercation during the third day of the Ranji Trophy match between the two teams.
"The match referee (Valmik Buch) called me and informed that Manoj has been docked 40 per cent of his match fees as he also got into the argument. The match referee told me that rules specify that he will have to fine Manoj. Gautam Gambhir has been penalised 70 per cent of his match fees. There is no further hearing and no match ban has been imposed on either of them," Bengal team manager Sameer Dasgupta said.
Dasgupta also informed that Tiwary did not have to personally appear for hearing as the match referee handed him the letter which contained the quantum of punishment.