'I have hardly been able to put my mobile down. Everyone is calling me from Dubai and Pakistan'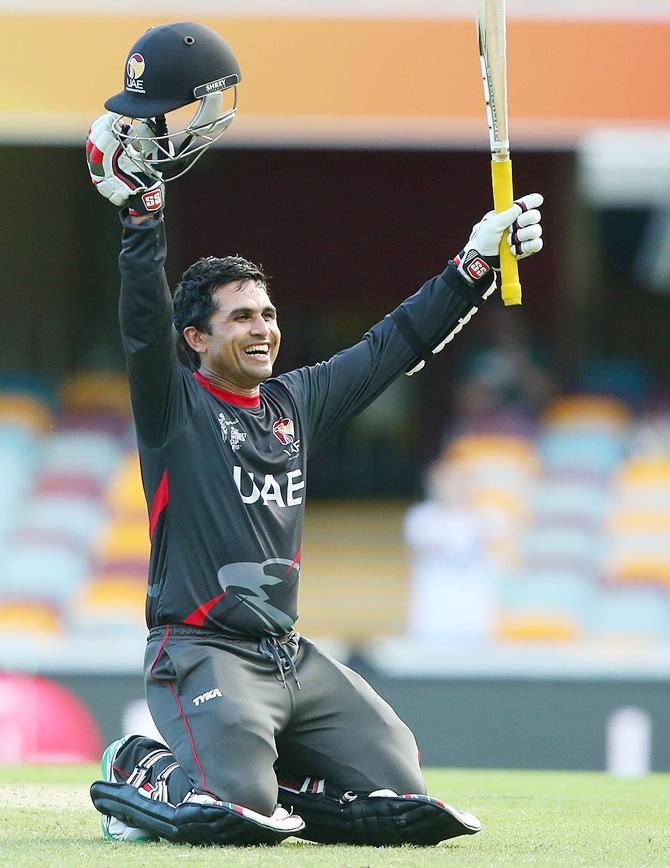 Shaiman Anwar of the United Arab Emirates celebrates a century during the ICC Cricket World Cup match against Ireland at The Gabba on February 25, 2015. Photograph: Chris Hyde/Getty Images
Halfway through the pool phase of the World Cup, an unlikely name, Shaiman Anwar, sits perched among the tournament's best batsmen.
- The World Cup, as never before on Rediff.com
- VOTE: Who will win the 2015 World Cup?
Unheralded before the World Cup, the United Arab Emirates' middle-order batsman has been a revelation, turning heads with his cool displays at the crease.
In three innings, he has scored 208 runs to be in the top 10 and ahead of the likes of Brendon McCullum, Virat Kohli and every player from Australia and England.
He is averaging 69.33 with an impressive strike rate of 114.28 and has already scored a hundred against Ireland and a half-century against Zimbabwe.
Anwar's lowest score at the World Cup is 35, against the reigning world champions India, in a match where only one of his team mates made double figures.
"He is one of the best players we have on our team," said UAE all-rounder Amjad Javed. "On his day he can really score quick runs for us, and we have seen it."
"He's very dangerous. Once he starts scoring he will score more and big runs."
Born in Pakistan, Anwar moved to the UAE in 2007 when he was offered a job in shipping. He was picked to play for his adopted country in 2010 and in 2014, he made his first One Day International appearance, helping the Emirates qualify for the World Cup.
Despite his reputation as a big hitter, Anwar failed to make much of an impression in his first full season of ODIs. In his first six matches, he managed a total of just 78 runs, with a top score of 26 not out.
In his final ODI before the World Cup, against Afghanistan in December, he posted his first half-century, and the 35-year-old has not looked back.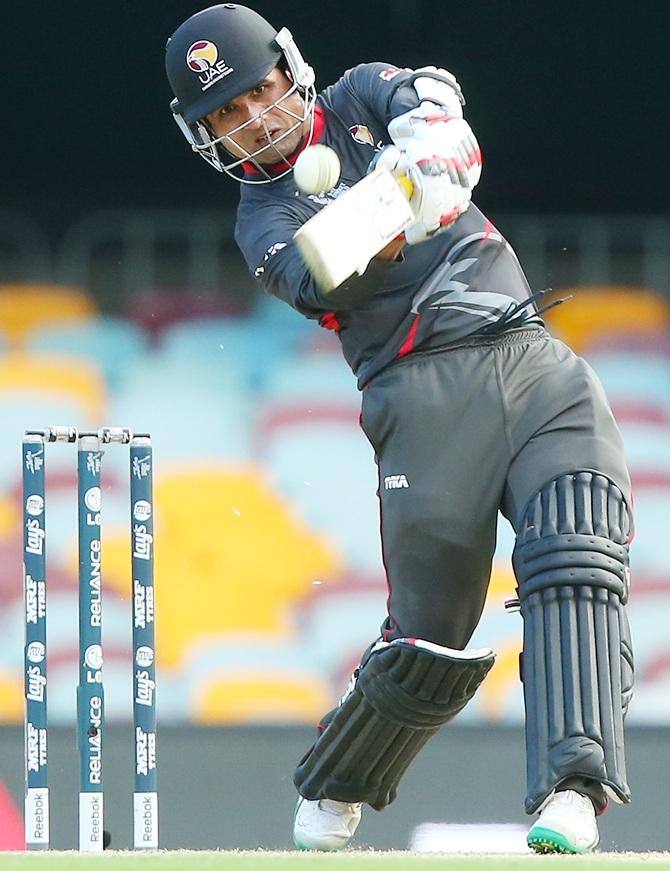 Shaiman Anwar of the United Arab Emirates bats. Photograph: Chris Hyde/Getty Images
He announced his arrival at the sport's global spectacle with a polished 67 against Zimbabwe before making an impressive 106 against Ireland, becoming the first batsman from UAE to score a century at the World Cup.
Thrust into the limelight, Anwar said he was overwhelmed by the response his century generated.
"I have hardly been able to put my mobile down. Everyone is calling me from Dubai and Pakistan," he told reporters. "I never thought scoring a century in a World Cup would elicit such a response.
"I realised that if you hit a century in the World Cup, the entire world will watch you. It is a huge platform. I did not have any idea how big it can get."
Unfortunately for Anwar, his performances have largely been in vain with his team losing all three matches so far and facing a near-impossible task of making the quarter-finals.
To have any chance of reaching the knockout phase, UAE would have to win their final three matches against Pakistan, South Africa and West Indies and rely on other results going their way.
But for a country that is relatively new to the game of cricket and making just their second appearance at the World Cup, winning the admiration of their rivals means as much as winning matches.
"I tell my teammates, it is a great opportunity, enjoy it and perform," Anwar said. "Then you will see what kind of response and respect you get."
Are you watching the World Cup? Please share your videos, photos and comments here