As India plays its 500th Test in Kanpur, Rajneesh Gupta presents a chronology of India's milestone Tests.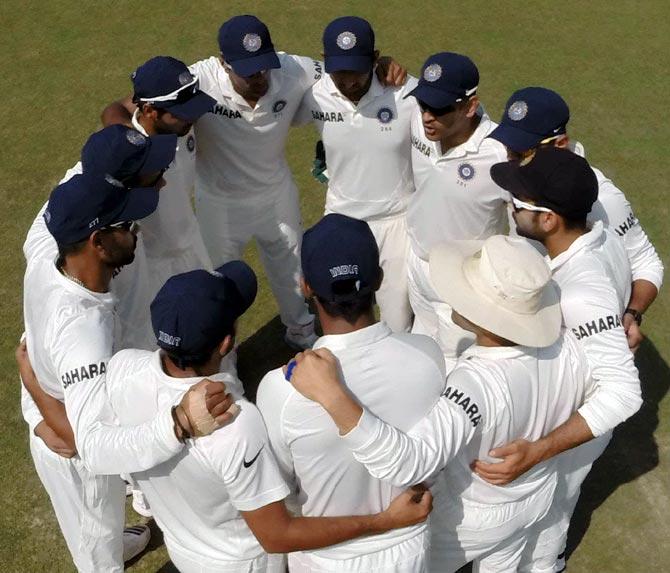 IMAGE: Captain Mahendra Singh Dhoni speaks to his team ahead of the start of the second innings of the first Test against the West Indies at the Eden Gardens, Kolkata, November 8, 2013. Photograph: BCCI
The first Test against New Zealand in Kanpur on Thursday, September 22, will be a milestone 500th game for India in the longer format.
India's journey in Test cricket started in 1932 when it played Douglas Jardine's England side at Lord's in 1932.
India, who were captained by Cottari Kanakaiya Nayudu, gave a good account of themselves in its first-ever appearance in Tests before losing to England by 158 runs.
Their 100th Test was also against England in Birmingham in 1967. Again, the Tiger Pataudi-led Indians finished on the losing side.
The 200th Test was played against Pakistan at Lahore in 1982. That match ended in a draw.
The 300th and 400th Tests were played against South Africa (1996) and the West Indies (2006) respectively with India emerging victorious in both games.
Of the 499 Tests India has played so far, India have won 129, losing 157. 212 Tests ended in draws.
India have also featured in a tied Test, against Australia, in Chennai in September 1986.
Rajneesh Gupta presents a chronology of India's milestone Tests: