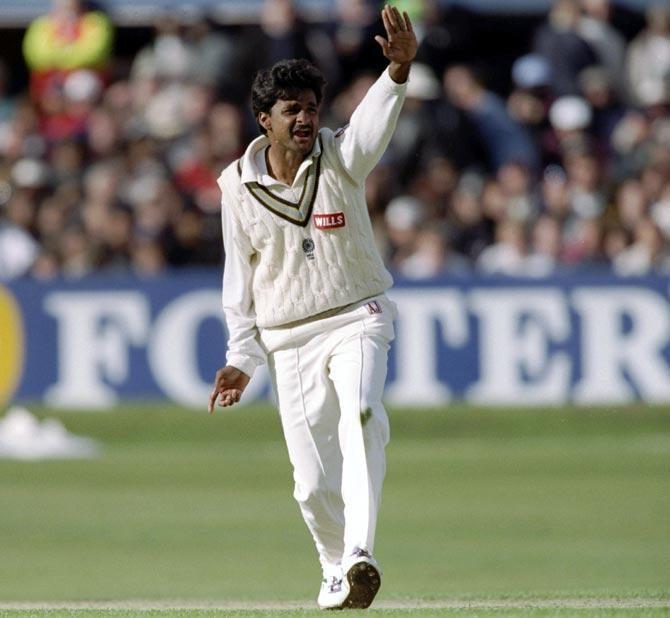 300th Test
Vs South Africa, Ahmedabad
20 to 23 November 1996
Captains: Sachin Tendulkar (Ind), Hansie Cronje (SA)
Toss: India
Result: India won by 64 runs

Devastating pace bowling by Javagal Srinath gave India victory on a poor pitch in Motera, Ahmedabad.
Though it seemed best suited to the spinners, Srinath's fast, accurate in-swingers and off-cutters brought him career-best figures of six for 21. South Africa crashed for 105 after being set a modest 170 to win. Sachin Tendulkar took the captaincy charge from Azharuddin, who became the first cricketer to play against all eight other countries, both home and away.
It was obvious that batting would not be easy on a brown, dusty pitch, and by winning the toss Tendulkar gave India a substantial advantage. India struggled against accurate bowling and sharp fielding. Allan Donald was superb, but the two most critical blows were struck by Jonty Rhodes. He held a dazzling diving catch at mid-wicket to dismiss Tendulkar and then ran out Azharuddin with a direct hit from cover.
Having restricted India to 223, South Africa needed to bat sensibly. Instead, they slumped to 119 for seven. No. 9 Fanie de Villiers (67) showed the application needed over three hours: with first Pat Symcox (32), and then Donald (17), as the Proteas added 125 runs for the last three wickets to establish a 21-run lead.
Donald struck twice before India erased the modest deficit, and they were 38 for three when Tendulkar sliced a slower delivery form Brian McMillan to Rhodes - again - at backward point. It was to be Rhodes' last significant contribution: later he strained his hamstring badly. Donald had Azharuddin brilliantly caught at second slip by McMillan, and, when Rahul Dravid was trapped by Symcox, India were just 70 ahead with five down.
22-year-old debutant VVS Laxman showed great temperament as he played a good innings of 51, adding 56 runs for the eighth wicket with Anil Kumble to push India's total to 190.
Needing 170, with nearly two days to get them, South Africa looked to their openers for a solid start before the spinners came on. Instead, Srinath took centre stage. He trapped Andrew Hudson with his fifth delivery in the second innings and then had Daryl Cullinan caught behind off the next as the South Africans were two down without a run on the board.
With captain Hansie Cronje the only batsman to last long, his team never looked like reaching the target. Srinath's pace and swing combined perfectly with Kumble's customary accuracy on a crumbling pitch which made driving through the line virtually impossible. From 96 for four, South Africa lost their last six for nine runs to be bowled out for 105.
Captain Tendulkar said he could not recall a Test with so many twists and turns.

India 1st innings: 223 (SR Tendulkar 42, M Azharuddin 35, SV Manjrekar 34, AA Donald 4-37, PL Symcox 2-48, PS de Villiers 2-55)
South Africa 1st innings: 244 (PS de Villiers 67*, DJ Cullinan 43, PL Symcox 32, SB Joshi 4-43, ND Hirwani 2-38, J Srinath 2-47)
India 2nd innings: 190 (VVS Laxman 51, R Dravid 34, A Kumble 30*, PR Adams 3-30, AA Donald 3-32, PL Symcox 2-47)
South Africa 2nd innings: 105 (WJ Cronje 48*, G Kirsten 20, BM McMillan 17, J Srinath 6-21, A Kumble 3-34, SB Joshi 1-28)
Image: India fast bowler Javagal Srinath appeals for a wicket.
Photograph: Adrian Murrell/Allsport UK