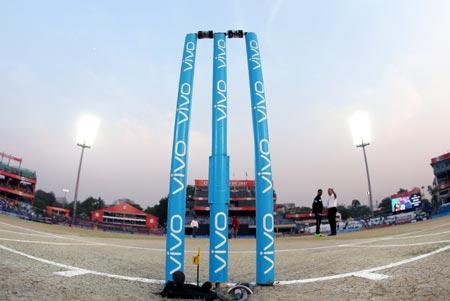 Former India cricketer A G Milkha Singh passed away at a hospital in Chennai on Friday following a cardiac arrest.

75-year-old Singh, who belonged to a family of cricketers, is survived by wife, a son and daughter.

Son of legendary cricketer A G Ram Singh from Tamil Nadu, he played four Test matches in the early 1960s.

A flamboyant left-hand batsman and a fine fielder, Milkha Singh made his Ranji Trophy debut at the age of 17 and played his first Test a year later.

He had a fruitful career for the Madras team (now Tamil Nadu) in the Ranji Trophy. He scored over 4,000 runs in first-class cricket inclusive of eight centuries.

His elder brother Kripal Singh, also played for the country, in 14 Tests. The brothers had played together in one Test against England in 1961-62.

His nephew Arjan Kripal Singh played Ranji Trophy for Tamil Nadu and scored a triple century in a game against Goa in 1987.

He was involved in a massive partnership in that match with W V Raman, who too scored a triple hundred as the team piled up a mammoth 912.

"The BCCI condoles the sad demise of AG Milkha Singh, a former Test player who passed away on Friday, Nov 10, 2017," BCCI said in a media release on Friday.

"Singh played four Test matches and made his India debut just after turning 18. Born in Chennai, he played 88 first-class games for Madras (now Tamil Nadu) and scored 4324 runs with eight centuries and 27 half-centuries. The dashing left-hand batsman was the first to score a century in the Duleep Trophy when he struck 151 for South Zone in 1961-62," it added.

The Tamil Nadu Cricket Association also condoled the death of Milkha Singh.

Expressing shock over his sudden demise, TNCA recalled he had played 88 First Class matches in his decade-long career from 1958-59 besides appearing for India in four Tests.

Former India captain Bishan Singh Bedi condoled the death of Milkha Singh.

"Once the most attacking left hand batsman of his times AG Milkha Singh is no more..'AG' clan is diminishing..RIP Micky..Guru MEHR Kareh..!!," he tweeted.

Veteran coach M K Iqbal, a close associate of the late cricketer, said Milkha Singh was a stylish batsman, who served the state team for a long time and guided several youngsters.

The final rites would be held on Saturday, his family members said.
(IMAGE used for representation purposes only.)
Photograph: BCCI