The Delhi High Court-appointed observer Justice (Retd) Mukul Mudgal said that a former Deputy Comptroller and Auditor General (CAG) will look after the tender process for the fourth cricket Test between India and South Africa starting next month.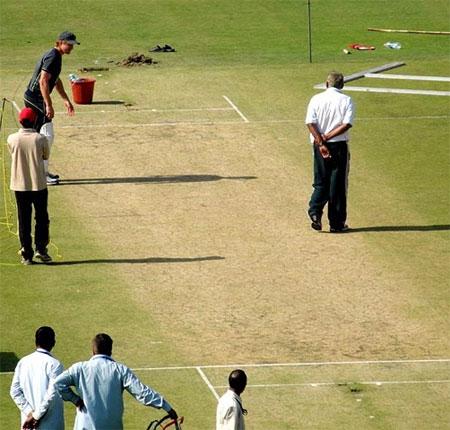 "All the tenders that will be issued for the Test match will be verified independently by a former Deputy CAG. In order to make the process fair and transparent, all tender documents will be checked and scrutinised by Deputy CAG," Justice Mudgal said on Saturday, after meeting DDCA EC members.
Asked about who is the former Deputy CAG, Mudgal said: "We will not like to name him."
It has been decided to issue short tenders for various services to be provided for the forthcoming Test match. The short tenders are for -- In stadia rights, Transport, Catering + Pouring rights, Security + Baggage scanner, Housekeeping, Walkie talkies and PA System and Tent.
Image: Pitch inspection at the Feroz Shah Kotla stadium (Image used for representational purposes)