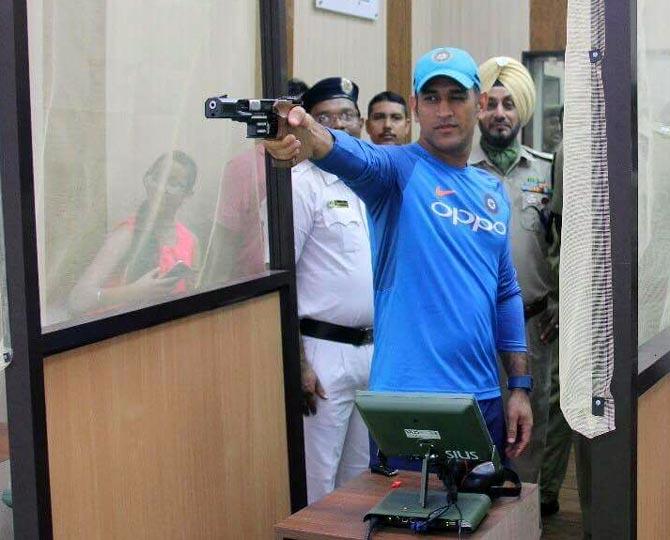 IMAGE: Mahendra Singh Dhoni at the Kolkata Police Training School. Photograph: Courtesy, Kolkata Police/Twitter
Former India captain Mahendra Singh Dhoni on Wednesday headed to Kolkata Police Training School for a session in pistol shooting after the team's outdoor practice at the Eden Gardens was cancelled due to rain.

"The great MS Dhoni takes some time off to practice his shooting skills at our state of the art shooting range this afternoon at Police Training School. His accuracy is breathtaking," Kolkata Police posted on their Facebook page.
A top Kolkata police official said Dhoni not only shot in the range but inspired the Kolkata Police recruits with a pep-talk during his visit in the afternoon.

"It's great to host Dhoni for the second time. He's an extraordinary marksman and inspired us all," the top Kolkata Police official who accompanied Dhoni said.

"It's a state of art shooting range at PTS and Dhoni shot both in the 10m and 25 ranges."

Earlier in 2010, Dhoni, whose love for motorcycle is well-documented, had visited the city police headquarters Lalbazar looking for an old motorcycle.

India will take on Australia in the second ODI of the five-match series at the Edens Gardens on Thursday.

India had defeated Australia by 26 runs in a rain-curtailed first ODI in Chennai to take a 1-0 lead in the five-match series.