'I want to give more time to my family'
'Concentrate on the 2019 World Cup'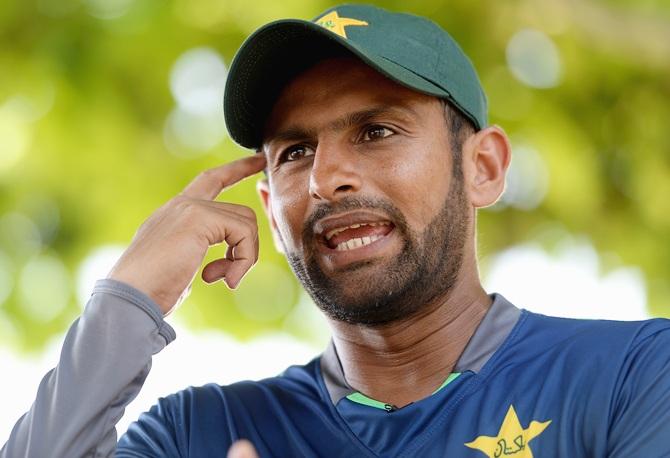 IMAGE: Pakistan's Shoaib Malik speaks to the media. Photographs: Gareth Copley/Getty Images
Former Pakistan captain Shoaib Malik has revealed that he had called curtains on his Test career in order to completely focus his attention towards the 2019 World Cup.
The 33-year-old only made a shock return in the longer format of the game after five years in the first Test against England in Abu Dhabi, smashing a career-best 245.
"The reason of my leaving Tests is not because of slump in form but it's because I want to give more time to my family and concentrate on the 2019 World Cup."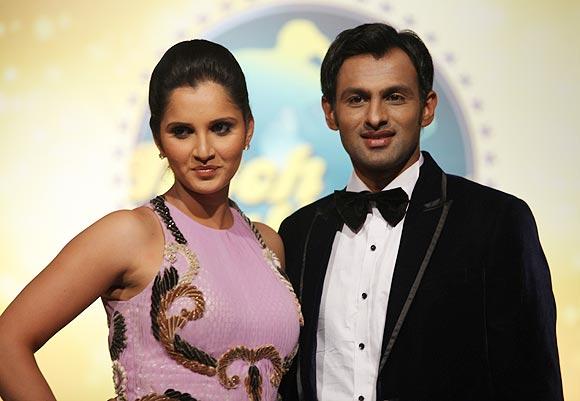 IMAGE: Pakistan's Shoaib Malik with his wife Sania Mirza
Malik married Indian tennis star Sania Mirza in 2010, a wedding widely publicised across Pakistan and India.
Speaking on his fitness, the 33-year-old said that he had trained himself and tried hard to maintain his fitness during the gap.
According to Malik, if a cricketer is physically fit he could easily achieve his goals.
Considering cricket as his passion, Malik said that he would continue to work on his fitness even if he retires.
He claimed his best Test figures of four for 33 against England in his final Test match in Sharjah.
The all-rounder made his Test debut against Bangladesh in 2001. In his 14-year career, Malik has played 35 Tests, scoring 1,898 runs with three centuries and eight half-centuries.
He has so far taken 29 wickets, with his best figures of 4-33 against England in Sharjah.