'I think I am one of them, so I like to go out there and play a session or two sessions that is my target. I never think of runs as a goal.'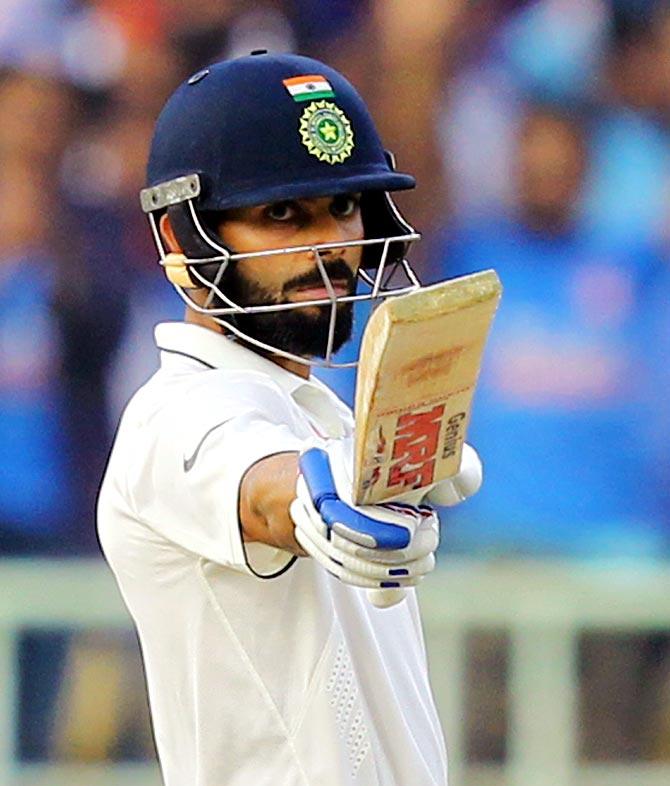 IMAGE: Virat Kohli celebrates his half-century during the second Test against England. Photograph: BCCI
India captain Virat Kohli said England team's lack of intent gave him enough 'assurance' that they would crumble anytime during their herculean chase of 405, in the second Test match in Visakhapatnam.

Opener Alastair Cook and teenager Haseeb Hameed blocked almost everything adding 75 runs in 50.2 overs but once they were dismissed late on Day 4, it became a walk in the park for the home team as thye clinched the Test with a massive 246-run win, on the fifth and final day, on Monday.

"Not giving away at more than 1.5 per over, we thought they would come out with more intent to be honest. And to see the approach that they had obviously gave us assurance that once we get a couple of wickets, it will crumble pretty quickly because there wasn't much intent from the batsmen," Kohli said.

"It is a pretty basic thing to do, to be honest, and if you don't have intent in the fourth innings, it is tough to play out four and a half sessions."

While most of the other batsmen were busy defending, Kohli aggregated 248 runs from two innings with scores of 167 and 81.

Asked about his batting, Kohli said:"It is only if you have intent that you will be able to play the ball accordingly because you are looking to play it with the bat. If you don't have intent, and you are looking to control the ball, and if it does something, then you are in no position to control it, the edges fly off."

"If you are looking for runs, you defend well because your head is on the ball as well. So that was the idea, to get runs as the pitch gets tougher to bat on, show intent and keep getting runs in between, extend the lead so the opposition feels the heat of those 30-40 runs." he added.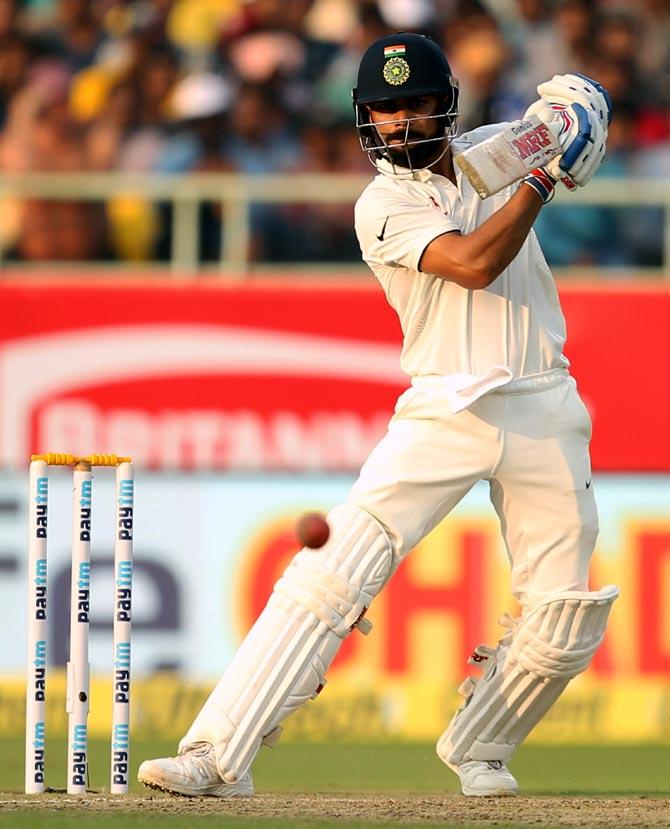 IMAGE: Virat Kohli in action during the first Test. Photograph: BCCI
Kohli's formula of getting runs consistently is just to go out there and live in the situation rather than thinking of runs as his ultimate goal.

"See what's happening, understand the bowlers, not necessarily have your plans of attacking bowlers but to understand how the situation is playing out. Stay calm on the wicket, try to spend as much time on the wicket. Instinctive players obviously get runs when they spend time on the wicket," Kohli said.

"I think I am one of them, so I like to go out there and play a session or two sessions that is my target. I never think of runs as a goal. Obviously, I want to score but I don't think of these many runs in a session or something like that. So spending time is something that I aim for in Test cricket," he further added.

Kohli said their huge first innings lead of 200 runs gave them a cushion.

"We saw that in this match too as we had a total of 450-460. So the batsmen know they cannot afford to make mistakes. And if you make mistakes, 3-4 wickets can fall in one session, so we were able to get 200 runs lead because of that."

"I think first innings is quite important, because afterwards it gets difficult. So at the start, if you can get 100-150 runs extra, then you get advantage of that in the second innings for sure."
Kohli said that despite a crushing win in the second match of the five-Test series, England can't be taken lightly.

"England are a side we do not take for granted. We understand that they have quality players, who have played a lot of cricket, their captain has over 100 Tests so have other couple players, so you expect them to show that resilience and character and fight. It is a learning process for us as well to be patient and to fight."

In 2012, England were in a similar situation after they had lost the first Test in Ahmedabad by nine wickets before they bounced back to win in Mumbai and Kolkata to claim a 2-1 series win in the four-match series.

Faced with a similar situation going into Mohali for the third Test from November 26, Kohli, however, is not worried.

"We know the ability that they have but we are not thinking about the past. We are not the side which thinks what happened the last time they came or the last time we went there. You are already not in the game as soon as you start thinking like that."

Kohli credits Cheteshwar Pujara's input that led to captain Alastair Cook's dismissal at the fag end of the fourth day.

"It's just that in the last over, the suggestion came from Pujara that we could try probably a different field, have two more on the legside and make him really defend well in the last six balls to put a bit of doubt in his head and it worked. He tried to play in front of his pad, not close to the body. That's it, I mean little margins can give you the game. I think that was a crucial breakthrough we needed."

"The new batter (Ben Duckett) did not get to face any more deliveries. He knew first thing in the morning, four more balls to go in the over and he is straightaway under pressure as a batsman. I know that for a fact. Pretty crucial dismissal that for us and it really set the tone for us today morning."

"It was a test of our patience. We knew that they are going to try and annoy us by playing like this and hope that we lose that our cool, bowl with different plans and do too many things, which we did not. We maintained a similar field throughout.