Rajneesh Gupta presents a statistical outlook of the players named in India's squad for the upcoming limited-overs' series in Zimbabwe.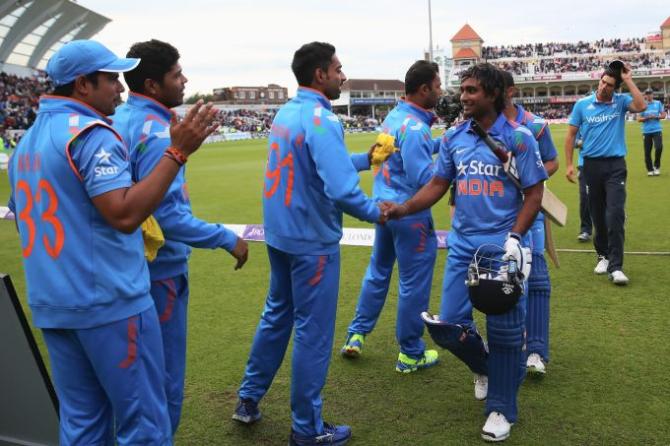 Ambati Rayudu (R) of India is congratulated by team mates. Photograph: Michael Steele/Getty Images
With the selectors opting to rest most of the senior players, Ajinkya Rahane will lead India on next month's tour of Zimbabwe, which includes three One-day Internationals and two Twenty20s.
Veteran off-spinner Harbhajan Singh, who played the last of his 229 ODIs in June 2011, staged a comeback to the ODI squad as did batsman Robin Uthappa.
- Rahane to lead India for Zimbabwe ODIs, T20s; Dhoni, Kohli rested
- Selectors 'want to see Rahane's other aspects', vow to back him
Harbhajan, who last played an ODI against Zimbabwe way back in September 2005, is the oldest player in the squad (34 years 361 days), while Axar Patel is the youngest (21 years 160 days).
Three players in the squad are below 25 – Axar, Sandeep Sharma and Bhuvneshwar Kumar; eight between 25 and 30 – Manish Pandey, Dhawal Kulkarni, Mohit Sharma, Rahane, Karn Sharma, Manoj Tiwary, Uthappa and Ambati Rayudu; and four above 30 – Kedar Jadhav, Stuart Binny, Murali Vijay and Harbhajan.
The 27-year-old Rahane, who has played 55 ODIs since his 50-overs debut in 2011, has captained only in one domestic one-day match – for Mumbai vs Maharashtra in the Vijay Hazare Trophy in February 2012.
The 15-member squad has two uncapped players in Pandey and Sandeep Sharma.
Meet the Zimbabwe-bound players.
ODI Career – Batting and fielding
| | | | | | | | | | | |
| --- | --- | --- | --- | --- | --- | --- | --- | --- | --- | --- |
| | Mts | Inns | NO | Runs | Hs | Avg | SR | 100s | 50s | Ct/St |
| Bhuvneshwar Kumar | 47 | 24 | 6 | 189 | 31 | 10.50 | 81.81 | 0 | 0 | 15 |
| Stuart Binny | 10 | 7 | 2 | 108 | 44 | 21.60 | 76.60 | 0 | 0 | 2 |
| Harbhajan Singh | 229 | 123 | 33 | 1190 | 49 | 13.22 | 80.51 | 0 | 0 | 69 |
| Kedar Jadhav | 1 | 1 | 0 | 20 | 20 | 20.00 | 83.33 | 0 | 0 | 1 |
| Dhawal Kulkarni | 6 | 1 | 1 | 2 | 2* | - | 100.00 | 0 | 0 | 2 |
| Axar Patel | 15 | 9 | 3 | 51 | 17* | 8.50 | 127.50 | 0 | 0 | 8 |
| Ajinkya Rahane (C) | 55 | 54 | 2 | 1593 | 111 | 30.63 | 76.81 | 2 | 9 | 27 |
| Ambati Rayudu | 29 | 26 | 6 | 787 | 121* | 39.35 | 75.97 | 1 | 5 | 10 |
| Karn Sharma | 2 | 0 | 0 | 0 | 0 | - | - | 0 | 0 | 3 |
| Mohit Sharma | 21 | 7 | 3 | 31 | 11 | 7.75 | 50.82 | 0 | 0 | 5 |
| Manoj Tiwary | 9 | 9 | 1 | 253 | 104* | 31.63 | 76.66 | 1 | 1 | 3 |
| Robin Uthappa | 43 | 39 | 6 | 890 | 86 | 26.97 | 91.47 | 0 | 6 | 16/1 |
| Murali Vijay | 14 | 13 | 0 | 253 | 33 | 19.46 | 66.40 | 0 | 0 | 8 |
ODI Career – Bowling
| | | | | | | | | | |
| --- | --- | --- | --- | --- | --- | --- | --- | --- | --- |
| | Mts | Overs | Runs | Wkts | Best | Avg | SR | RPO | 4W |
| Bhuvneshwar Kumar | 47 | 378.1 | 1760 | 48 | 4-8 | 36.66 | 47.27 | 4.65 | 1 |
| Stuart Binny | 10 | 46.4 | 225 | 14 | 6-4 | 16.07 | 20.00 | 4.82 | 1 |
| Harbhajan Singh | 229 | 2009.5 | 8651 | 259 | 5-31 | 33.40 | 46.56 | 4.30 | 5 |
| Kedar Jadhav | 1 | 0 | 0 | 0 | - | - | - | - | 0 |
| Dhawal Kulkarni | 6 | 49.2 | 260 | 11 | 4-34 | 23.64 | 26.91 | 5.27 | 1 |
| Axar Patel | 15 | 106.4 | 492 | 18 | 3-40 | 27.33 | 35.56 | 4.61 | 0 |
| Ajinkya Rahane | 55 | 0 | 0 | 0 | - | - | - | - | 0 |
| Ambati Rayudu | 29 | 18 | 111 | 3 | 1-5 | 37.00 | 36.00 | 6.17 | 0 |
| Karn Sharma | 2 | 19 | 125 | 0 | 0-61 | - | - | 6.58 | 0 |
| Mohit Sharma | 21 | 148.5 | 772 | 24 | 4-22 | 32.17 | 37.21 | 5.19 | 1 |
| Manoj Tiwary | 9 | 21 | 144 | 5 | 4-61 | 28.80 | 25.20 | 6.86 | 1 |
| Robin Uthappa | 43 | 0.2 | 0 | 0 | 0-0 | - | - | 0.00 | 0 |
| Murali Vijay | 14 | 0 | 0 | 0 | - | - | - | - | 0 |
vs Zimbabwe–Batting and fielding
| | | | | | | | | | | |
| --- | --- | --- | --- | --- | --- | --- | --- | --- | --- | --- |
| | Mts | Inns | NO | Runs | Hs | Avg | SR | 100s | 50s | Ct/St |
| Harbhajan Singh | 14 | 4 | 2 | 44 | 24* | 22.00 | 95.65 | 0 | 0 | 4 |
| Ajinkya Rahane | 2 | 2 | 0 | 69 | 50 | 34.50 | 76.66 | 0 | 1 | 0 |
| Ambati Rayudu | 4 | 3 | 1 | 101 | 63* | 50.50 | 61.96 | 0 | 1 | 0 |
| Mohit Sharma | 3 | 0 | 0 | 0 | 0 | - | - | 0 | 0 | 2 |
| Murali Vijay | 2 | 2 | 0 | 32 | 21 | 16.00 | 40.00 | 0 | 0 | 1 |
vs Zimbabwe–Bowling
| | | | | | | | | | |
| --- | --- | --- | --- | --- | --- | --- | --- | --- | --- |
| | Mts | Overs | Runs | Wkts | Best | Avg | SR | RPO | 4W |
| Harbhajan Singh | 14 | 127.1 | 511 | 19 | 4-33 | 26.89 | 40.16 | 4.02 | 1 |
| Ajinkya Rahane | 2 | 0 | 0 | 0 | - | - | - | - | 0 |
| Ambati Rayudu | 4 | 0 | 0 | 0 | - | - | - | - | 0 |
| Mohit Sharma | 3 | 26 | 99 | 6 | 3-48 | 16.50 | 26.00 | 3.81 | 0 |
| Murali Vijay | 2 | 0 | 0 | 0 | - | - | - | - | 0 |