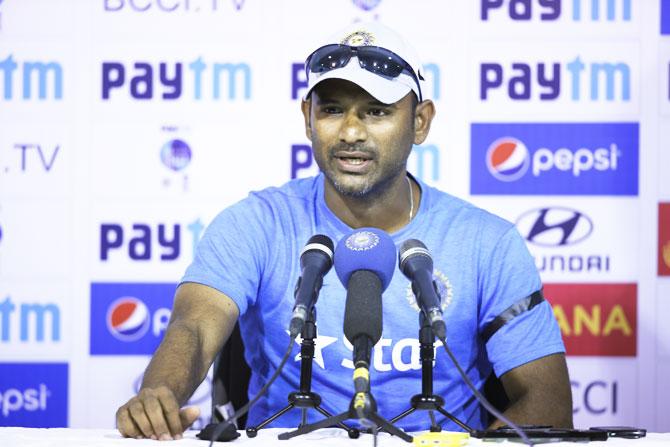 IMAGE: India's fielding coach R Sridhar is not too happy with India's close-in catching. Photograph: BCCI
India have been a far superior side to England in the ongoing five-match Test series but an area where the home team should have done better was close-in catching, feels fielding coach R Sridhar.
"I would agree that our catching, especially our close-in catching of pacers behind the stumps has not been up to scratch this series. We have set high standards in the last two years but this particular series, things haven't gone our way," said Sridhar after stumps on day one of the final Test.
With constant changes to the eleven due to injuries, the slip cordon too has seen some changes. Injured Ajinkya Rahane is not playing the fifth Test and standing at first slip for spinners is captain Virat Kohli, who also stands behind for pacers more often than not.
Sridhar attributed the inconsistency in catching to changes in the close cordon.
"It (catching) is a work in progress. There have been a few injuries to players in the series. We have changed personnel in the close cordon. It is not an excuse but we are working on it. We are trying to manage the workload, the injury part as far as fingers are concerned. We are sure to get better from here," he said.
India could have dismissed Moeen Ali right at the start of his innings but Lokesh Rahul mistimed his jump and could not get to the ball bowled by Ravindra Jadeja. Ali went on to score an unbeaten 120.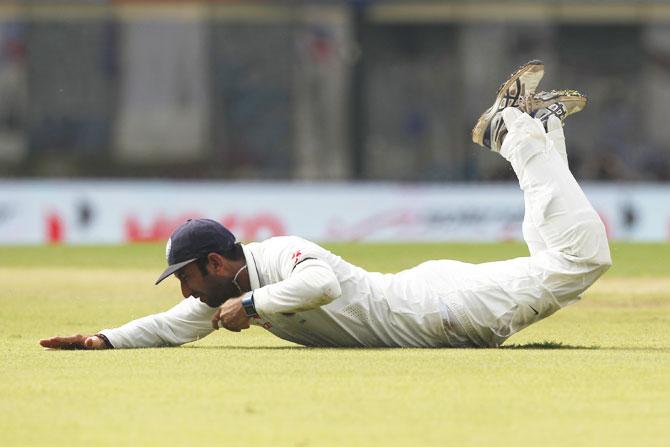 IMAGE: Cheteshwar Pujara dives to field a ball on Day 1 of the 5th Test against England in Chennai on Friday. Photograph: BCCI
"It burst through his fingers over the head. May be his timing of the jump could have been better. But these things happen in cricket. It was a tough situation for England at that time, getting Moeen out early could have helped us because the first hour there was little moisture on the wicket. Later the wicket eased out and became good to bat on as Moeen showed," felt Sridhar.
He also gave Ali and Joe Root (88) due credit for taking England to 284 for four at stumps.
Further elaborating on India's fielding, Sridhar said Kohli is doing a good job at slips.
"I think Kohli has been magnificent (in place of Rahane) but we would miss his energy in the outfield. He is a livewire when he is fielding short cover, short mid-wicket, where he stops a lot of singles and creates opportunities. But now with Kohli at slip, he has been as good as Ajinkya.
"Pujara is actually the one who pushes me for fielding. Yes, he has got his limitations as an athlete, but one thing which you got to give it to him is his effort in practice sessions in fielding. He is the only guy probably who makes sure he fields," Sridhar said.
"In the outfield, close in and whatever positions, he does it religiously and meticulously in every single practice session. And if you see over the last 18-24 months, Pujara has definitely improved as a fielder. Today he saved three runs.
"Now with Karun and KL Rahul in the team, he is a bit relieved from the close-in position. So he has been able to contribute in the outfield as well," he added.