Injury has just compelled A B de Villiers to step down as South Africa's captain.
AB is a cricketer like none other, says Dhruv Munjal, adored by Indian fans just as they did Sachin Tendulkar.
'His name chanted by thousands of otherwise ridiculously partisan fans at stadiums across India.'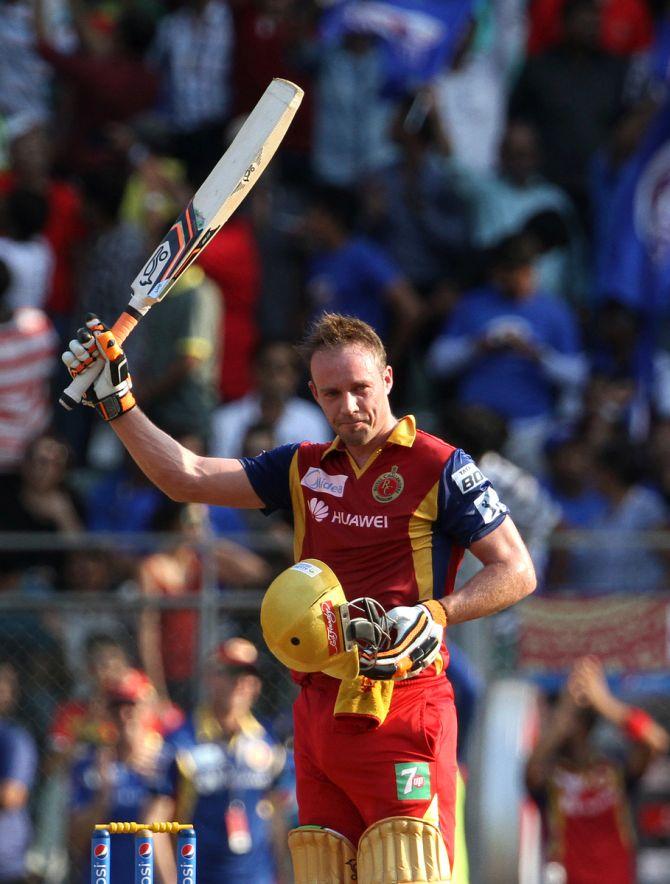 In India, it is often easy to overstate a cricketer's greatness.
We are starved of heroes from other sporting disciplines and generally like to clutch on to our cricketers, who, even with their sometimes indifferent performances, are always bestowed with a generous dose of reverence.
How they are viewed in countries like South Africa or Australia that are blessed with a more substantial sporting pedigree is bound to make for intriguing introspection.
Yet, somewhat paradoxically, India, because of its inordinate affection for cricket, can give you a sincere measure of a player's standing in the world game.
That's why perhaps A B de Villiers's finest cricket achievement is not the mind-numbing 44-ball 149 he scored against the West Indies at the Wanderers in 2015 -- hearing his name being fervidly chanted by thousands of otherwise ridiculously partisan fans at stadiums across India is a distinction that easily outshines the so many scintillating innings he has played in his career.
His genial nature obviously plays a part here, but such adoration mainly stems from his ability to bat in a manner that no one international batsman has been able to replicate in the last decade.
Over the years, such exaltation has been reserved for only one man: a certain Sachin Tendulkar.
It is only fitting then that this passage of de Villiers devotion finds a mention right at the beginning of his autobiography (AB: The Autobiography).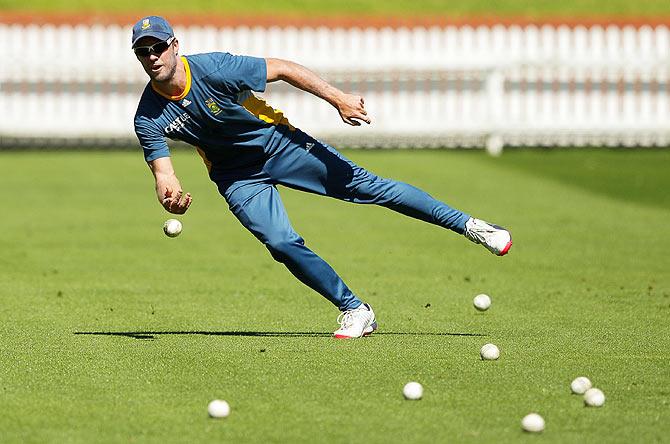 IMAGE: A B takes part in a fielding drill during a nets session. Photograph: Hagen Hopkins/Getty Images
'Only a handful of international cricketers have seen their personal popularity extend beyond the boundaries of their homeland,' writes Jonty Rhodes in the book's foreword.
He goes on to recall a Mumbai Indians-Royal Challengers Bangalore game at the Wankhede (in Mumbai), where the fans shouted 'ABD, ABD!' before every ball that the South African faced.
And this was coming from a Mumbai crowd for a visiting batsman who was ruthlessly pummelling their bowling.
The autobiography itself is a romantic account of a young, sports-mad boy who grew up in Pretoria striving for sporting perfection.
As a kid, de Villiers excelled at a variety of disciplines: Rugby, golf, tennis, swimming, cricket. But he chose to represent the national cricket team at the senior level.
And, we couldn't be more thankful.
De Villiers' early years are more a reflection of his doggedness rather than eye-popping ability.
He was forced to carry drinks for his two older brothers and their friends during garden matches at their home, given little chance to bat or ball and often bullied by some of the bigger blokes.
On one such occasion, 11-year-old de Villiers had his 'Jonty cap' taken away from him after he put down an easy chance in the field. The bowler, he doesn't forget to mention, was 22 -- cleverly highlighting the enormous odds he had to battle as a kid.
The first part of the book scores exceptionally high on the emotional quotient, with de Villiers whipping up a narrative brimming with candidness and life-changing experiences.
He proudly declares his Catholic beliefs and recalls two meetings with God -- one as schoolboy and one after the Proteas' win over Australia during the 2008-2009 season. Both, he writes, left him sobbing inconsolably.
Where several such books falter is in their inability to crawl into the mind of the sportsman in question. De Villiers, however, doesn't err on this count.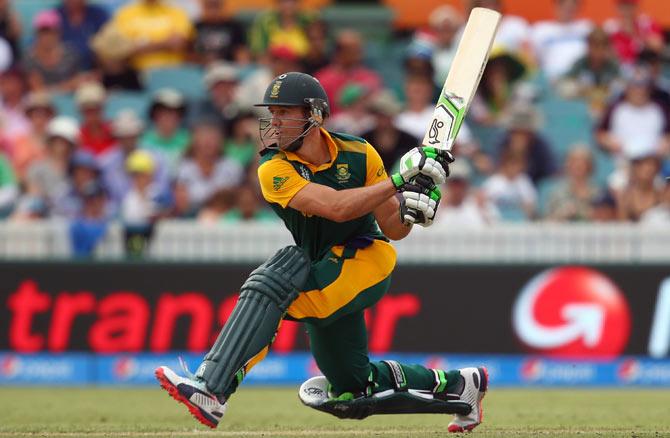 IMAGE: A B's famed reverse sweep. Photograph: Mark Kolbe/Getty Images
What makes him Mr 360?
How can he play a copybook straight drive to a fast bowler one ball, and then hit him for an audacious reverse sweep six the next?
The answers make for brilliant reading.
'So, for example, if I've decided to hit the ball on the leg side, I'll skip outside off, so a full delivery can be driven and a short ball can be pulled over mid-wicket, for anything pitched in between, I'll drop down on knee and use my go-to lap shot, a flick over square leg, helping it on its way,' he writes.
'That's the plan. It doesn't always work.'
For de Villiers, somehow miraculously, it works most of the time -- and very few players can say that.
The second half of the book reads more like a series of drab match reports, where de Villiers puts into words -- and numbers -- the myriad important matches he has been involved in throughout his career.
More enjoyable are the stories he shares of his friendships with his childhood buddy Francois du Plessis, Dale Steyn and Jacques Rudolph.
De Villiers' emotional wandering spills over -- rather expectedly -- when he describes South Africa's semi-final loss to New Zealand in the 2015 World Cup, a tournament where he was captain and the Proteas widely expected to go all the way.
A minor departure from the stodgy political correctness is de Villiers expressing his surprise over the selection of Vernon Philander ahead of Kyle Abbott for that game, a decision he felt was taken keeping in mind South Africa's selection policy in the case of players of colour.
He mildly threatens to question the policy itself, but steers clear of any controversy in the end.
De Villiers' patriotism and humble approach to life are reflected resoundingly in the book. And, while your admiration for his cricketing ability is only likely to grow after reading it, this autobiography manages to do something more remarkable.
It makes you fall in love with the man.