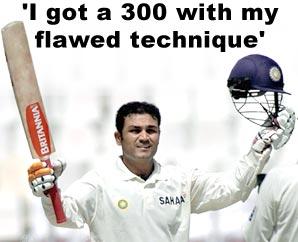 It is eight in the evening and time for room service. Assistant Editor Faisal Shariff is in Virender Sehwag's hotel room. India's latest hero is switching channels, replying to SMS messages, answering phone calls and, in between, answering Faisal's questions.
He does it all without batting an eyelid.  
Sehwag is a student from the Ranjitsinhji school of batting.
Ranji described batting in one sentence: Find out where the ball is, go there and hit it!
Sehwag's epic knock of 309 in the first innings of the first Test against Pakistan was a fitting example of Ranji's philosophy.
In Multan, Sehwag explained some principles of batting. He showed that footwork is essentially positioning and not romping all over the crease. He showed that batting in Tests is no different from playing a club match.
Few would have predicted that the Delhi batsman would be the first to go past the 300-run barrier in a team that has  batsmen like Sachin Tendulkar, Rahul Dravid and V V S Laxman. He isn't the best or the most reliable in the business neither is he a fluent stroke-maker.
A 281 from Laxman, a 241 from Tendulkar, a 236 from Sunil Gavaskar and a 233 from Dravid stand in awe of his tall accomplishment.
What is your strength?
My positive approach to the game; my eye and hand co-ordination, and also my ability to think positively in difficult times.
Is it embarrassing that in a side that possesses RD [Rahul Dravid], SRT [Sachin Tendulkar] and VVS, you have walked away with the highest score?
Not really. Anyone in the game can make any score. But I respect them all the same. There is no doubt they are in a class of their own and I only have the honour of one batting record. But they have great batting records overall.
Amongst these three whose game would you pay to watch?
Sachin Tendulkar. He has been my role model ever since I started watching the game. Of course, I would love to watch Laxman and Dravid too. But if I only had one choice it would have to be Tendulkar. His technique, the time he has to play his shots and the way he destroys bowlers, are all superb.
If you were to pick one aspect from their batting, what would it be?
Sachin Tendulkar's technique; Rahul Dravid's patience and V V S Laxman's timing.
Club game or Test cricket, your approach to the game is the same.
Whenever I have played a game of cricket, whether it is under-16, under-19 or State level my approach has been the same. In international cricket the atmosphere changes and the interest level is higher, but for a cricketer it is still a game he has to play.
Last year I went to play a match for Delhi in Kolkata and I played with the same intensity.
Jo koi bade player hote hai wo koi bhi level ka match khele, unki intensity same level pe rehti hai [for any player who has played at the highest level the intensity is the same]. I use the same formula for all games -- attack.
Which was the shot of the match for you?
When I was on 295 and a hit a six to reach my 300. Mujhme dar nahi tha out hone ka [I was not afraid of getting out]. After I crossed 200 there was no need for me to worry. In fact, even after I crossed 150 I knew that I would not get out. When I was on 199 I played out two maidens; I was in no hurry. When you are thinking too much on such scores is when you are likely to get out.
Were you in the 'Zone'?
Yes, and I think it was the only time I went into the 'Zone.' I knew the bowlers could not get me out. If you watch there was no appeal for LBW against me. I was not worried about any of those bowlers getting me. Sure, four catches were dropped, but then which batsman has not had chances in their innings? The best thing about the innings was that I knew that none of these bowlers could dismiss me. I might get out playing a stupid shot but these guys would not be able to dismiss me.
What was the reason that you edged the ball twice in that one over from Shabbir Ahmed when you were close to 300?
I was getting back spasms. I was dead tired and I was not able to transfer my body weight while playing the strokes. So there were serious concentration lapses. Sachin walked up to me and told me to take a long deep breath and start my innings all over again from zero. I did just that. Bhagwan ka naam liya [I took God's name] and left the last ball of that over without even bothering to check if it had some runs written on it. Every 25 runs I got I was praying and thanking God.   
Did failures in the one-day series here [in Pakistan] make you more determined to do well in the Tests?
I was very unhappy that I could not contribute well in the one-day series. After the first game I did not even get a fifty in the next four games. I was upset with myself that I would score 20, 30 and then throw it away. I was looking forward to scoring centuries in the Test series; yes I was more determined.
What will be the biggest change in your game after this knock?
I think the expectations of the people will be raised. Besides attacking batting, now they will want me to make tall scores. But the biggest change for me will be my self-confidence. After you score 300 runs in one innings you begin to feel that every innings should be close to this one. Of course, I know that won't happen. But I will be disappointed if I get going well and am unable to convert it into a huge score.
Did you ever dream of scoring 300?
| | |
| --- | --- |
| | Also Read |
| | |
Never. All I wanted to do was bat well. No target was set, no record was targeted. I just wanted to play some good cricket and show the world what I could do.

John Wright has often spoken about the effort that goes into making you realise your potential to score huge runs.

Whenever I played a wrong shot John would get upset with me. He would scream at me but he also knew that when I play, it would be the best. There is always tension between the coach and players, but only when the player plays a wrong shot at the wrong time.

But the best thing about him [Wright] was that he told me, 'Don't apologise when you get out. Instead, learn something from it, because in every dismissal there is a lesson to be learnt'. And I realise the value of that advice in this innings.

What's your batting philosophy if there is one?

Just one thing: get in the line of the ball and play your shot. I don't think there is anything else that I think is more important than this.

You think people give too much emphasis to technique.

I never believed when people said my technique was flawed. I am comfortable with it and I don't care what they suggest I can do. See, I got a 300 with my flawed technique.

Weren't you ever scared that your daredevil nature might jeopardise your career, especially since you were dropped after just one game in 1999?

Freedom is one of the most important parts of my game. I had faith in myself. I knew that once I got the chance I would prove myself. In Ranji cricket or in under-19, I made huge scores on my first outing. After I was dropped in 1999 I knew I needed one chance to get back to international cricket.

Whether it is domestic or international, cricket still remains cricket. The game does not change.

How was it captaining the side last year in Dhaka?

It gave me great confidence; it was very different. I had not captained Delhi till that time and I led India before that. All of us enjoyed as there was no fear of anyone being dropped since it was against Bangladesh.

You play for the galleries as well as for the dressing room.

Yes, I do; but for me the dressing room is more important than the galleries. It's always at the back of my mind what the team requires. What my team mates have done for me is more important than anyone else. Unki value jyaada hai mere liye [my team mates' value is more than anything]. If the game is at a critical stage then that's all I think of. I only play for the crowds when the game is not dangerously poised.

Were you a touch sad that the most important day in your life was marred by the declaration when Tendulkar was on 194?

There was no controversy. It was a great day, not just for me but also for the entire team. We were all very happy. I felt bad for him but a team decision is a team decision. It is Tendulkar's greatness that he did not ask Rahul [Dravid] to give him another over to get to his 200. If he wanted, he could have. But Rahul must have also thought about it before declaring. Rahul did what he had to for the team and everyone was fine about it. Let us not forget here that this is a team game.

Would you have been disappointed and surprised if the declaration had come when you were on 294?

Of course, I would have been disappointed. But I would not have gone against the team's wishes, just like Tendulkar didn't. If the team declares when I'm 294 then I am sure that the skipper is giving the team a chance to win and that is most important. 

Coming from a middle-class background, what does money mean to you?

Money is important till it satisfies your needs. Utne paise kamao jitni jaroorat hai apni [You must earn what is enough for your needs].

When I was playing Ranji Trophy, I would ride an LML Vespa scooter. After I played my first one-dayer I got a cheque of Rs 2 lakh [Rs 200,000]. I bought my first car with that money; a Hyundai Santro. Now I have two cars, I have just bought a Honda City. For me, money is important till it serves its purpose. After that it is what you are as a person that counts.

What are your thoughts now that you are going to get married?

I am happy that I will marry the one I love. She is very lucky for me, as you can see already. I only hope that we stay together happily and enjoy life together. For the last five years Aarti has been a huge strength for me.

Does she follow cricket seriously?

Only the last few years that I have been playing international cricket. Every time I get out she calls and tells me, 'Agley match mein jaldi out mat hona [don't get out early in the next match]; I want to see you longer on television.'

Do you consider yourself an all-rounder in the team?

Bilkul [Absolutely]! I work hard on my bowling in the nets. Because of my shoulder problem I have been bowling lesser these past few months. Even when I am at home I keep thinking about my bowling.

Do you have a doosra?

Yes, I do, but I have not used it in international cricket yet. I am not confident about it. Harbhajan Singh helps me a lot with my bowling.

What did county cricket teach you?

It was a very good experience for me to travel alone, stay by myself. Handling everything alone was interesting. It helped my cricket a lot too. In county cricket I realised what pressure is like when the entire burden is on one player. I learnt when I should slow down and when I should accelerate. I could try out a lot of things there with my batting.

Photograph: JEWEL SAMAD/AFP/Getty Images

Image: Imran Sheikh