'It is more about knowing where his off-stump is. If he can identify that issue and work on that he will really do well.'
India batting icons Rahul Dravid and VVS Laxman tell Harish Kotian/Rediff.com what opener Shikhar Dhawan must do to regain lost form.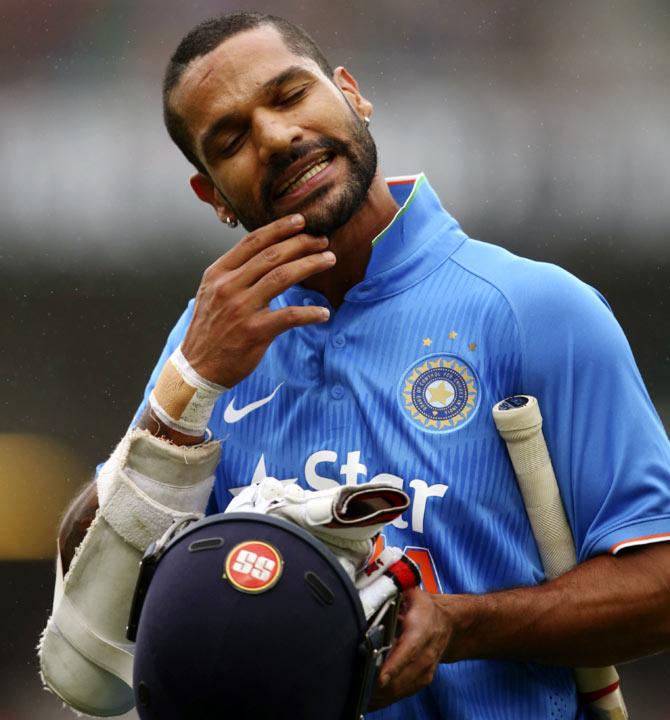 India opener Shikhar Dhawan. Photograph: Ryan Pierse/Getty Images
Among India's many concerns heading into the upcoming World Cup is, without doubt, the form of opener Shikhar Dhawan.
Struggling for runs since landing in Australia for the ongoing tour, the left-hander has scored just one fifty in 10 innings, which includes the Test and tri-series, and question marks over his place in the side are growing by the day.
- Schedule: ICC Cricket World Cup 2015
If the Test series was a nightmare, things got only worse for him in the One-Day Internationals that followed. Scores of 2, 1 and 8 in the last three matches of the tri-series, also involving Australia and England, are all he has to his name.
India batting great Rahul Dravid believes Dhawan's major problem is gauging where his off-stump is.
"I think the issue is obviously the one outside the off-stump. The fact is that he has struggled with balls outside the off-stump and totally lost confidence. That can happen. When you lose form and confidence you sort of lose track where your off-stump is," he told Rediff.com in Mumbai on Wednesday, on the sidelines of the launch of Gillette's special edition INDIA razors, as a tribute to the spirit of all Indian cricket fans.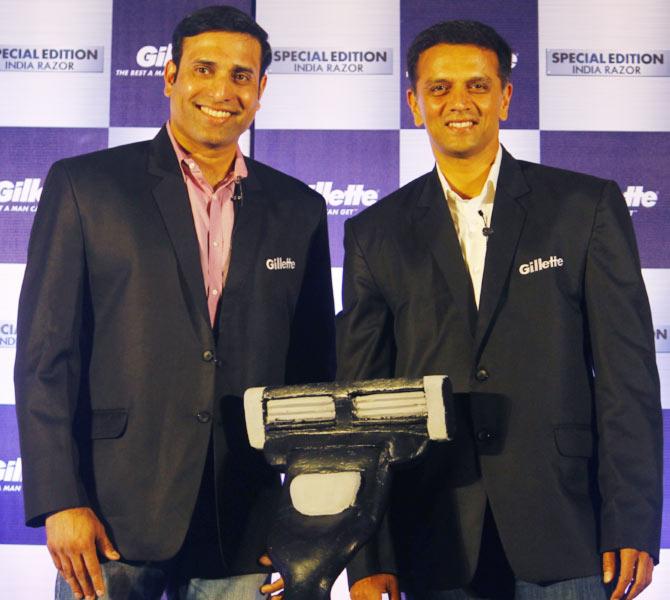 VVS Laxman (left) with Rahul Dravid at the launch of Gillette's special edition INDIA razors in Mumbai. Photograph: Hitesh Harisinghani/Rediff.com
Former batsman VVS Laxman, who has worked with Dhawan at Sunrisers Hyderabad in the Indian Premier League, echoed Dravid's view.
"I think it's more about knowing where the off-stump is. He is a confidence player; if he gets going and has runs under his belt it is hard to stop him. At the moment it is more about knowing where his off-stump is. If he can identify that issue and work on that he will really do well," he said.
- Rohit's injury, Dhawan's form a concern for Team India
Dhawan has a good record in ODIs, having scored 2057 runs, including six centuries and 11 fifties, in 50 matches, at an average of 42 and strike rate of 90. However, he is now under the scanner following the poor run with the bat in the recently-concluded Test series against Australia which has carried into his One-Day game.
He was in splendid form in the ODIs played before the tour of Australia, scoring 113, 79 and 91 in the three matches he played against Sri Lanka, but all those runs came on the comfort of flat pitches at home.
Dravid identified that the left-hander was found wanting against bounce on the hard tracks of Australia and his weakness outside the off-stump only added to his woes.
"One of his strengths is that he plays besides the line of the ball, so he opens up the off-side and scores a lot of runs through it. But when things are not going well, and you are not in good touch on wickets that have bounce against quality bowlers, if you are not very spot-on about which ones to leave, you end up playing balls that you could probably leave and you end up nicking to the slips. So that does become a difficulty," he added.
The prolific former Karnataka batsman advised Dhawan to avoid flirting with deliveries outside the off-stump and look to play straight.
"It is just the question of him now looking to probably hit down, hit straighter, look to hit the ball back in the direction in which it is coming for a while and just get some confidence in his batting and timing. Once his timing gets right I think his judgement will get better as well."
Laxman has hope of Dhawan regaining form ahead of the World Cup. He believes the 29-year-old is capable of winning matches when in full flow.
"I am hoping he will do well because he is a dangerous batsman. We have seen what kind of potential he has got and what kind of performances he has given for India in the past."