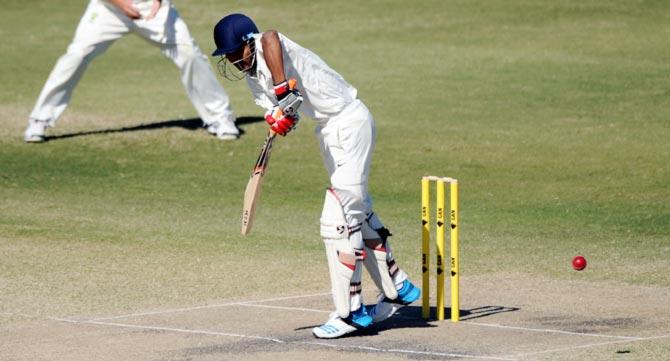 KL Rahul in action for India 'A' during the Quadrangular Series match against Australia 'A' in Brisbane in July 2014. Photograph: Matt Roberts/Getty Images
Ever since he saw him bat for the first time, as a tiny 11-year-old at his academy, Mangalore-based Karnataka State Cricket Association coach Samuel Jayaraj knew KL Rahul was destined for bigger things.
The Karnataka opener's maiden India call-up, for the upcoming Test series in Australia, comes as no surprise to him. He believes his ward is capable of taking on the best in the world.
Jayaraj spoke to Rediff.com's Harish Kotian on the meteoric rise of Rahul and why he believes the 22-year-old can be the next big thing in Indian cricket.
'First of all, I want to thank the Almighty for giving Rahul this opportunity. He has worked for it from the very young age of 11 since he took up cricket.
He comes from a small place called Mangalore in Karnataka and had to make most of whatever chances he got at every level.
Here in Mangalore it rains heavily from June till almost October. We never had good batsmen; it has been a bowler-dominated place, including fast bowlers and left-arm spinners.
So we had this boy who, when he started at the age of 11, was a wicketkeeper-batsman. We told him you have to bat at both ends; if you are facing the first over you have to face the first five balls and take a single and keep strike for the other over. We did this because we had just two batsmen in our playing eleven in the junior cricket days when Rahul was growing up in Mangalore.
Samuel Jayaraj. Photograph courtesy: Samuel Jayaraj/Facebook
He scored two double centuries in the Under-13 KSCA Inter-Zonal tournament and in one of the matches, which was played at the M Chinnaswamy stadium in Bangalore, managed to catch the attention of the great Rahul Dravid.
Dravid was training there and that is when he saw KL Rahul for the first time. He had scored a double century in that match and Dravid came and asked about him. We told him 'his name is also Rahul' and then he said, 'this boy is very good. Please look after him well'. He spoke to him for a few minutes and motivated and encouraged him. That also helped him a lot to perform better.
If you see, in every age-group he has scored a hundred in the state level matches. That was a very good beginning for him. He was very good with the cover drive off the front foot, and because he was short he used to play everything off the front foot. He also had a good straight drive and in the last few years worked on his back-foot play because he wanted to improve as a batsman overall.
I still remember when he first came he said he is a wicketkeeper-batsman, his keeping skills were good and he batted decently for his age group of Under-13. But we wanted him to focus on his batting only because we saw around 50 to 60 percent of batting strength and started working on it.
We had good fast bowlers then, like Umesh Karvi, who played for India Under-17 in the Asia Cup along with Wildon Crasto, Mohammad Arif, Sachin Shenoy and a very good left-arm spinner in Sachin K. All these bowlers used to enjoy bowling against Rahul and with time he started batting fluently.
We also noticed that he enjoyed batting and we would give him as much time as possible to bat. That is how it all started. He has continued to grow as a batsman since then and hit runs at every level he has played.
Initially, it was very difficult for us to convince his parents, especially his father Dr KN Lokesh. He wanted his son to do engineering, but somehow we convinced him and he put him into the commerce stream in college. It was a big sacrifice by his father. His parents and his sister were instrumental in his career early on and they took a lot of pains to ensure that he got everything he needed to excel in cricket.
We used to call him as early as six in the morning to either the Nehru Maidan or St Aloysious Centenary ground in Mangalore; his father would come and drop him. So they played a big part in his development as a cricketer.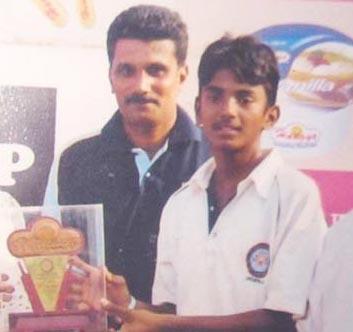 Samuel Jayaraj (left) with a young KL Rahul in Mangalore

As he kept growing in his career, we decided to move him to Bangalore which would help him take it further. I got in touch with GK Anil Kumar and Somsekhar Shiraguppi, who were the coaches there, to look after him when he moved in Bangalore. We had Sanath Kumar in Bangalore, who was the Under-19 coach. He also had the experience of coaching Karnataka in the Ranji Trophy, and he was from Mangalore, so it was easier for us to interact with Sanath.
The KSCA administration was fantastic and backed Rahul because they believed he was someone who could play at the next level.
What sets him apart from the rest of the youngsters is his mental toughness. I would says he has dedicated his life to cricket and his focus is too good. Coming from a small town like Mangalore, he had to be mentally tough.
The best part about him is that he has a lot of patience. If the bowler has the upper hand he will allow him to do his thing and later on capitalise on it. He will read what field he has set, where is he bowling; he will analyse it all. He is a very smart and thinking cricketer.
In the last couple of years he has improved his fitness and become a very good fielder. He spoke to AB de Villiers when he was at Royal Challengers Bangalore during the IPL [in 2012] and that transformed him. He got a lot of inputs on how to prepare for a match, what your thinking should be and other things about batting.
He also likes to watch a lot of cricket. He watches great batsmen, like Sachin Tendulkar, V V S Laxman, Rahul Dravid, and even someone like Ricky Ponting, and tries to learn from them.
I am the closest to him in the coaching set up and I have observed that he is very patient and will listen to you non-stop and never argue. He has always been a good learner.
Recently, when he scored 185 [in the first innings of the final of the Duleep Trophy] he told me he was still not happy with his batting in the first innings and that he was not moving his feet well.
He also has the tendency to lose concentration at times when batting.
In the Duleep Trophy final, he hit three consecutive fours off Ishwar Pandey but got an edge off the next ball. Luckily for him there was no fielder placed in that position.
So he loses concentration at times. Earlier that was not the case, so we have started working on it.
That is one area he has to improve on at the start of the innings. I have seen him play for so many years; he is very good with his focus and hardly plays loose shots. He has to work on his balance a little bit; it keeps varying.
He has understood what is required to succeed as a batsman. He played in the (Karnataka Premier League) KPL, in the (Indian Premier League) IPL, and in all formats of domestic cricket and knows what is expected of him.
He has improved a lot by working on his back-foot game along with his coaches to be perfect as a batsman.
We used to always tell him to play straight in the 'V'. We wanted his basics to be very strong because if your basics are strong then you can climb the ladder gradually.
It is the footwork which is helping him attack the spinners. What I have observed is that he watches the ball till the very last minute and that is a big plus point.
I will be meeting him on 13th November, which also happens to be his sister's engagement, in Bangalore. We are also planning to get him down to Mangalore for a couple of days before he goes to Australia if time permits and work with him on how to play there.
He has been to Australia before with India 'A' earlier this year so he is aware of the conditions. Maybe a little bit of fine-tuning is required. I am sure that given the opportunity he will do well in there."