Pakistan All Star XI demolished International World XI by 84 runs in a Twenty20 exhibition match at the National Stadium here that marked the return of international cricket in the country after a hiatus of more than three years.
Riding on quick-fire knocks from Umar Akmal (67), and Shahzaib Hasan (54) and a belligerent 29 from Imran Nazir, Pakistan XI scored a mammoth 222 for seven on Saturday.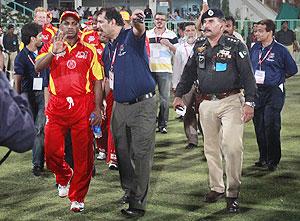 To make matters worse for the World XI, young pacer Tabish Khan cut through the middle-order with a hat-trick to leave the visitors in tatters as they eventually managed a meagre 138 for 8.
World XI were never in the hunt once they lost their opener and skipper Sanath Jayasuriya in the first over.
But what was significant about the match was that it was played competitively and in good spirits in front of a capacity crowd of 32,000 spectators.
"The biggest relief for us is that the crowd was so disciplined and the maximum security arrangements put in place for the match also worked well," chief organiser, Dr Mohammad Ali Shah said.
"We still have another match to go and once that also passes off smoothly we can easily say that it is time the Test playing nations now think about playing in Pakistan," he said.
Interestingly, no official of the Pakistan Cricket Board flew down to Karachi for the match, the first international event of sorts in the country in more than three years time.
Pakistan has been a no-go area for international athletes since March 2009 when militants attacked the Sri Lankan cricket team in Lahore.
Former South African pacer Andre Nel said he was happy to be a part of the process which should eventually bring international cricket back to Pakistan.
"We were very relaxed out in the field and we had no fears of any sort. Seeing such a big and enthusiastic crowd only made the occasion more memorable for us.
"I don't see major security concerns here. The people have been warm and we are being looked after very well," said Nel, who played 36 Tests and 79 ODIs.
Photograph: Athar Hussain/Reuters