'All the teams are at a level par regardless of what ground they play at.'
IMAGE: Sri Lanka's Lahiru Thirimanne, centre, reacts after his dismissal as England's players run to celebrate. Photograph: Adnan Abidi/Reuters.
England captain Eoin Morgan has said that he did not come into the ICC World T20 with an aim of achieving a specific target but the endeavour has always been to get the best out of the available resources.
Asked if he had expected at the start that England will qualify for the semi-finals, Morgan said: "I don't expect a great deal to be honest. I don't set expectations, barriers or limitations. It's all about getting the best out of what we have and at the moment and we seem to be doing that. If we do that from here on in, we put ourselves in really good position."
Morgan is happy that the T20 unit has shown a lot of character in recent times by winning pressure games.
"It gives us a great deal of confidence. I think in three of our wins we've had to show an immense amount of character, having to chase down 230 (vs SA) and then against Afghanistan, we put our backs against the wall early. We had to fight quite hard.
"And Saturday's win was completely different in the way we were way ahead of the game, had them 4 down quite early and then Angelo (Mathews) got them back into the game. It sort of asked a completely different question of us. With the bat we adapted a lot better than we did against Afghanistan, we showed we are capable of playing both smart cricket and aggressive cricket.
"I think we've struggled to do that in the last six to eight months or so. It's an area, we are constantly trying to improve. But today, we went a long way to doing that," a satisfied Morgan said.
"The first 15 overs that we batted, we weren't cautious but were on the smart side, and given the value of having two in batsman for the last five or so overs, the impact it can have with guys like Jos Buttler in and set, had a big impact on the game.
Morgan also admitted that it was advantageous to have already played a match at the Feroze Shah Kotla ground where they are likely to take on the Black caps in the semi-final.
"The way I look at it is: their strength is spin, our strength is seam. It can be spin some days given conditions, that's what makes us so adaptable. We bowl the majority of overs with seam or we can bowl 8 overs of spin, maybe 12, if (Joe Root) Rooty comes on," he said.
"All the teams are at a level par regardless of what ground they play at."
While the margin of win was only 10 runs against Sri Lanka last night, Morgan said it was not as close as some of the other games.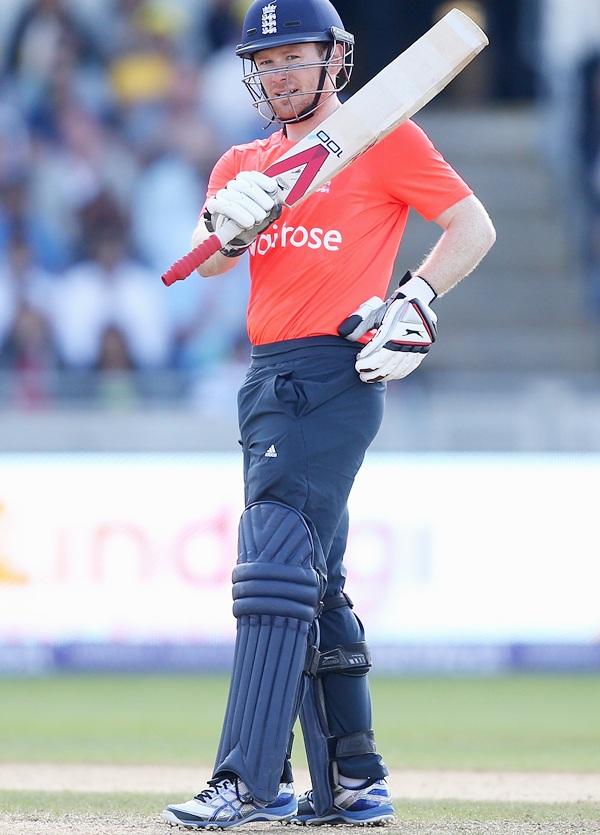 IMAGE: England captain Eoin Morgan. Photograph: Getty Images.
"It wasn't as edgy as other games we've played. We've played in some tight games in the past. You can be quite objective about things. Chris Jordan in the 19th over bowled a brilliant ball that went for four runs and the next ball was a rubbish with which he got a wicket. So I was able to go, oh well that's T20, that can happen. And when I'm in that frame of mind, I know I can make good decisions. So I was able to maintain that, which is a good space to be in,' he said.
He had special praise for Ben Stokes who bowled four dot balls in the final over. "They (Sri Lanka) were in the game right until the end so Ben Stokes' last over was as crucial as it gets. Angelo (Mathews) was as set as Jos (Butler) was during our innings, and bowling to a batsman who is in form, is so significant in a T20 game. But Stokesy (Sotes) has done it before against Australia last year and has done it since then a couple of times. And the character he showed was brilliant," Morgan said.
"It gives us a huge lift. Wickets are priceless at that stage of the game. And given that it didn't allow them to cross was a bigger benefit really. But I think he (Stokes) allowed them to get one and then he bowled a dot to Angelo after that, which was hugely significant."
The next two days will be spent on introspection said Morgan.
"We'll take a lot of confidence from today. The overall performance can give us a couple of days to let the dust settle down, reflect on what happened and take the absolute beauties into the semi-final," he concluded.