A clash of contrasting styles, the ICC World T20 final in Kolkata on Sunday gives both England and the West Indies a chance to create history, says Dhruv Munjal.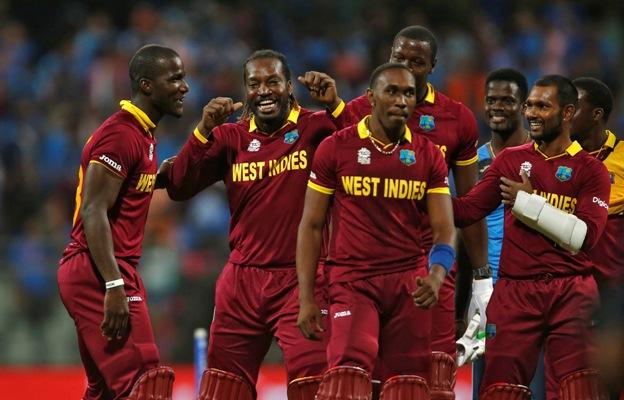 IMAGE: The West Indies players celebrate their semi-final triumph against India, March 31, 2016. Photograph: Danish Siddiqui/Reuters
Before the ICC World T20 got under way, it was unfathomable to think that a team like England, which struggles woefully against the turning ball and is so often hampered by endless bouts of inconsistency, would make the final.
It is even harder to imagine that this is the very side that was so humiliatingly dumped out of the 50-over World Cup by Bangladesh last year. But then this isn't the England of old; a team that had made capitulations in major limited-overs competitions an embarrassing routine.
England, for long, have been a Test match powerhouse. Their performances in the shorter format though have failed to go beyond the sporadic flashes of brilliance. This tournament has almost come like a breath of fresh air.
Against New Zealand in the first semi-final, the Three Lions were clinical: The bowling disciplined and purposeful, the batting operating at just the right speed and Eoin Morgan's captaincy clever and pro-active. The fact that they so comprehensively outplayed New Zealand -- the best side in the competition until that point -- is a stunning testament to the kind of headway they've made in this format.
But then they were the ones who came up with this ludicrous idea of T20 cricket in the first place. It was about time they showed the world what the fuss was all about.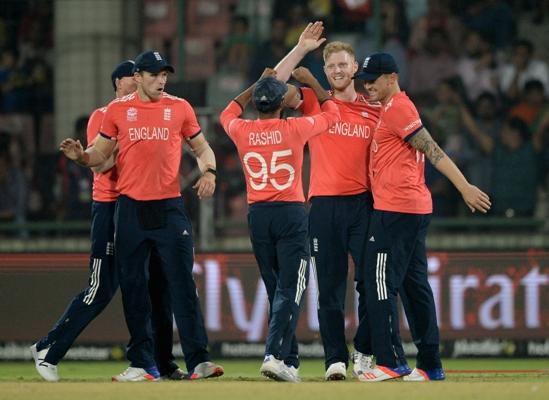 IMAGE: The English team celebrates another New Zealand wicket, March 30, 2016. Photograph: Gareth Copley/Getty Images
In the West Indies, they face a side that prides itself as T20 specialists; a team laden with multi-skilled players who bring with them the unmistakable aura of unpredictability. Against India in the second semi-final, the Windies played with verve and freedom; Lendl Simmons and Johnson Charles taking their team home even as revered experts and adroit statisticians pointed the other way.
In the end, it was a chasing masterclass that left India dazed; a rollicking onslaught that they just did not see coming.
Nayan Mongia, former India wicket-keeper, says that the West Indies have always been dangerous in this format. "Before the tournament, if you were to ask me about the favourites, the West Indies would have right up there," he says. "Their brand of cricket is effective and fearless. A difficult side to beat."
Earlier in the tournament, when the two sides met in Mumbai, Chris Gayle wielded his big willow and sprayed the ball to all parts of the Wankhede Stadium the way only he can, gunning down England with minimal of fuss. Chasing down 180 never looked easier.
"Gayle will obviously hold key. But they have other men who can do similar damage," says former India bowler Madan Lal. "In this format, it would be stupid to underestimate anyone," he adds.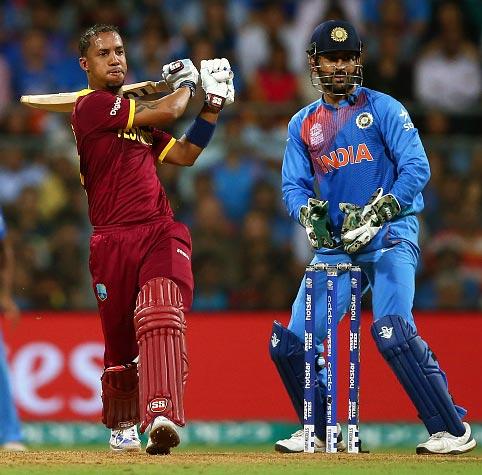 IMAGE: Lendl Simmons hit a match-winning knock two days after arriving in India from the West Indies.
On Thursday evening against India, both Gayle and Marlon Samuels -- the West Indies' two main batsmen -- failed, yet they knocked off the 193 set by India with plenty to spare. Simmons, who only a week ago was cooling his heels at home, struck the ball with frightening crispness. And Charles batted with the disdain and swagger of a big Caribbean bloke who so desperately wanted to teach the opposition a lesson. England have enough reason to worry.
Despite their abundant batting riches, the bowling still looks thin. David Willey and Adil Rashid only have a handful of international games between them, which makes the roles played by Chris Jordan and Ben Stokes enormously important.
"A lot of it comes down to how your all-rounders play. Both Jordan and Stokes are vital players," says Mongia.
Stokes is a wonderful story in itself. In the last six months, the ginger-haired Durham man has gone from the fringes to English mainstay, with both bat and ball in hand. At Delhi against the Kiwis, England were so good that his batting services weren't even required; but he was frugal with the ball, picking up three wickets.
But so often the outcome of big games is determined by a confrontation between two big players. That delectable battle will be played out between Gayle and England's baby-faced assassin, Joe Root. Earlier this week, former England all-rounder Andrew Flintoff went to the extent of saying that Root is a notch higher than Virat Kohli.
Root may yet not have scaled the paranormal heights that Kohli has achieved, but he remains a genuine threat; a player, who like Kohli, cuts the opposition to size with grace rather than beastly force.
Morgan's miserable form aside, England's batting -- with the likes of Jason Roy and Alex Hales -- looks more formidable than ever. The chances of Kevin Pietersen playing for England again were always slim; this tournament has come as a crude confirmation.
"The West Indies may have the edge with the kind of experience they have. But then England have a unique freshness about them. A tough match to call," concludes Lal.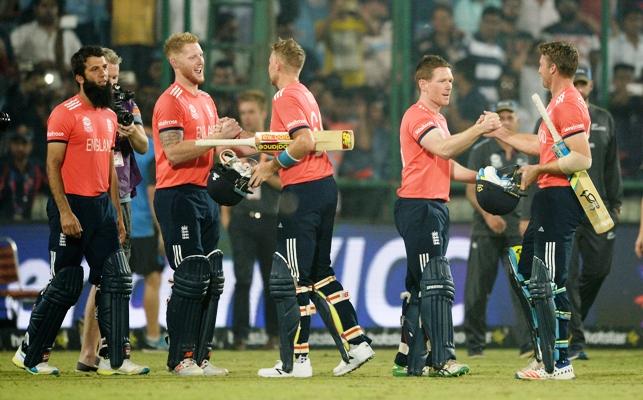 IMAGE: Jos Buttler and Joe Root celebrate with Ben Stokes and captain Eoin Morgan after the semi-final against New Zealand at the Feroz Shah Kotla. Photograph: Gareth Copley/Getty Images
At Kolkata's Eden Gardens on Sunday, 22 men will try to do for their respective teams what has never been done before -- win the ICC World T20 a second time.
For England, a win help a new breed of young men achieve cult status; for the West Indies, this is an opportunity to cement themselves as the mightiest international force this format has ever seen. The battleground awaits in fervent anticipation.
The pitch
It is fair to say that the Eden Gardens pitch has played better than most other tracks in the tournament. It has been devoid of the sluggishness of the wicket at Nagpur or the flat nature of the pitch in Mumbai.
It has had a little bit for everyone: Runs for the batsmen, turn for the tweakers and some assistance for the quicks.
Given the West Indies' depth in batting, they would like to chase. England themselves have chased well in the tournament -- victories against South Africa and New Zealand serve as gentle reminders. Dew might also play a factor late in the game; so expect the side winning the toss to put the opposition in.
The X-factor
Jos Buttler reminds you of a certain A B de Villiers. With him, all-round contemporariness is accompanied by the odd touch of traditionality. More importantly, he is always in a hurry. Against Sri Lanka and New Zealand, Buttler provided two emphatic finishes, adding much-needed gloss to his side's victories.
The ideal man to have in the middle when your team is chasing a sizeable target, Buttler so often ensures that England just don't trudge along the finish line, but storm past it. So easily one of Morgan's most lethal weapons.
Spin
For a country that has the uncanny ability to produce bowlers who can bowl furiously fast, it's the Windies spinners that have held their bowling together in this tournament. Both Samuel Badree and Sulieman Benn have been a revelation, picking up wickets and giving away very little.
England have always found the going tough against quality spin, which makes Badree and Benn crucial factors. The fact that one is a leggie and the other a finger spinner means that the English will have their hands full.