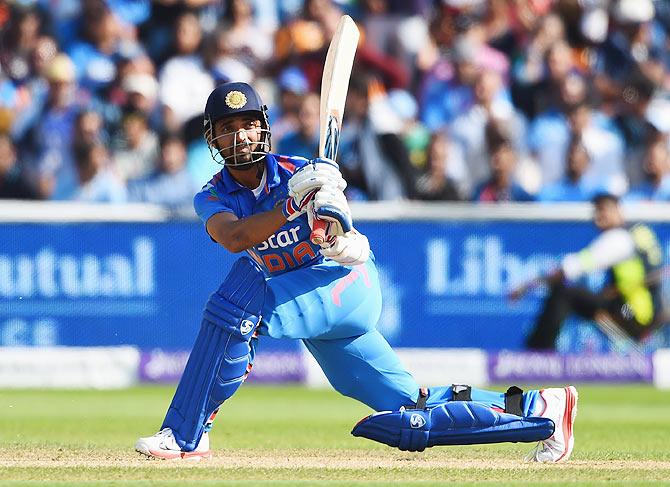 India batsman Ajinkya Rahane. Photograph: Shaun Botterill/Getty Images
Exemplary application, concentration and determination has made unheralded Ajinkya Rahane an integral part of Team India in Tests, ODIs and Twenty20s, says Haresh Pandya
No one in his right senses will expect Ajinkya Rahane to bat like Sachin Tendulkar or score thousands of runs and own a plethora of records. But the right-hander guarantees to carry forward the rich legacy of the fabled Mumbai school of batting.
The only Indian who made the most of the England tour, first in the Tests (299 runs, including a century at Lord's, at an impressive average of nearly 34, considering that most leading batsmen failed) and then in One-Day Internationals (192 runs, including a hundred at Birmingham, at an average of 48), he has now come of age as a highly promising, world-class batsman.
Rahane is always a cool customer, a silent assassin (when the mood seizes him, that is), if you like. While Cheteshwar Pujara and Virat Kohli arrived on the international scene with much hype and fanfare, Rahane entered the Indian team almost unheralded and unnoticed, but quickly, and quietly, established himself as one of the cornerstones of its middle-order, which was in the process of rebuilding after the successive retirement of Rahul Dravid, Venkatsai Laxman and Tendulkar.
Rahane's dedication to practice sessions is his most impressive quality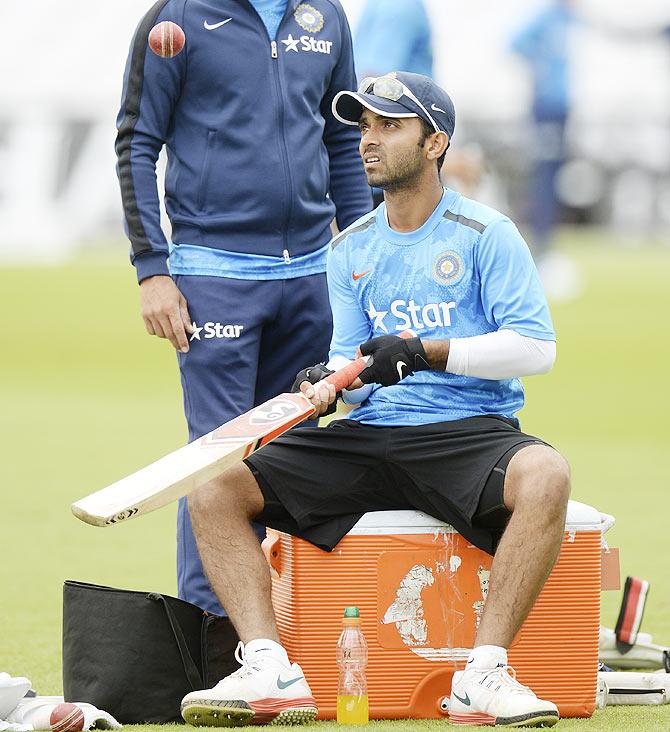 Ajinkya Rahane takes a break during a practice session. Photograph: Philip Brown/Reuters
Along with Pujara and Kohli, Rahane had also plundered runs in junior and first-class cricket, but somehow could not grab media attention as much as he would have loved to. Maybe it was because of his apparently introvert personality and tendency not to speak much. But there was never any doubt about his class; it was only a matter of time before he, too, made his debut and completed India's young and formidable triumvirate in the heavyweight division of cricket.
From now on no team meeting of India's opposition will go without any discussion and planning of a special strategy or two to target Rahane and dismiss him cheaply.
Having polished and sharpened his footwork and technique by hours of strenuous practice, Rahane is a captain's delight and the opposition's nightmare.
"Practice makes man perfect," says former India medium-pacer Jaydev Unadkat, who has played a big amount of junior and first-class cricket with and against his West Zone colleague.
"And Rahane's most impressive quality as a batsman has to be his dedication towards each practice session."
He is comfortable batting at any position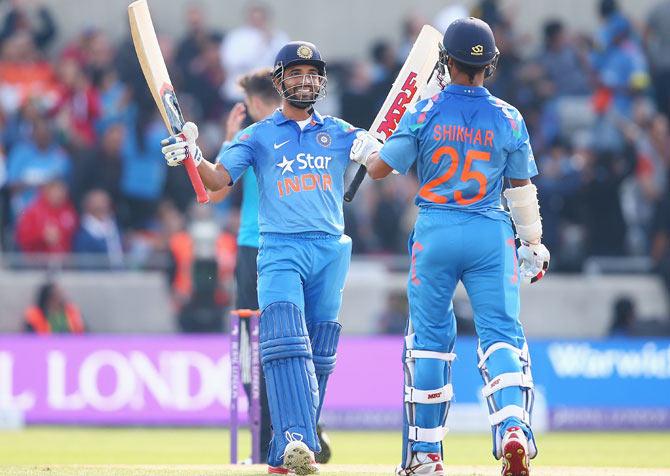 India's Shikhar Dhawan is congratulated by teammate Ajinkya Rahane during the fourth one-dayer against England at Edgbaston. Photograph: Michael Steele/Getty Images
Like most successful Mumbai batsmen, particularly those who have represented India, Rahane has also shown a voracious appetite for runs. He builds his innings brick by brick, gauges the wicket and the quality and effectiveness of the bowlers and plays them on merit with an eye on a big individual score. For good measure, his batting is a judicious mix of defence and attack.
That he opens for Mumbai, West Zone and Rajasthan Royals helps him play the role of an opener for India in emergency. In fact, one of the many endearing qualities about him is that he is as comfortable opening the innings in any form of the game as he is batting in the middle-order.
It also helps him face with confidence the bowlers with a second new ball when he bats at No. 5 or further down the order in Test matches. Cool as a cucumber and serious as a sculptor, Rahane causes envy in his competitors and opponents with exemplary application, concentration and determination when armed with the willow.
But he is not all calmness and watchfulness. The façade falls apart when he changes gears, depending on the nature of cricket and his team's situation, unleashes his repertoire of shots and launches a sustained attack.
Not surprisingly, for one so young, he has become an integral part of Team India in Tests, ODIs and Twenty20s almost from the very beginning of his international career.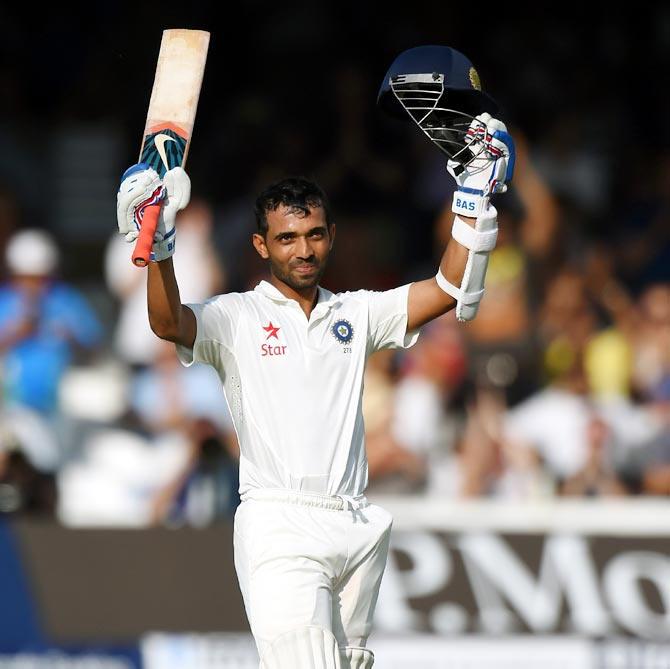 Ajinkya Rahane celebrates after scoring a century at Lord's. Photograph: Stu Forster/Getty Images
He has the game, the temperament and the approach to excel in any type of cricket and in any situation. Already he bats like a seasoned campaigner and you can always depend on him, particularly in an hour of crisis.
"Rahane has all the patience in the world. This quality enables him to build a true Test match innings," says former India wicketkeeper Kiran More.
"With his patience and preservation he can frustrate the bowlers and help his team in adversity, which he has so often done in his brief but impressive career so far. But behind all this are his solid technique, sound temperament and hunger for runs."
More further adds that besides his technical brilliance and mental toughness, one of his other virtues as a batsman is that he is "much focused". Of course, he does play adventurous, flamboyant shots in One-day and Twenty20 matches, states More, but when it comes to the serious business of Test cricket, he does give the impression of being from the old school.
"Rahane is a cool, level-headed young man ever willing to learn. He will sharpen his skills further as he plays more cricket and gains in experience," says former India player Nayan Mongia.
"But he has been very impressive in whatever cricket he has played so far. He must now show a greater hunger for runs and begin converting his little gems into monumental innings he is quite capable of playing."
After making a lacklustre Test debut (7 and 1) against Australia at Delhi in March 2013, Rahane played the rest of his nine Tests abroad and proved his mettle against some of the world's finest fast bowlers -- Dale Steyn, Morne Morkel, Vernon Philander, Tim Southee, James Anderson and Stuart Broad -- on pace-bowling-friendly pitches of South Africa, New Zealand and England.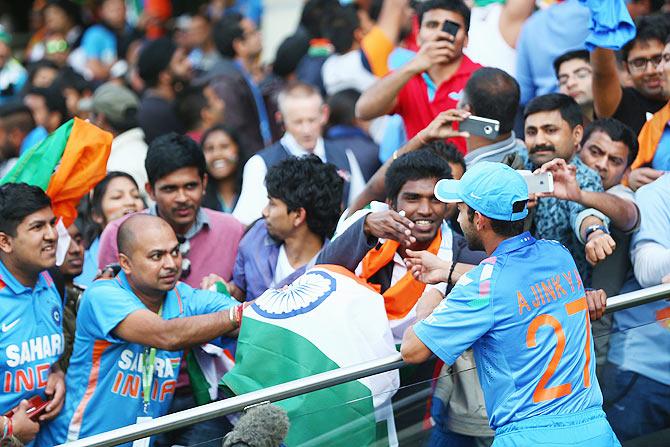 Ajinkya Rahane signs autographs after India's ODI series against England at Edgbaston on September 2, 2014. Photograph: Michael Steele/Getty Images
He may not be a prodigious scorer like Pujara and Kohli, not yet, but he has usually scored runs when required and mattered. With 51 not out and 96 at Durban, where India lost by 10 wickets, Rahane won hearts of the most diehard of critics. He was an absolute revelation, proving that the new Indian middle-order did not finish with Pujara, Kohli and Mahendra Singh Dhoni.
Rahane was equally impressive in New Zealand, leaving his mark with a splendid 118 in the drawn second Test at Wellington. In England, the Lord's hundred was a culmination of his single-minded pursuit of excellence at the crease. Much the same could be said about his century in the fourth ODI at Edgbaston, Birmingham.
The irony is inescapable that while Pujara was reduced to an ordinary batsman in the last three Tests, and Kohli to an eternal struggler both when it came to making runs and surviving at the crease in Tests as well as ODI (the Delhi dynamite's only international fifty came in the one-off Twenty20 game at the fag end of the tour), the seemingly unlikely Rahane, who had not been the subject of media attention to begin with, stole much of the limelight with his fairly consistent, reliable batting.
Indeed, the Mumbai school of batting continues to contribute vitally to Indian cricket.