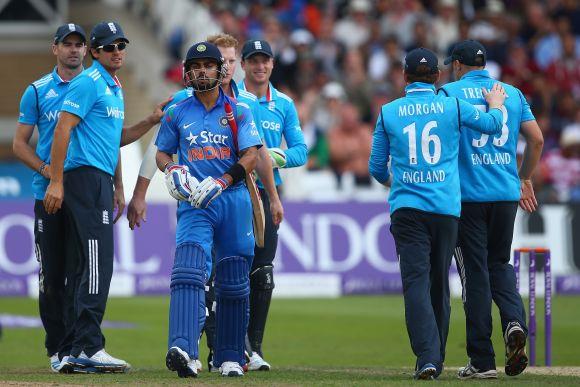 Virat Kohli of India walks back after being caught by James Tredwell off the bowling of Ben Stokes of England. Photograph: Michael Steele/Getty Images
A brief verbal spat broke out between India batsman Virat Kohli and England pacer Ben Stokes during the third One-dayer, leading to the umpires calling the home side captain and the bowler before the match continued.
Kohli was dismissed on 40 in the 26th over, off the bowling of Stokes, in India's run-chase, but while walking back to the dressing room, the visiting batsman apparently heard something said by the pacer.
Kohli retorted by raising his bat for a few seconds towards Stokes.
Looked like Stokes provoked Kohli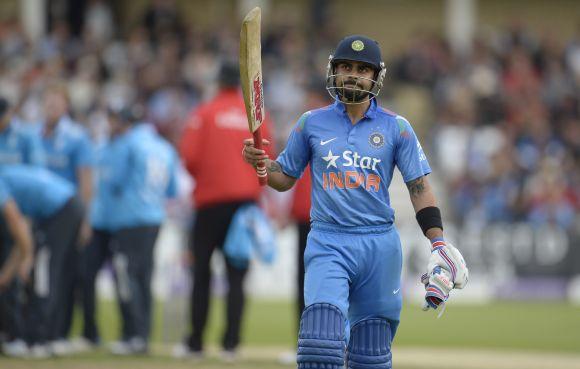 India's Virat Kohli on his way back to the pavilion after being dismissed during the third One-Day international against England. Photograph: Philip Brown/Reuters
The Indian, however, moved towards the boundary line and did not turn back though it was clear from his body language that he was not happy with what he had heard.
Reports said that Stokes provoked Kohli, and television replays showed the England pacer saying something to the Indian though it was not known what he said.
On-field umpires Michael Gough of England and Paul Reiffel of Australia called home side captain Alastair Cook and Stokes after the incident.
Anderson was booed by the sizeable Indian supporters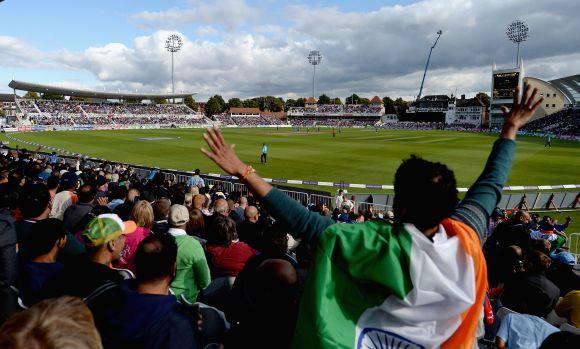 A general view of play during the third One-Day International between England and India . Photograph: Gareth Copley/Getty Images
India thrashed England by six wickets to take an unassailable 2-0 lead in the five-match ODI series.
The five-match Test series, which preceded the ODI contests, was also marred by an ugly spat between Indian all-rounder Ravindra Jadeja and England pacer James Anderson during the first Test at the same venue.
Anderson was booed by the sizeable Indian supporters who turned up to watch the third ODI at Trent Bridge.