Not assured of an outright win in the first Test after England's dramatic fightback, Indian pacer Umesh Yadav said the home team's bowlers will have to put in a lot of effort on the final day to pack off the visitors on a pitch that has become flat.
"The wicket has become very flat. It helped the spinners earlier on but it has now become very easy to bat on it. There is no help for the bowlers. We have to put in a lot of effort to get something out of it. I took my wickets after putting in a lot of effort," said Yadav.
Yadav dismissed Ian Bell and Samit Patel, earning leg before decisions against the two batsmen, to leave England struggling at 199 for 5 chasing the follow-on-saving mark of 330 before visiting captain Alastair Cook and wicketkeeper Matt Prior did the grand recovery act.
Cook was unbeaten on 168 in a total of 340 for 5, having added 141 runs for the unbroken fifth wicket with Prior who remained not out on 84 after a stay of 203 minutes. England now lead the hosts by 10 runs with five wickets in hand.
"It would need a lot of patience tomorrow and a lot of effort to get wickets," he said.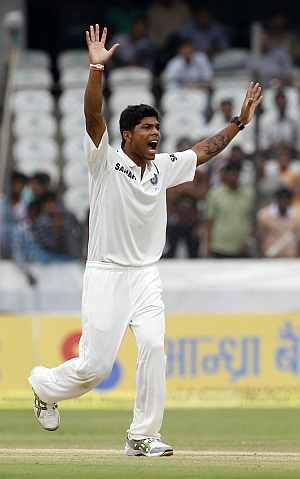 England coach Graham Gooch also conceded that the wicket had become very flat, and while praising the batting efforts of team captain Cook and Prior, pointed out that India were still having the dominant hand.
"If you know your cricket, India are still in a strong position and still in a position to win. We have to take it ball by ball and not look too far ahead tomorrow. The wicket has become flat," said Gooch.
Praising Cook, the former England skipper recalled the left-handed opener's century on debut at Nagpur in 2006 and said he showed on that occasion itself that he was a special talent who knew exactly how to bat on Indian pitches.
"I watched him in Nagpur when he made his debut and in that match itself he showed he knew what he should do and not do on these wickets. Today he played a major innings for England under tremendous pressure. It was very skillful.
"He (Cook) is one of the best players in the world. He cuts, sweeps, plays straight and also defends well. He crafted the innings, he was not flamboyant. It was an incredible effort," said Gooch about Cook's back-to-the-wall knock that has given England an outside chance of saving the game.
He also hailed the unbeaten half century of Prior and his unbroken century partnership with the England captain that pulled the team out of deep trouble when they were 199 for five and put them ten runs ahead at stumps on the penultimate day of the game.
"I think it was as good as innings I have seen him play because England was under great pressure after a poor first innings performance. If you get bowled out for less than 200 in a five day game you are up against it because there is so much time left in the game," Gooch said.
"What he proved was that there is no demon in this pitch, a pitch that we would have expected in this part of the world...flattish wicket and little bit of turn, very slow turn.
"Any batsman is vulnerable when he first comes in anywhere in the world. But once you get in a little bit, it becomes a little bit easier and you to trust your skills and trust all the training you have done and Alastair and Prior proved that," he added.
Asked about another top batsman Kevin Pietersen's twin failure here, Gooch said the batsman himself would be very unhappy with his display.
"Kevin Pietersen will have been very disappointed with his two innings here. He knows he has to back his ability and play accordingly. He played a great innings in Colombo (early this year). He has the ability to turn around things," he said.
Photograph: Vivek Prakash/Reuters