India skipper Mahendra Singh Dhoni has said the team had found a "perfect" bowling all-rounder in Ravindra Jadeja, who once again produced a spirited show to help the hosts comfortably beat England by seven wickets in the third ODI in Ranchi on Saturday.
Dhoni said India were struggling for a bowling all-rounder with the only option being Irfan Pathan, but in Jadeja the team had found a suitable answer.
"He (Jadeja) is definitely someone who is giving us that balance. In that way, Jadeja is the perfect person to have," Dhoni said.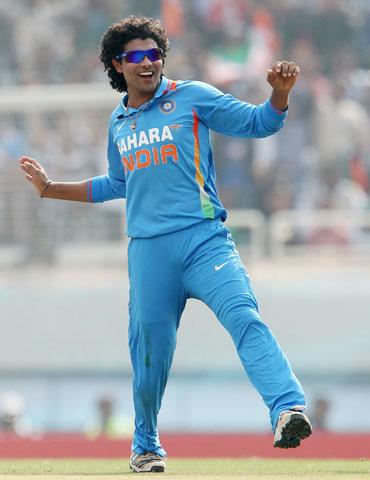 "We have been struggling with the bowling all-rounder. Irfan is the only one that we have got.
"Before the new rules were introduced, we used to rely on Yuvraj Singh and other part timers to get over with the 10 overs. But with the new rule, Yuvi will need a bit more time to settle down as a bowler."
Dhoni, however, refused to put extra pressure on Jadeja as a batsman and said the team's top-order needs to perform.
"He can bat a bit, but at the same time, we don't want to expose him too much right now. The top-order needs to perform and he bats at No 7 for us.
"We have seen glimpses of him who can really take on the bowlers. It does not matter if you're quickie or a spinner," he said.
Dhoni further said the team's support staff was working on Jadeja's batting.
Terming him as a good prospect, Dhoni said: "We just need to keep faith in him and hope he will get better and better. Bowling wise he's quite settled, it's the batting department that we need to work on. He is also an excellent fielder.
"We are working on his batting. The more games he play, the better he gets. He has got lot of confidence in the last few games. The seniors will have to tell him what needs to be done," Dhoni said.
Jadeja made a comeback to the Indian side on the back of his two triple centuries in Ranji Trophy and Dhoni said one needs to perform at the top level to become a good player.
"He was always talented. We have rated him very high. But at international level you need to score runs and take wickets. You need to be confident about yourself.
"It's the amount of runs in top-class cricket that gives one the confidence. The more games he plays, the better he will get," Dhoni said.
Jadeja followed up his Kochi performance (61 not out and 2/12) with figures of three for 19 here today as England were bundled out for a paltry 155 in the third ODI.
India then chased down the total in 28.1 overs with seven wickets in hand to take a 2-1 lead in the five-match series.
The win also marked the return to form of Virat Kohli, who made an unbeaten 77 off 79 balls with the help of nine boundaries and two sixes.
Dhoni said it was was good to see Kohli back among runs.
"He had not scored runs in the last four or five matches. It's good to see how he played and placed his innings (today), even as it was swinging a bit early on. He made sure not to throw his wicket even after scoring a fifty.
"He paced his innings beautifully, he played the big shots but still he was very calculative."
On Cheteshwar Pujara, who is warming the bench despite his stellar show in the Test series against England and Ranji Trophy, Dhoni said it was tough for the Saurashtra batsman to fit into the line-up.
"It's tough because of the slot he would fit in. We have to see all the things. Of course he has been consistent but we have to see our combination."
Photograph: BCCI