Opener Rahul Dewan scored an unbeaten fifty after the bowlers shot out England in the morning session as Haryana put up an improved show against the visitors on the second day of the warm-up game, in Ahmedabad, on Friday.
Haryana were 172 for 4 at stumps, after bowling out England for 521 in 118.2 overs.
Haryana's spinners took five of the six wickets that fell in the day although England scored at a brisk pace, adding 113 runs in 28.2 overs after resuming at 408 for 3.
Dewan (77) and Sandeep Singh (2) were at the crease when stumps were drawn for the day.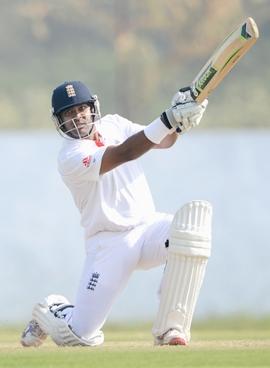 England lost the last five wickets for just 14 runs as they went after the bowlers.
Jayant Yadav (4-110) took three wickets on Day 2 while Test discard Amit Mishra (4-67) added two scalps to his tally as the two spinners shared eight wickets between them.
Sachin Rana provided the first breakthrough when he dismissed Ian Bell (62). Samit Patel and Matt Prior (41) added 69 quick runs for the fifth wicket but once the latter was stumped off Jayant Yadav, England's innings fell apart.
Dewan and Sunny Singh (55) then put on 97-runs for the second wicket in a strong reply to England's mammoth total but Haryana still trail by a huge 349-run margin.
Haryana lost opener Nitin Saini with the scorecard reading 28. He cut pacer Tim Bresnan straight into the hands of point fielder Nick Compton.
Sunny Singh joined Dewan and the duo took Haryana to 103 for one at tea. Dewan has faced 181 balls so far and helped himself with 10 shots to the fence.
After the interval, Sunny Singh rolled his wrists nicely to pull a short ball off Graham Onions to the square-leg boundary and reach his half-century.
He, though, could not stay long and was out in the next over, caught by Trott in the slips off the bowling of Samit Patel.
The run-rate dropped with the fall of Singh, and from 125 for 2 in the 37th over, Haryana sauntered to 172 for 4 in 61 overs, scoring a mere 47 runs in 24 overs.
Haryana lost three wickets in the final session of the day when Matt Prior was replaced by Jonny Bairstow for wicketkeeping duty. Prior is said to have an upset stomach.
Abhimanyu Khod (3) was caught nicely in the slips by Trott off Bresnan while left-arm spinner Monty Panesar trapped Sachin Rana (6).
In the morning session, Bell was the first batsman to be dismissed, adding just five runs to his overnight score of 57, caught by Nitin Saini off Rana.
Patel, who began the day at his overnight score of 11, helped himself to a composed half-century (67) even as Matt Prior (41) attacked from the other end.
Yadav sent back Prior to break the partnership and then also dismissed Bresnan (3) and Patel.
Mishra then took the last two wicket, accounting for Stuart Meaker (0) and Graham Onions (2).
Speaking at the end of day's play, Bresnan, who is vying for the third seamer's slot, said, "The key to taking wickets on Indian pitches is to bowl straight. Or, (in a lighter vein) be a spinner."
The track, Bresnan quipped, offered no bounce, seam or spin for bowlers to trouble the batsman.
The Yorkshire pacer said it would be difficult to get 20 wickets on these pitches, adding that the wickets for the Tests could be no different.
Scorecard
England XI (1st innings):
Alastair Cook c Sandeep b Yadav 97
Nick Compton lbw b Mishra 74
Jonathan Trott lbw b Mishra 46
Kevin Pietersen retired hurt 110
Ian Bell c N Saini b Rana 62
Samit Patel c C Saini b Yadav 67
Matt Prior st Sandeep b Yadav 41
Tim Bresnan c Dewan b Yadav 3
S Meaker c & b Mishra 0
Graham Onions b Mishra 2
Monty Panesar not out 0
Extras: (B-11, LB-1, W-4, NB-3) 19
Total: (all out; 118.2 overs) 521
Fall of wickets: 1-166, 2-211, 3-247, 4-438, 5-507, 6-517, 7-518, 8-520, 9-521.
Bowling: S Budhwar 17-3-73-0, A Vashisht 26-2-129-0, S Rana 25-8-66-1, C Saini 10-2-64-0, J Yadav 23-3-110-4, A Mishra 17.2-1-67-4.
Haryana (1st innings):
N Saini c Compton b Bresnan 13
R Dewan batting 77
Sunny Singh c Trott b Patel 55
A Khod c Trott b Bresnan 3
S Rana lbw b Panesar 6
Sandeep Singh batting 2
Extras: (b-12, lb-2, wd-1, nb 1) 16
Total: (For 4 wickets in 61 overs) 172
Fall of wickets: 1-28, 2-125, 3-136, 4-163.
Bowling: G Onions 10-2-32-0 , T Bresnan 13-2-47-2, S Meaker 11-1-31-0, M Panesar 18-6-32-1, S Patel 8-2-15-1, K Pietersen 1-0-1-0.
Image: Samit Patel of England bats during Day 2 of the tour match against Haryana.
Photograph: Gareth Copley/Getty Images