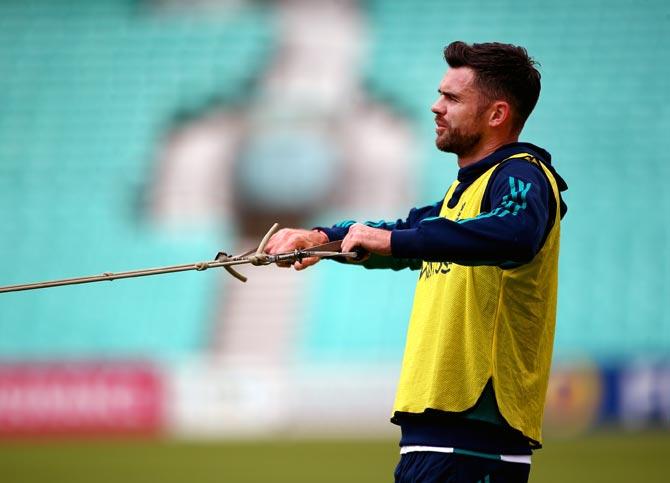 IMAGE: England fast bowler James Anderson. Photograph: Charlie Crowhurst/Getty Images
England pacer James Anderson, who is recovering from a shoulder injury, will not be fit for the the first Test against India, starting in Rajkot on November 9.

England captain Alastair Cook confirmed that Anderson is yet to resume bowling and might not even be in India at the start of the first match, said a report in the Guardian.

Anderson was originally selected for the tour of Bangladesh but was forced to withdraw because of injury.

"He might come out to do some training but he will not be ready to play in the first test. I spoke to him last night. He has been doing a lot of training and is in good shape physically. The decision is going to be made over the next week on that (when he goes to India)," Cook said.

"The test for his body is when he starts bowling, but he is making some strides," he added.
Anderson, 34, has struggled with injury this year and missed the first Test against Pakistan at Lord's with a shoulder injury before it flared up again at the end of the domestic season.

Earlier this month, Anderson had said that he is confident of playing some part during the five-match Test series in India.

"I'm not going to miss the entire trip, no," he said.

"I'm very confident I'm going to be involved in the India series, it is a frustrating injury, something I want to get right, but it does happen in cricket.

"In sport, you get injured, you've just got to deal with it and hopefully I can get as fit as possible as soon as possible."

The 34-year-old, England's most prolific wicket-taker in Tests, sustained a stress fracture during the home series against Sri Lanka in June, although he did play three matches against Pakistan in July and August.
Anderson was instrumental in England 3-1 victory against India in the five-match Test series in UK in 2014. He finished with 25 wickets in the series, while accounting for India's batting mainstay Virat Kohli four times in five Tests.