With the Board of Control for Cricket in India unhappy with Hot Spot technology following controversies surrounding it in India's recent tour of England, the upcoming ODI series between the two countries will be played without the use of the Decision Review System.
Hot Spot was made mandatory in the use of DRS, while ball-tracking technology was optional during India's full tour of England in July-August after a compromise was reached between the BCCI and the International Cricket Council.
But, with the Hot Spot proving inconclusive during referrals of several appeals for caught-behind -- and India finding themselves at the receiving end on most occasions in the July-August tour of England -- the BCCI, on Friday, said the technology will not be used in the series, starting in Hyderabad on October 14.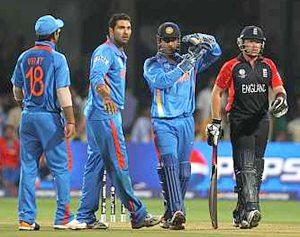 This means the five-match ODI series, and the lone T20 game, will now be played without both, Hot Spot and ball-tracking technology.
"The DRS will not be used during the ODI and T20 International Series between India and England, to be played from 14 October 2011 to 29 October 2011," read a statement from BCCI secretary Sanjay Jagdale.
Interestingly, the ICC also issued a statement, saying that the DRS will not be used in the India-England ODI series, as the equipment will not be made available by the suppliers.
"The Decision Review System (DRS) will not be used during the forthcoming One Day International series between India and England following a decision by the developers and suppliers of Hotspot not to make their infra-red cameras available for the five-match series," the ICC statement said.
"At its June meeting, the ICC Executive Board decided that infra-red cameras were one of the minimum requirements for the reduced criteria for DRS i.e. when ball-tracking is not employed", read the ICC statement.
"As a result of DRS not being used in this series, the Emirates ICC Elite Panel umpire Simon Taufel will not be required to officiate in the matches. Emirates ICC Elite Panel umpire Billy Bowden will stand in the series," it added.