England captain Alastair Cook credited India for their comprehensive 126-run win and said the home team completely outplayed the visitors in the first ODI in Hyderabad on Friday.
After posting a challenging 300 for seven, India shot out England for 174 runs in 36.1 overs to take a 1-0 lead in the
five-match series.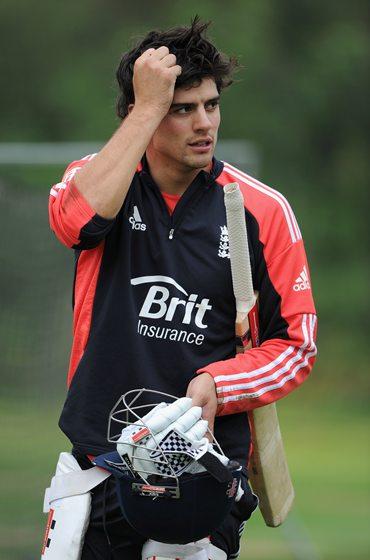 "It was an important toss to win. We saw at the end that the ball kept low. But credit to India. They outplayed us in all departments today," Cook said after the match. "We're going to learn from this, and that's the beauty of a five-match series." 
India's newest spin duo of Ravichandran Ashwin (3 for 35) and Ravindra Jadeja sizzled in the slow conditions, sharing six wickets between them and Cook said tackling the tweakers will be a challenge for his batsmen in the series. 
"We know that (playing spin) is an issue, and that's a skill thing. We're going to work hard on that in the next couple of days," he said. 
India captain Mahendra Singh Dhoni, who scored an unbeaten 87 off 70 balls to earn the man-of-the-match award, said it was not easy to bat on the slow Uppal wicket and to add to it ICC's new rule of two new balls from both ends also made life a little "tricky" for batsmen. 
"The new rules made the batting a bit tricky. We batted well, though we lost a few wickets at the wrong time. On wickets like these, if you're batting in the afternoon it can be a bit slow, and at times you have to keep your head down
and survive," he  said.
"If you don't make too many runs at first, that's ok because you can make up for it later. I think most of us were looking for a score of about 250 or so, 260 would've been a good score," Dhoni added. The India skipper said expecting dew to play a big role he went with three seamers and two spinners. 
"We were a bit speculative about the dew, and there was a fair amount the last few nights, so that's why we played three seamers and two spinners," Dhoni reasoned. "There was no dew tonight, but if there had been it would have been easier for the batsmen." He also lauded Ravindra and young Umesh Yadav (2 for 32) for their fine show. 
"(Ravindra) Jadeja has improved his game a lot, and it was good to see Yadav come in and bowl fast," Dhoni added.