A young India finally broke its prolonged losing streak as they trounced England by 126 runs in a lop-sided first One-Day International in Hyderabad on Friday.
India rode on Mahendra Singh's Dhoni's blistering 87-run knock and Suresh Raina's 55-ball 61 to post a mammoth 300 for seven and then skittled out the visitors for only 174 runs in 36.1 overs, at the Rajiv Gandhi International stadium, to take a 1-0 lead in the five-match series.
This was India's first victory after a losing streak of 10 international matches that includes five ODIs (last two ODIs in the West Indies), four Tests and one T20 international. 
The wicket got slower with passage of time and India's newest spin-twins Ravichandran Ashwin and Ravindra Jadeja tightened the noose on the England batsmen, sharing six wickets between them.
The margin of victory should come as whiff of fresh air for Dhoni and Co who will now certainly feel upbeat with four ODIs remaining. 
Craig Kieswetter (7) was the first to depart when he nicked at an away going delivery from Praveen Kumar.
Kevin Pietersen (19) hit three boundaries, but Ashwin's direct throw from mid-on found him short of his crease. 
Skipper Alastair Cook (60) joined hands with Jonathan Trott (26) and added 71 runs for the third wicket. They didn't score at a very brisk pace but kept a decent run-rate going for the team. 
It was the slow left-arm spin of Jadeja that started the slide. The Saurashtra all-rounder dismissed Cook and Trott within the space of nine runs to effect a middle-order collapse. 
While Cook holed out at deep mid-wicket trying to give Jadeja the charge, Trott played an uncharacteristic slog-sweep, only to be clean bowled.
The dangerous Ravi Bopara then offered a tame return catch to Ashwin, while Jadeja got his third scalp when young Jonathan Bairstow was dismissed in identical fashion. 
From 111 for two, England slumped to 126 for six and the writing was on the wall. 
Jadeja (3 for 34) and Ashwin (3 for 35) had nearly identical figures, while Umesh Yadav (2 for 32) also got a couple of wickets in the end.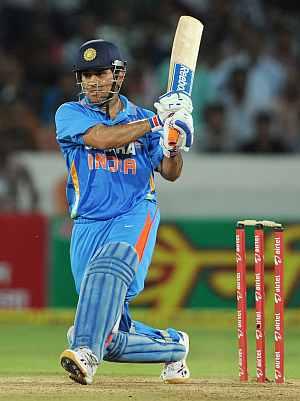 The day, however, belonged to India's captain, who smashed an unbeaten 87 off 70 deliveries on a track where strokemaking wasn't exactly easy. He found an able supporter in Raina, who hit a 55-ball 61 after India opted to bat on winning the toss.
The last 15 overs yielded a whopping 150 runs as one got a glimpse of vintage Dhoni. The now famous 'Helicopter shot' fetched him plenty of runs, as he hit 10 boundaries and a six enroute his 42nd half century in ODIs.
The innings assumed significance considering the amount of pressure he was under after the England tour.
India were scoring runs at a sedate pace in the first 35 overs, partly to the dual nature of the surface and also some disciplined bowling by the visitors, before the duo started bashing the England bowlers, adding 72 runs for the fifth wicket in only 10 overs.
Once Raina departed, Dhoni took it upon himself to punish English, who suddenly lacked discipline after bowling well for the better part of the innings.
Raina counter-attack in the mandatory batting Powerplay, from the 36th to 40th overs, opened the floodgates, as India scored 59 runs in those five overs.
He hit his customary aerial shots in the arc between extra-cover and mid-wicket while Dhoni also hammered Jade Dernbach, Steven Finn and Tim Bresnan with consummate ease.
Raina completed his half century with a six off Bresnan's bowling and was out trying to hit a slog shot. His 61 was studded with five fours and two sixes.
On a wicket that offered variable bounce to the England pacers, India's batsmen, especially Ajinkya Rahane (15), made a mess of the first mandatory Powerplay, during which India scored only 47 runs, losing Parthiv Patel's wicket in the process.
Parthiv backed a bit too far after Rahane hit a straight drive off Steven Finn but the bowler got a hand to it on his follow through. Parthiv scored only nine.
The stage was set for Rahane to fire, after he got a life in the second over, as Jonathan Trott, at first slip, dropped him off Finn's bowling. Rahane was yet to open his account then.
However, the Mumbai youngster went into a shell and found it difficult to even push through the gaps for single.
Gautam Gambhir, playing his first international match after a long time, hit a few crisp shots, including a square drive off Bresnan. The Delhi left-hander showed intent of keeping the scoreboard ticking although the boundaries were few and far between.
Off-spinner Graeme Swann was introduced as early as 12th over. With two new balls being used from both ends, it effectively meant that Swann was bowling with a white kookaburra that was only five overs old.
Eager to break the shackles, Rahane charged out only to be deceived by Swann's flighted delivery that turned a shade away and it was easy work for Craig Kieswetter behind the stumps.
Rahane consumed 41 balls, and, moreso, India's advantage of getting off to a flier was gone.
Gambhir was joined by Virat Kohli, but the Delhi duo failed to up the ante. Medium pacer Jade Dernbach dismissed Gambhir during the second over of the bowling Powerplay taken by the England captain.
It was slow full-toss coming from the back of the hand and Gambhir completely missed the line of the ball. He was hit on the pad; the ball would have crashed into the leg-stump.
The bowling Powerplay also proved fruitful for England, as they conceded only 20 runs. Gambhir managed 32 off 33 balls, including four hits to the fence.
The normally aggressive Kohli was also not in his element, and was out trying to launch into left-arm spinner Samit Patel as he failed to clear Kevin Pietersen at long-off.
At 123 for four, Raina was joined by Dhoni and the duo started the repair job. They waited patiently and took the batting Powerplay from the 36th to 40th over to launch a counter-attack on the English bowlers, which helped them in posting a challenging score.
Swann, with figures of one for 35, was the only bowler who escaped unscathed from Dhoni and Raina's onslaught, as Finn (1 for 67), Bresnan (0 for 66) and Dernbach (1 for 58) were smashed all over the park in the last 15 overs.