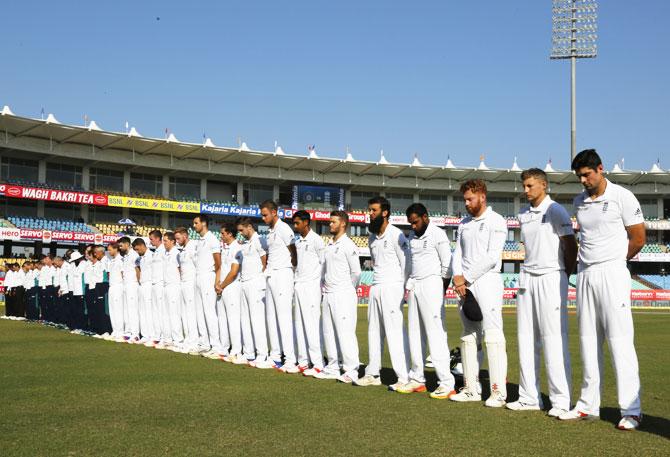 IMAGE: England players observe a minute's silence as they pay to homage to Armed Forces on Armistice Day before the start of play on Day 3 of the first Test against India at the Saurashtra Cricket Association Stadium in Rajkot on Friday. Photograph: BCCI
The visiting England cricket team paid tribute to their nation's war dead on Armistice Day, wearing the red flower symbol 'poppy' and observing a minute's silence before the start of the third day's play in the first Test against India in Rajkot on Friday.
Alastair Cook's men wore shirts featuring a poppy on the right collar during play on the third day which falls on Armistice Day. The England players and management also observed one minute's silence on the outfield before the start of play.
Armistice Day is commemorated every year on November 11 to mark the truce signed in 1918 between the Allies of World War I and Germany at Compiegne in France to end the World War I.
"It's important for the national team to pay their respects," said Cook.
"We want to show our appreciation and thank all of our Armed Forces personnel for the fantastic work they do, and their families who support them.
"We are proud to support the Royal British Legion and the Poppy Appeal. The Legion's work is entirely dependent on the generosity from the public, and we hope that the team wearing their poppies with pride will help drive even more awareness and help make a real difference to the lives of service men and women, veterans and their loved ones," a statement from Cook read.
The England women's team, currently playing in a four-match One-Day International Series against Sri Lanka, will also observe a minute's silence during their schedule practice in Colombo on Friday, the statement added.
The England cricket team's show of respect to their nation's soldiers came even as their country's footballers headed for a collision with soccer's world governing body FIFA over the commemorative flowers sported on the jerseys.
FIFA, football's world governing body, is in dispute with England and Scotland after warning they could be sanctioned if they wear poppies when they play against each other at Wembley in London in their 2018 World Cup qualifying match today.
FIFA does not allow teams to wear political, commercial or religious symbols. But the teams have vowed to defy the ban during their international match on Friday.