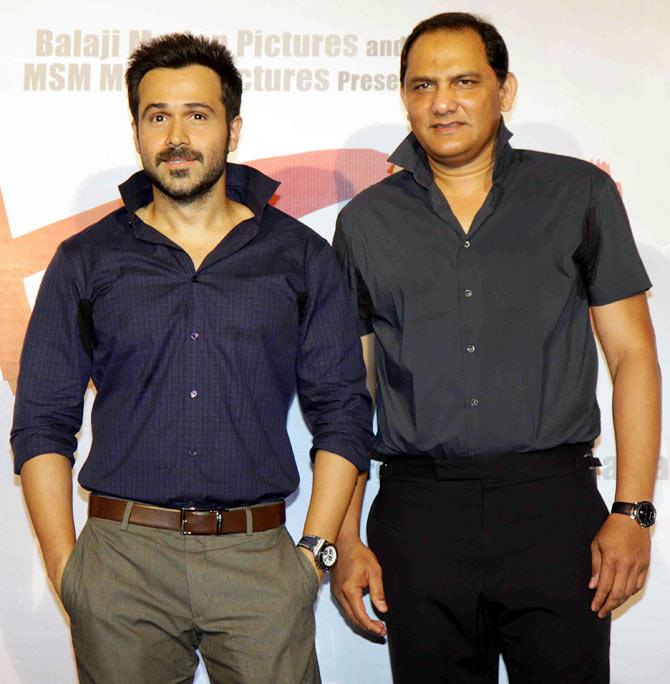 Emraan Hashmi and former India captain Mohammed Azharuddin.
Bollywood actor Emraan Hashmi, who is playing the role of former Indian cricket team captain Mohammed Azharuddin in the upcoming flick Azhar, feels that malpractices in sports, like match-fixing, diminish the spirit of the game.
"For any sport it (match-fixing) is wrong, because there is a spirit in which the sport is played. If you suddenly realise that it's all fixed, somewhere that spirit is lost. It definitely shatters the emotions of a fan... The way he sees the cricketers, whom he worships, he feels everything is fake," Emraan told PTI in an interview here.
Directed by Tony D'Souza, Azhar traces the journey Mohammad Azharuddin's career and his personal life. The film will show three key aspects of the cricketer's life, including his marriage and the match-fixing controversy.
Talking about his son Ayaan, the actor said he loves to watch cricket and is happy to see him play the role of a cricketer on the big screen.
"My son really likes seeing me in Azhar and he kept shouting 'Azhar Azhar', when he saw the teaser. He is just five years old and he likes to play cricket... He likes the game. He has got a rough idea of what I do for living, he understands that people come to me for photographs," Emraan said.
"He sees me on screen, so he has his own way to figure out what I do. I have taken him to a film shoot once, so he understood a little. He is excited about Azhar right now," he said.