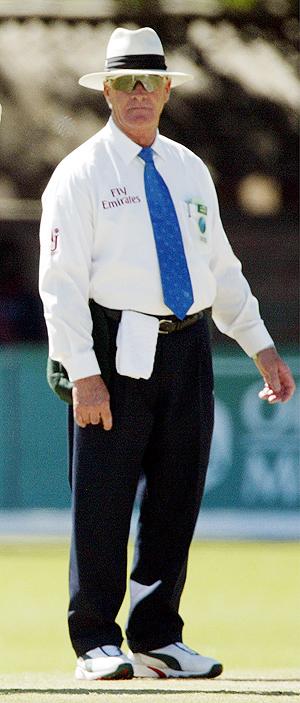 Retired South African umpire Rudi Koertzen feels the controversial decision review system should be made compulsory in Tests as otherwise it puts undue pressure on the man in white coats.
The Umpires Decision Reviews System (DRS) was not used in the recent Pakistan-Australia Test series, where Koertzen retired and even in the current Sri Lanka-India Test series, it has been kept out.
-Umpire Koertzen swaps white coat for family life
"You should have it in every single series. Somehow, somebody has to come up with a deal and say we will support this, we will sponsor it. It's no use having it when South Africa play Australia or in the Ashes, and then you have for example Sri Lanka playing Bangladesh and you can't have it," Koertzen said.
"I don't think that's fair on the umpires because in one Test you get some sort of assistance and in the other one you're on your own. It's only going to make it harder for the guys if it goes that route," he added.
Koertzen said umpiring in an international match is always difficult as while people around the globe watch slow-motion replays, they don't have any access to TV.
"You make a decision and you watch the (corporate) suites - there are maybe a hundred suites. Everyone sitting there jumps up and goes to look at the monitor inside their suite to see if you've made the right decision or not. That is sad because it puts a hell of a lot of pressure on you. At the end of the day you're the only guy who knows if you did your best or not," Koertzen told Cricinfo.
"With the technology, millions of people can see if you got it wrong. You stand there and think you made a good decision and then you hear a few boos from upstairs and you think, maybe I did get that wrong. You won't know until you walk off the field and you have a chat with the third umpire and the match referee," he added.
The UDRS has been regularly criticised by many teams with several players even pointing out the technological glitches. It was at the centre of an embarrassing row in January during the Johannesburg Test between South Africa and England.
But despite the controversies, the ICC has pressed for its use during the 2011 World Cup and also called all teams to use it regularly in Tests.