'I think some team might want to play it low at the start of the series and then surprise the opponent, but we are quite aware of those things. We have experienced those sorts of tactics in the past'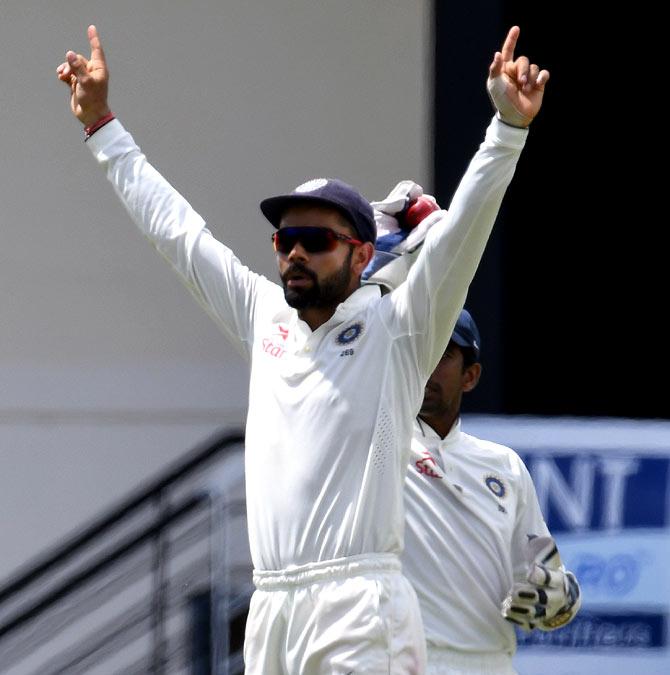 IMAGE: India captain Virat Kohli appeals for a wicket. Photograph: WICB Media.
The Indian cricket team is not losing sleep over the introduction of the Decision Review System (DRS) in the five-Test series against England commencing in Rajkot on Wednesday with captain Virat Kohli saying the referral process is not rocket science.
"Well there is no rocket science on DRS. As a cricketer you understand, you have a fair idea of where the ball has hit the pad, whether it has pitched in line or hit in line.
"Those are pretty basic things in cricket. You don't have to necessarily go through a course for DRS," said the home team captain on the eve of the series opener at the SCA stadium in Rajkot.
"I think we have observed enough watching on TV how DRS is used. It really depends on what the bowler and a wicketkeeper, most importantly, think about the particular event or if a referral has to be made. It is pretty simple.
"It's nothing that we are focusing too much on. It just gives you another opportunity to check on a decision if you feel is not right. And I think that's pretty fair," Kohli added.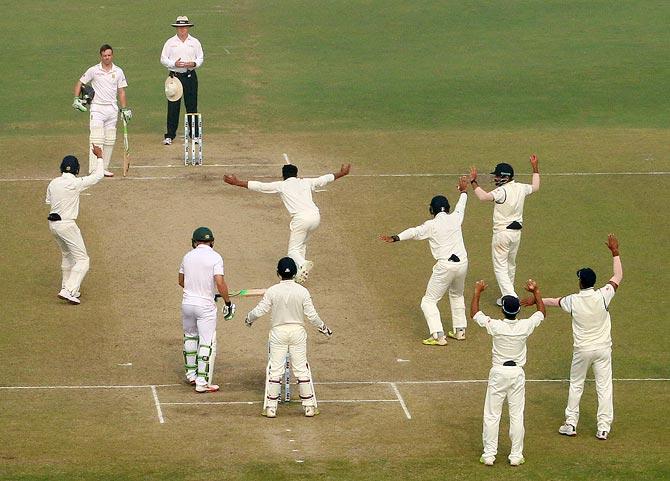 IMAGE: The Indian players appeal for a wicket during a Test match against South Africa, in Delhi, in December 2015. Photograph: BCCI.
After consistently opposing the referral system which all other countries have adopted in bilateral contests, the BCCI recently relented and has decided to use it on an experimental basis.
Kohli did not read too much into the statements of England captain Alastair Cook and key fast bowling all-rounder Stuart Broad, both of whom stated that they were the underdogs in the series.
"I think some team might want to play it low at the start of the series and then surprise the opponent, but we are quite aware of those things. We have experienced those sorts of tactics in the past," said Kohli, who has hit two double tons this year.
"But at the same time we don't want to get too ahead of ourselves. We understand what we need to do, so we are not going to get swayed away or carried away by the praise or adulation; at the same time, criticism as well. If it's a constructive criticism from the team management or from the people we observe the game very well, it's always welcome. But we never get carried away by praise.
"That's why we have been able to perform consistently and that's our only goal, to keep improving as a side and keep winning games of cricket. Nothing changes for us," the 28-year-old aggressive batsman elaborated.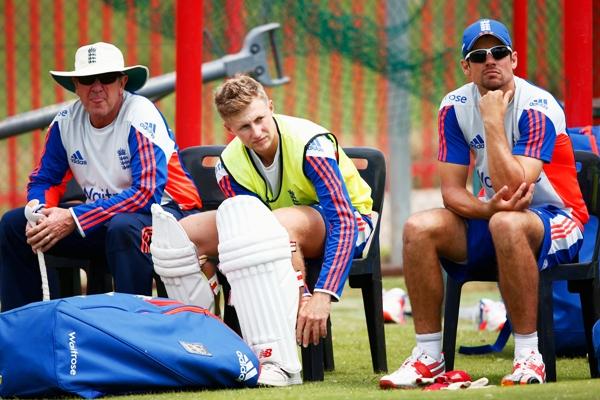 IMAGE: Coach Trevor Bayliss of England with Joe Root and captain Alastair Cook during a practice session. Photograph: Julian Finney/Getty Images.
The 48-Test-old seasoned pro emphasised that the team now believes in winning rubbers and not just be competitive.
"The mindset is not (just) to compete anymore. We want to win series, we want to win Test matches. For that, you have to be at your A game all the time and also keep improving on your A game as well. That's been the mindset and the guys are ready for the challenge," Kohli said.
"These kinds of matches and series are something that you play for. Against top sides, it tests your character, tests your skill, and you come out as a better cricketer regardless of the results, so that's something we're really looking forward to."
Kohli also said although the team swamped New Zealand 3-0 in the preceding Test series there were some deficiencies in India's performances which need to be ironed out.
"Since we came back from the West Indies, we knew that the home season is going to be tough. We're playing quality sides which have been doing well in Test cricket – New Zealand, England and Australia. So we knew it's going to be a tough season at home, and for that we need to be more aware during crucial situations. There are areas we have addressed that need improvement," he said.
"Even from the last series, we understood and improved on them in the last Test, especially losing wickets at key times - before and after breaks. That was something that really hampered us in the past. We saw immediate results in the third Test in Indore and we understand we need to keep improving as a team," he added.
Asked about the positive and negative aspects of playing a lengthy five-Test rubber, the first one on Indian soil after 1984-85, Kohli said it all depends on gaining the momentum from game.
"Yes, it's been a while since we played five Tests. There are advantages and disadvantages depending on the momentum you create from the first game. In a Test match series, momentum is very important and it gives the team an opportunity to set up a nice pace for the whole series because it's very long and you play a lot of cricket," he said.
"Momentum will be a key factor on which advantages and disadvantages will depend on. The momentum from the first game sort of defines if you have an advantage or a disadvantage as a team.
"If every game goes for five days, then it's 25 days of hard-fought cricket. You need momentum because you have various sessions and situations that you play in. As a team, you obviously want to be on top and win as many sessions and situations as possible."
Kohli preferred to play cards close to his chest when asked whether India would include three spinners in the series opener.
"The combination is something I will obviously not speak about at this stage. I wouldn't say England struggled, they played really well in the first game (in Bangladesh). The second game, Bangladesh played better in their conditions. We know England is a side that came to India last time and played well. We're not going to take anything for granted although we're playing some really good cricket," he said.
"We want to focus on our strengths but you cannot ignore the opposition altogether. At the same time, you have to be confident in what you do as a team. That's something we've focused on and that's one reason why we've been able to get the results we have in the last 12-14 months.
"That's something we want to continue, it's about having a right balance of not getting too overconfident but at the same time, not giving too much importance to the opposition as well. We have to maintain that right balance."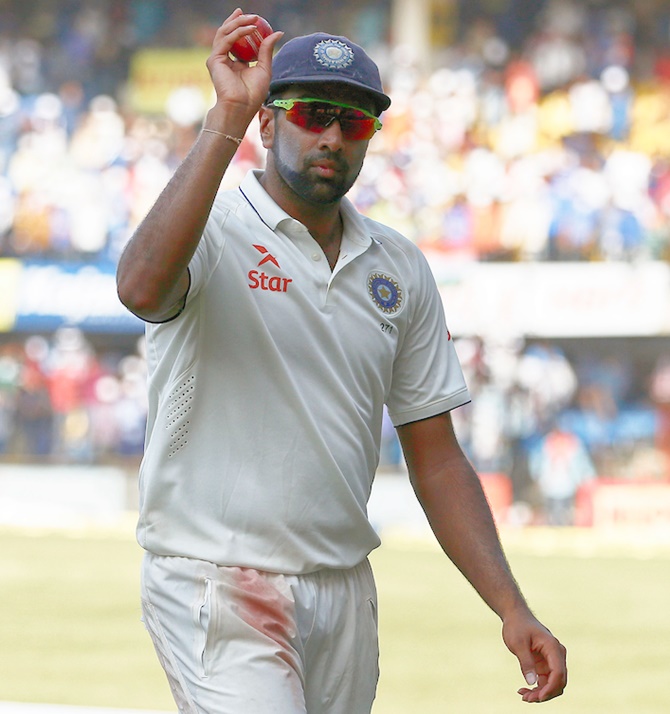 IMAGE: Ravichandran Ashwin of India shows the match ball during Day 3 of the third Test match against New Zealand, at the Holkar stadium, in Indore, on Monday. Photograph: BCCI.
For records, India had lost the last three Test rubbers against England but Kohli brushed aside past results between the two sides.
"We don't think about those things, what's in the past, we can't go back and change it. We can only look forward to what we can do in the future, that's to play good cricket and express our skills to the best of our potential and play as a team. These things are created by people, their perceptions and their own thoughts," he said.
"As a team we treat every day as a new day, we treat every opposition the same, we treat every session on the field as an opportunity for us to perform as a team. That is something we have been able to. So I think this team has done really well and it is something we will keep looking to do in the future also."
Kohli hoped his premier spinner Ravichandran Ashwin will have a good series like he had against New Zealand. Ashwin captured 27 wickets and ran away with his fourth man-of-the-series award against the Kiwis.
"Ashwin is obviously a world class bowler, we all know that. He is in good momentum. He has been bowling really well, bowling in the right areas. I just hope that he has another good series for Team India," the skipper said.
Kohli also refused to dwell much on his poor record against England in 2014.
"I can put it simply as a phase in my career when I didn't perform very well. I just take it as a setback in my career, and not motivate myself in way that I have to prove people wrong or I have to do something special against a particularly opposition. Those things will not make any difference to me," said Kohli.