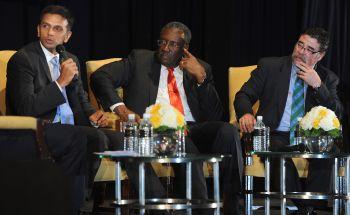 In a rare opportunity, former India captain Rahul Dravid will be exchanging his views with some of country's finest investigators at a CBI function to deliberate on corruption in sports in the backdrop of fixing allegations in cricket.
The agency's three-day international conference on "evolving common strategies to combat corruption and crime", starting Monday will be inaugurated by Prime Minister Manomohan Singh, who will release a special commemorative stamp on the occasion.
The Prime Minister will also present the President's Police medals for Distinguished Service to six CBI officers for their outstanding performance.
This year when cricketing scene is faced with serious allegations of betting and spot-fixing, the agency has decided to introduce a special session on "Ethics and Integrity in Sports -- Need for a Law and Role of CBI" on Tuesday evening in which Dravid, Chris Eaton, Director, International Centre for Sports Security and Ravi Sawani, Chief of BCCI's Anti Corruption & Security Unit (ACSU) will participate.
"The aim of this session is to recognise the root of the problem, evaluate the regulatory mechanism and legal framework in India and to ponder whether the time has come to have a specialised law to tackle corruption in sports," CBI spokesperson Kanchan Prasad said.
Besides corruption in sports, the conference to be attended by representatives from 20 countries and states' anti-corruption bureaux will deliberate on crucial issues such as Natural Resource Management - Extent of Corruption, transnational human trafficking, crime and asset recovery, crimes related to Intellectual Property Rights, cooperation in investigations in high profile cases among others.
After the inauguration by Prime Minister Manmohan Singh, Law Minister and Minister of Communication and Information Technology Kapil Sibal will also deliberate on the theme of the Conference.
Image: Rahul Dravid
Photograph: Arep Kulal/Getty Images