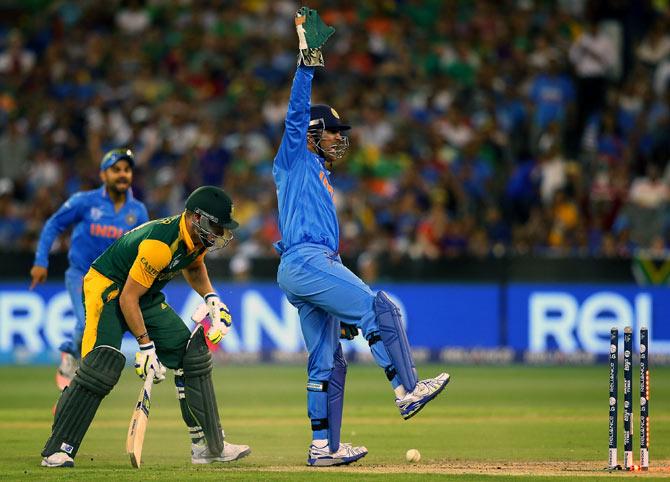 Mahendra Singh Dhoni appeals for the run out of David Miller (left). Photograph: Quinn Rooney/Getty Images
Impressed by India's clinical performance against South Africa, former captain Sourav Ganguly said the Proteas have not been outplayed like this in a 'long time' and Mahendra Singh Dhoni's side can gain a lot of confidence from such a display.

"I don't remember South Africa being outplayed like this in a long, long time," Ganguly said after India's 130-run victory against South Africa in their second pool game of the World Cup.
- Prem Panicker: Wallflower in team of stars, Rahane claims his place under the sun

If opener Shikhar Dhawan found form against Pakistan with a gutsy 73 then his 137 at the Melbourne Cricket Ground on Sunday was a delight to watch against one of the most potent bowling attacks of the world. His innings was laced with 16 fours and 2 sixes and Ganguly was all praise for the left-hander.

"That innings against Pakistan has given Shikhar (Dhawan) just the kind of confidence he desperately needed and he showed great temperament to build on from where he left the other day to score a magnificent hundred," India's most celebrated left-hander said.

Along with Dhawan, who hit his seventh ODI century, Virat Kohli (46) and Ajinkya Rahane (79) also contributed with useful knocks. Ganguly believes that the lower middle-order should find form going ahead into the World Cup.

"It is essential for the likes of Suresh Raina, Mahendra Singh Dhoni and Ravindra Jadeja to find some form in the tournament," said Ganguly.

"Largely Team India has been dependent on Virat Kohli and Ajinkya Rahane to score runs but the contribution from India's middle order will play a crucial part as the tournament progresses," he added.

The 127-run second wicket partnership between Kohli and Dhawan paved the way for India to post 307 for seven after electing to bat first. Ganguly opined that he was confident of an Indian victory after the team crossed the 250-run barrier.

"The moment India passed the 250 run mark, I was confident India will win," he said.

The famed South African batting order collapsed like a house of cards to be bundled for 177 in 40.2 overs against a disciplined Indian attack. Ganguly said getting Hashim (22) Amla and AB de Villiers (30) was the key.

"It was crucial to get Hashim Amla and AB de Villiers out early as South Africa lacked depth in their batting. Wayne Parnell and Vernon Philander at number 7 and 8 meant South Africa didn't have enough depth in their batting and it cost them dearly," Ganguly said.

With this victory, India also ended their run of defeats against South Africa in the 50-over showpiece event. The table-toppers will now travel to Perth to take on UAE in search of their third consecutive victory in this edition.